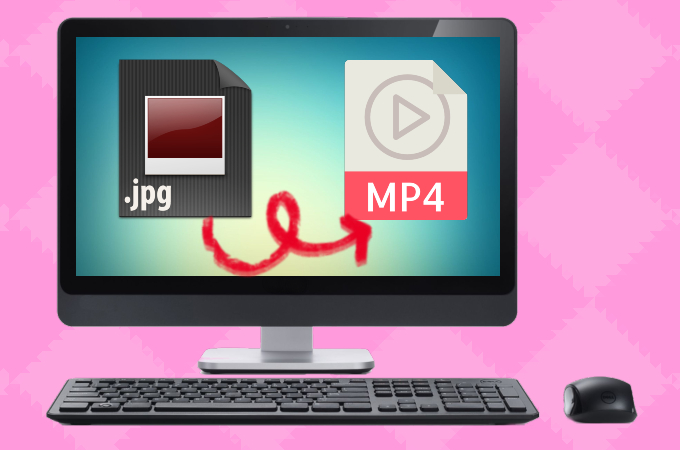 Nowadays, most people take pictures every day for everything we do. However, browsing through tons of images on your device may bore you. One great way to avoid falling into the doldrums is to convert photos into a video. However, there are only limited tools that can help you to convert images to videos with some animations. Therefore, you need to find the best program that will enable you to produce a video using your favorite images stored on multiple devices. Fortunately, we have gathered the most reliable online tools that you can utilize to convert photos into video with great ease.
How to Convert Images into Video
LightMV
LightMV is one of the most efficient tools that offers templates to convert images into videos. This online tool is also accessible from computer and mobile devices, including Windows, Android, and iOS. Furthermore, it has an intuitive interface that lets first-time users convert pictures into a video file. You can enhance the quality of the content by adding multiple photos, videos, text, and background music. In connection with that, it allows you to upload files from your mobile phones. Also, it can save the converted photos as videos in Full HD quality. Check the guidelines below to turn photos into videos using LightMV.
First, launch any web browser on your computer to visit the official website of the tool.
Second, choose your desired video templates on its webpage.
Tips: Click the picture below to watch this attractive video template.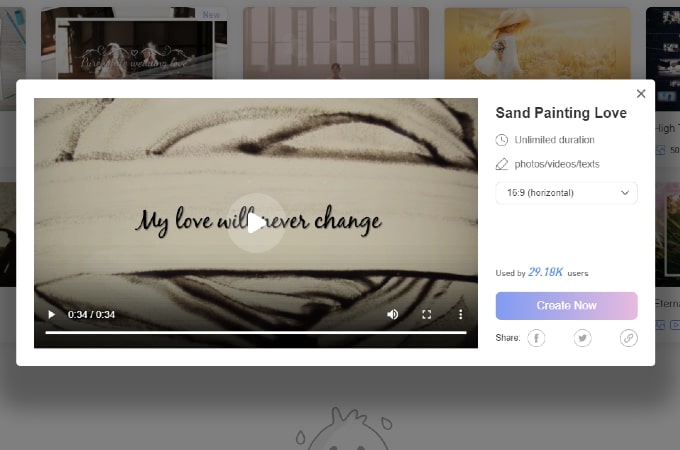 Third, click the "+" icon to import all the pictures you want to convert into a video. Next, hit the "T" icon below to insert text to the uploaded files.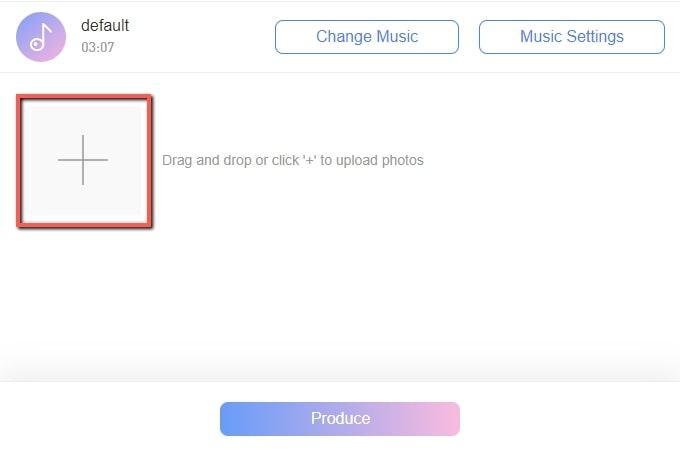 Fourth, go to the "Change Music" option on the upper right part. From here, click the "Add Music" button to upload the audio clip you want to use as background music.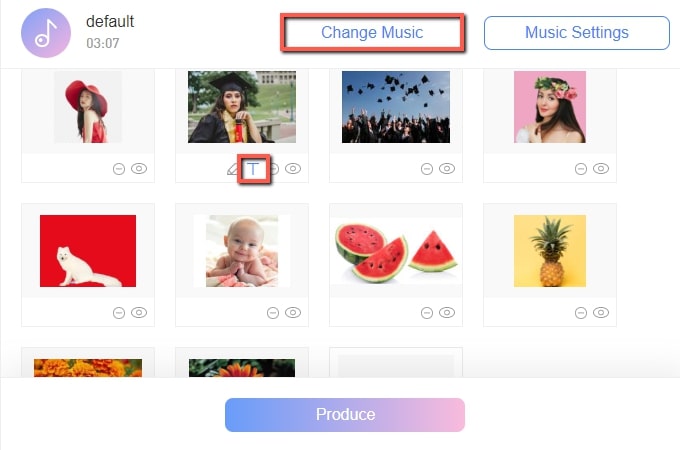 Finally, click the "Produce" button below and hit the "Download" button to save the video. And that is the simplest way on how to turn photo into video using this tool.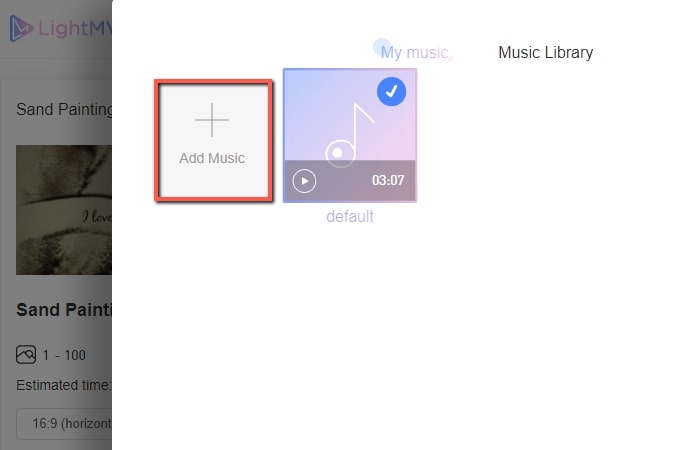 Animoto
The next tool great for turning your photos into a captivating video is Animoto. Its editing tool is composed of a drag and drop feature that will help you upload photos with ease. Not to mention, it has a stock library powered by a Getty image that provides free royalty photos and videos. Aside from that, it also includes royalty-free music of different genres. Moreover, this tool supports all of the common aspect ratios from various video sharing sites. You can also share the videos on social media platforms and e-mail directly. So if you're wondering how to convert photo into video with Animoto, read the steps below.
To get started, visit the official website of the tool using any browsers on your computer.
Next, select your preferred template or click the "Start from Scratch" button to proceed with its editing function.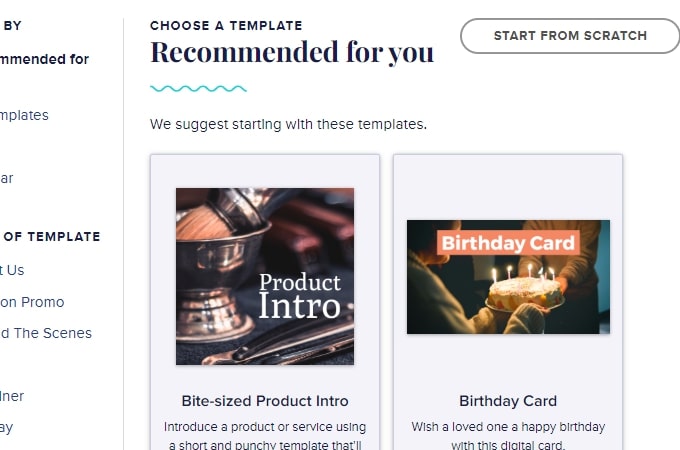 Then, click the box or drop the photos to import the images you want to convert into a video.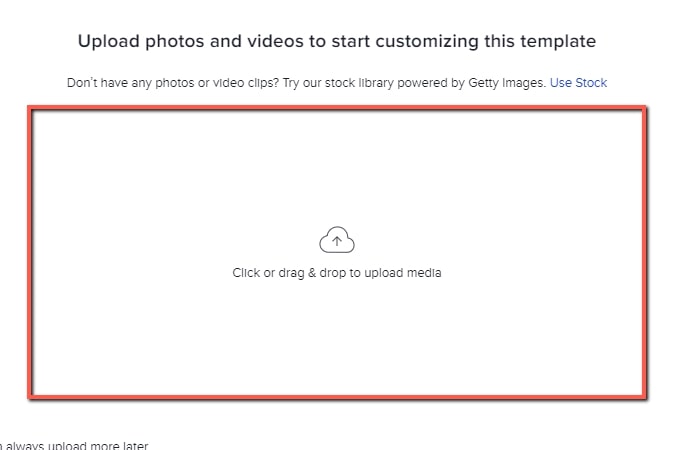 After that, go to its editing functions on the upper left part of the tool to customize the uploaded photos.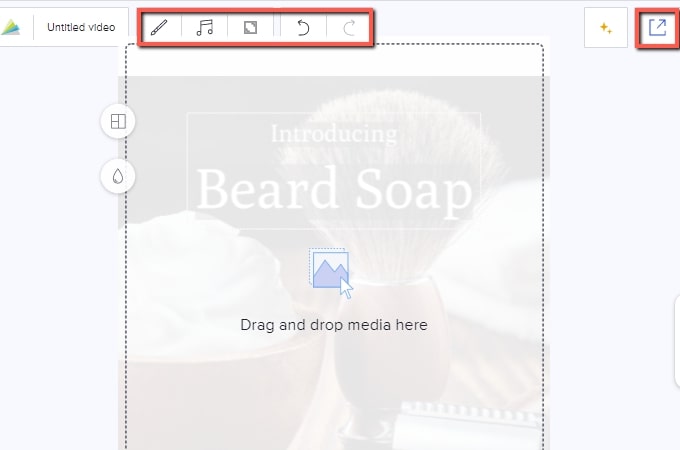 Once done customizing the video, click the "Export" button to save and share the converted photos into videos.
Wofox
Lastly, we have Wofox. This is a diversified online visual content creation tool that you can access using different browsers via Windows and Mac. Using this tool also allows you to create a lyric video, slides, logos, mockups, 3D posts, and many more. Furthermore, you can log-in to its website using your social media accounts like Facebook, Twitter, and Gmail. Also, it allows you to change the frame rate or the play speed of uploaded images. Meanwhile, it provides preset sizes available for Instagram, YouTube, Snapchat, Facebook, and more. Follow the step by step procedure on how to convert images into a video with ease using this tool.
Open the official website of the tool using a web browser on your computer.
From here, click the "Upload" button to select the photos you want to convert into a video file.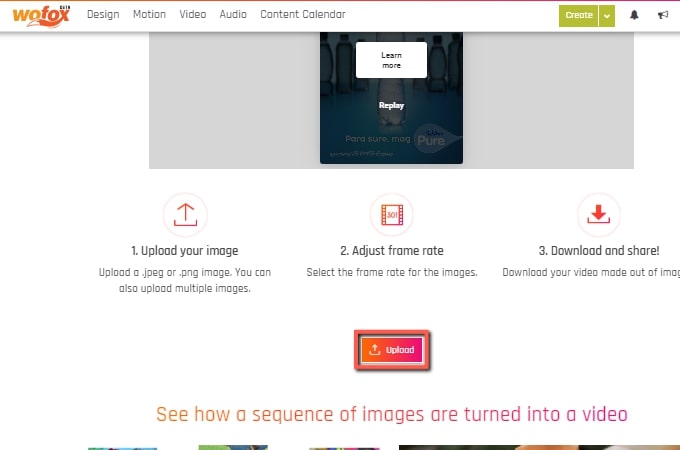 After uploading photos, click the "Add more" button to import other images you want to include in the video.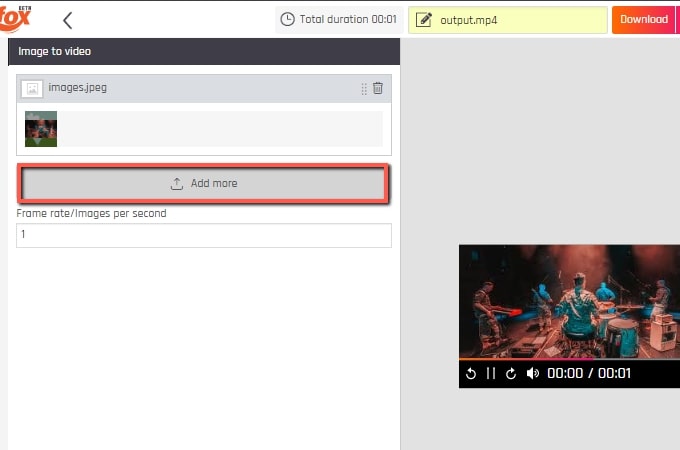 Once done uploading, go to the "Resize" option on the upper left part to select your preferred output size.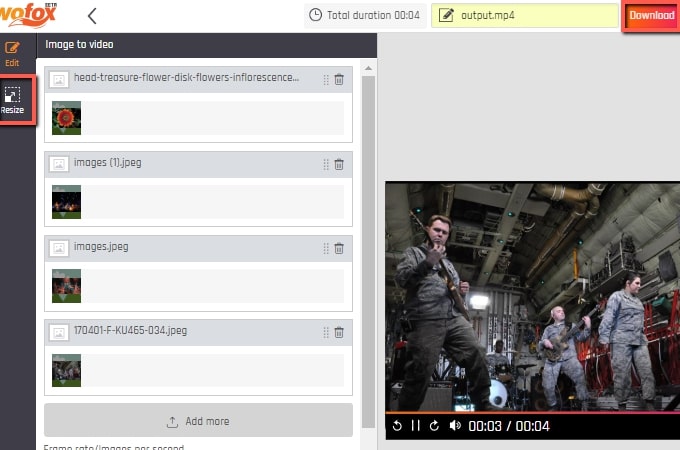 Lastly, click the "Download" button to save the converted images to video.
Conclusion
The tools briefly mentioned above are the best and most reliable programs that can help you with how to turn a picture into a video. However, we personally recommend LightMV to convert images into an amazing video file using multiple devices. In addition, LightMV allows you to share the converted images to video to different Facebook and Twitter directly. For more suggestions, feel free to write your comment down below.