So you had spent all your cash and savings just to buy that shinny little thing called "iPhone". Sure that by this moment, you were in heaven scrolling and swiping your new mobile gadget. Protecting it from scratches, bumps and dings are common; you always want it to look polished and new. Though, what if you accidentally dropped your phone in the toilet? Or slip it on your pants and have it spin down the tub? How about a great vacation on the beach while your iPhone also enjoys his own time swimming in the shore? Shocking and disbelief, these things really happen.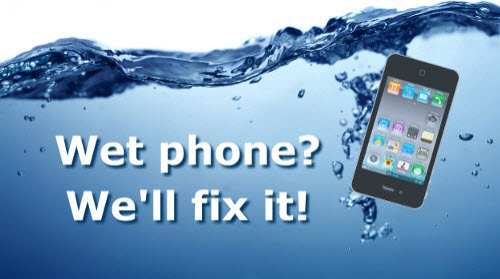 Though, save your gas first and don't go to the nearest repair shop yet. Depending on the extent of damage, you can still rescue a ruined iPhone. Read below and discover these efficient and practical ways on how to fix wet iPhone.
How to Rescue Water Damaged iPhone
Immediately get it out of the water
Hold your tears and panicky emotions; you need to take the iPhone out of the water as soon as you can. Remember that every second counts and doing this early will prevent further damage. Get tissue papers and completely dry your iPhone, make sure that it is dry as a bone. It would be helpful to turn the phone upside down and gently shake it off to remove excessive water. Thoroughly dry every corner of your iPhone including crevices, ports and holes.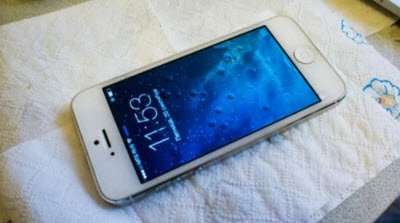 Remove SIM card and case protection
If you iPhone is housed inside a case, take off the case. SIM card should also be removed and you should do this very carefully. Removing the battery is indeed impossible with iPhone but for tech users, you may do so to help totally dry the phone.
Start initial drying
Whatever your reason is, if you want to fix wet iPhone, do not turn it on or plug it in a socket. This will cause abrupt short circuit thus permanently damaging your phone. Get yourself a good hair dryer and set it on the lowest heat. If you have a cold dryer, it is more preferred as it helps to avoid any heat damage. Blow dry all ports and openings for about fifteen minutes. Bear in mind the right distance between your iPhone and the drier. Do not tempt to dry it too close.
Get some rice or silica gel
Uncooked rice will do wonders to help fix water damage on iPhone 5, 4s, 5c and to other mobile gadgets. Get some uncooked rice and place it in an airtight container along with your iPhone. Be generous and make sure that you cover the whole phone with rice.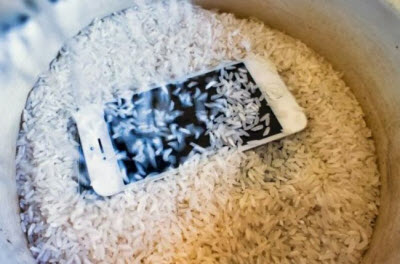 Another best option to fix iPhone with water damage is through the use of silica gel. See those tiny little packets inside shoeboxes, wallets and bags? They will absorb the moisture inside your iPhone. You can buy silica gels from crafts stores or supermarkets. Put them along with your iPhone in an airtight container. Similarly, be liberal and put silica gel packets as many as you can.
Patience is a virtue and fixing a water damaged iPhone 5s (Also the previous models) do take time. Leave your iPhone inside the container of rice or silica gel for at least 48 hours. The longer the better, leaving it in the container for a week will give you more positive results. After that, try to turn on your iPhone. The battery may be dead by now so give it a good charge and see if it turns on.
Download iPhone Data Recovery
There are instances in which you need to restore your phone after saving it from water. If after turning it on you see "connect to iTunes logo", this means that your iPhone requires to be restored. Having the great iPhone Data Recovery software will help you recover most if not all of your lost data.
It can retrieve deleted photos, SMS, contacts, call list, safari bookmarks, notes, memos, videos, reminders and more with just few taps and clicks. Also, no need to worry if you don't have an iTunes backup since iPhone Data Recovery tool can equally retrieve data directly from the phone. It is available for both Windows and Mac users while using it is very simple. Just connect your iPhone to PC using USB cable, select the appropriate recovery mode, click "start", and choose the files you want to restore.
How to fix water damaged iPhone can be a real nightmare to everyone. But with these helpful tips and tricks, saving your precious mobile phone is undeniably possible. Remember that to fix a totally wet and ruined iPhone, get all the water and dry it as possible as you can inside out. Doing restore and backup is also advisable to help protect your data.