It happens that sometimes you download the drama episodes online, however one episode may be separately into several video clips. To play them one by one in media player manually is not a good choice, imagining that a sudden interruption to the plot. In order to get rid of the trouble, the best idea is to combine the video clips into one. Luckily, with the correct merging software, you can join video files by sparing no effort no matter you get the video in same or different formats.
Specific Steps to Merge Videos
That's very easy to settle. You could merge video files with the Video Converter Studio, which is a versatile program that can convert, edit, play, record, and create videos, etc.
Add videos that you want to combine through drag-n-drop or the "Add files" buttom.
Enable "Merge into one file" option.
Drop down "Profile" to select a file format for resulted file.
Press "Convert" to merge video files.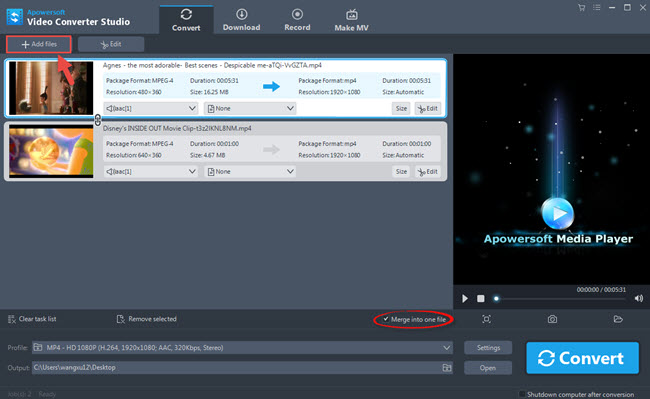 In fact, if you are a Windows OS user, Windows Live Movie Maker can do this as well. You may have a try.