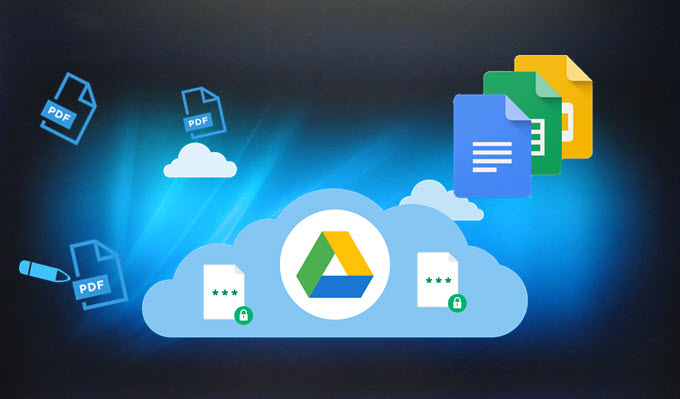 Some people might not be aware of this, but actually there is possibility to edit PDF in Google Drive or Docs for free. Now you can edit PDF right away without the need of expensive PDF editors. To know more about how it can be done, go on and read the rest of this post.
How to Edit a PDF Online in Google Service
1
Google Drive
We all know Google Drive as a Cloud storage provider from Google Inc. People are using it to upload pictures, documents, and short video clips. It also serves as backup storage for smartphones and tablet users. Surprisingly, it has a function that is unexpected to be seen in cloud storage providers, which is the capability to edit PDF documents.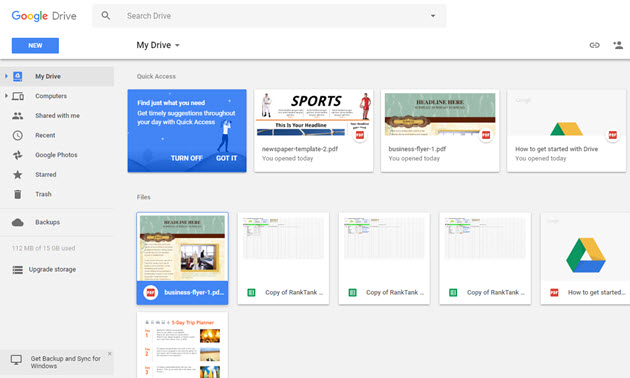 By using this app, you will be able to edit or add texts, insert images, tables, and drawings. This tool is perfect for correcting some portion of a presentation, a class paper, and many more materials. Those who want to know how to edit PDF in Google Drive, are kindly advised to follow these steps.
Go to Google Drive and sign into your account.
Upload a PDF by clicking on "New" and then on "File Upload", look for the file and open it.
Once uploaded completely, double click on the file and go to "Open with" – "Connect more apps".
Then you can search for an editor for use and click on "Connect" to continue.
After that, you will be directed to the uploaded file, simply choose to open with the editor you connected for editing.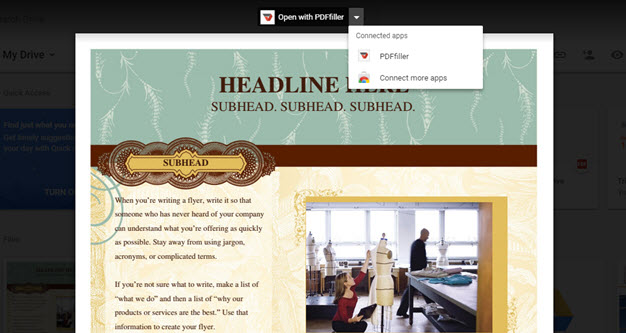 2
Google Docs
This is another service from Google which provides users with cloud storage. It supports all types of documents from Word to PDF and even Spreadsheets. By using it, users don't have to worry about carrying a flash disk anytime, all they need to do is to upload their files to Google Docs and they can open it anywhere they are as long they have a PC and reliable internet connection.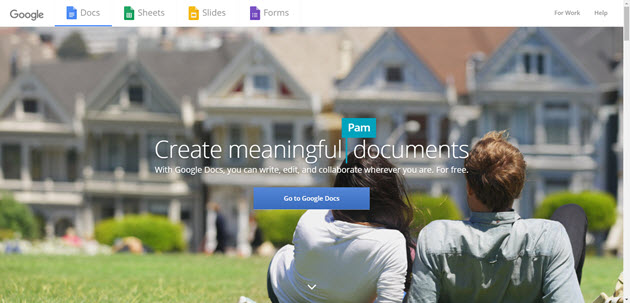 Moreover, it's also connected with some free PDF editors allowing you to do basic alterations on your documents. If you want to edit PDF files in Google Docs, here's what you can do.
Sign into your Google Docs account.
After that, start a new document and click on "File", then "Open". Look for your PDF file and open it.
Once the file is loaded, simply hit the "Open with" and from the drop-down menu click on "Connect More Apps". Simply look for an editor and start editing your file.
Alternative Way to Edit a PDF
There are some instances when an internet connection is not stable, or you need additional functions to manage your PDF file. In this case, all you need to do is to look for a reliable alternative such as ApowerPDF.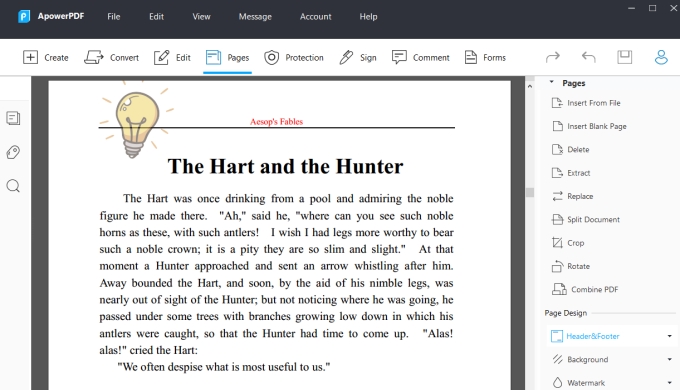 This is a perfectly designed PDF viewer and editor combined in one application. Aside from providing its users with an awesome reading experience, this PDF editor is also packed with functions that can help you add and edit texts, inserts images, add watermarks and security, as well as adding commentaries. Furthermore the ability to combine and convert PDF files are also useful additions in this app.
To edit PDF documents with this app, here are the steps to follow.
Download and install this great alternative by clicking on the download button below.
After that, open the tool and load the PDF that you wish to edit. You can do this by clicking on "Open Files" or just dragging the file right into the program's interface.

Once the file is loaded completely, you can start editing the file.
To keep the changes that you've made, click the save button at the upper right.
Now you can easily manage your PDF documents anywhere you go even without bringing a portable data storage with you. Simply open your browser and you can edit PDF in Google Docs and Google Drive in no time. On the other hand, if you need further functions to manage your PDF documents, ApowerPDF is indeed a great alternative to be used.