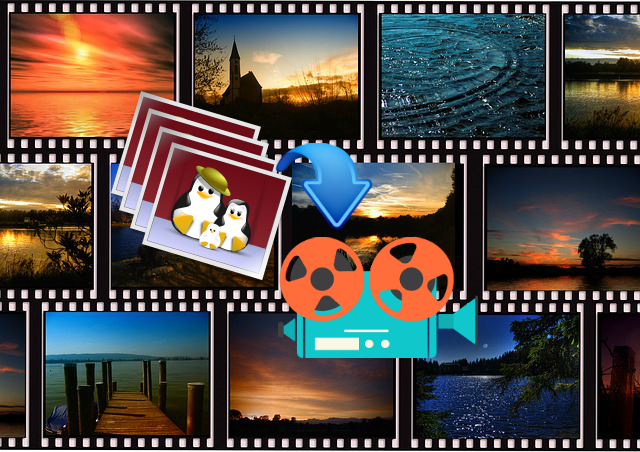 Short videos are now becoming popular since various social media pages and video hosting sites start supporting it. There are different types of videos that are circulating on the World Wide Web. You can find some video clip that contains demonstration, presentation, app review, or something that can entertain viewers. Aside from making a video through a camera recording, many users also create video from still images. Making a video clip from pictures is easy to do because you can do it even without having a professional skill. All you need to have are a reliable video editor and a set of pictures. And to know how it is done, simply refer to the list provided along this post.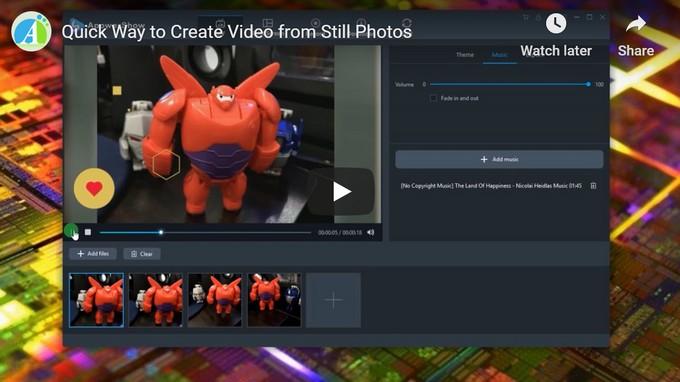 Use The Functional Online Tool
LightMV is a cloud-based video maker that supports Android, iOS, Windows and Mac. It is free and super easy-to-use. Even a newbie can make a cool video in minutes with the professional template LightMV provided. Since LightMV is an online tool, it allows users to manage their projects at any time and without the limitation of place. In addition, LightMV offers free music to users, but you can also choose to upload your own music if you want. Below are the steps of how to create video from still photos with LightMV.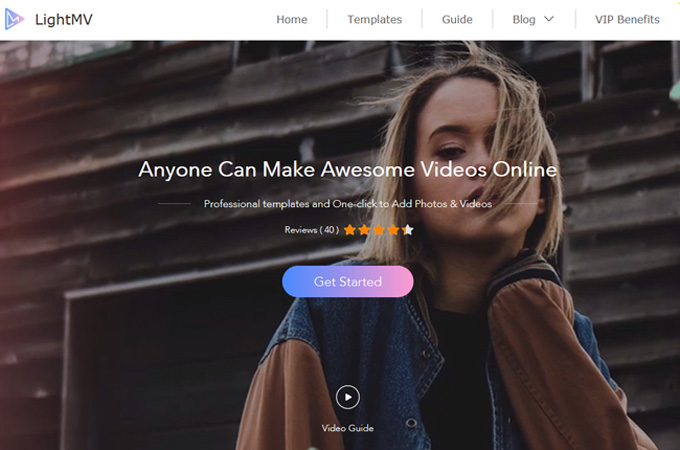 Go to LightMV's official website.
Click the "Get Started" button.
Select your preferred template.
Drag and drop your photos to the editing area. Or you can just click the "+" button to upload multiple photos at one time.
Click "Produce" to generate the video and then click the "Download" button to save the video to your device.
Use Microsoft's Photos app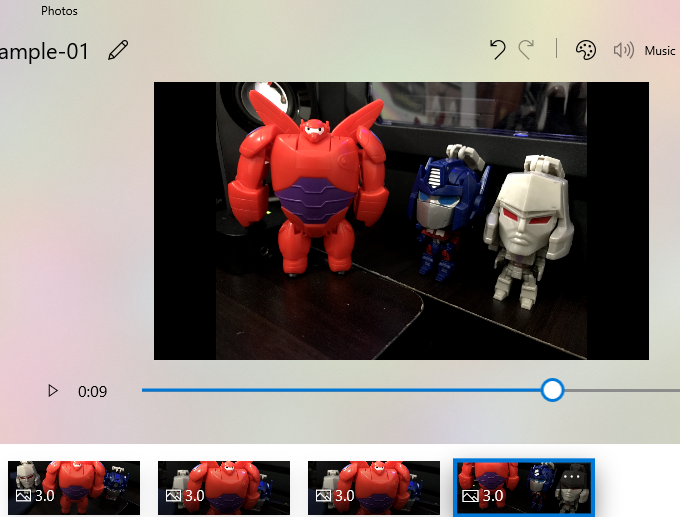 One way of sharing your captured images is by making a short clip out of them. And one of the easiest ways to do this is by using a built-in application for all Windows 10 users, which is the Microsoft Photos application. Yes, you read it right, the program that usually helps us browse and manage our images is now equipped with a basic video editor. With this new function, users can easily make videos from still images that they prefer. There are two ways of creating a video using this program, first is by using the "Remix" and second is by doing it "from the scratch". Although it does not possess the functions of a full-time video editor, it still works well in creating awesome looking video clips made of still images.
Here are some guided steps to do a video clip with this tool.
Open your Photos app.
After that click "Edit & Create" and then select "Custom video with music".
You can then key-in the name that you prefer for your video. Next is to choose the images that you need to use for your video and then click "Add".
The editing platform will then be shown, from here you can arrange the images that you've selected or add more images. You can also pick a "Theme" and "Music" from the menu bar at the top of the app.
Under the Story Board, you can customize the "Duration", insert "Text" or add "Motion".
To render the created video just hit "Export or share".
Use ApowerShow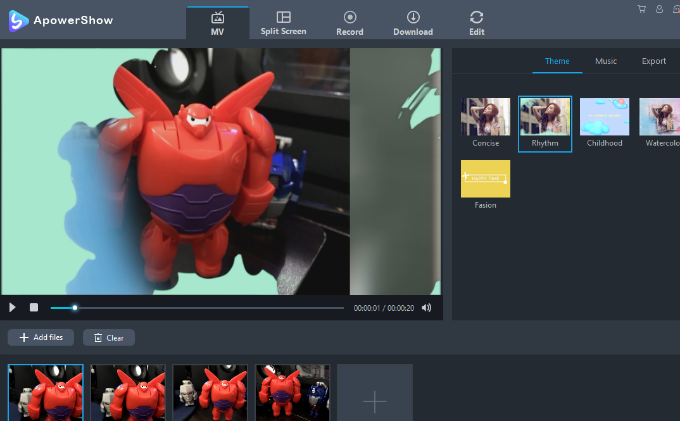 The next application to create a movie from still images is called ApowerShow. This is an easy-to-use video maker that is capable of creating decent video clips whether from raw footage or still images. The program has two versions, an online version for those who don't want to add bulk into their system or the desktop version if you prefer using the tool even without the internet connection. Upon creating a video, you can select the "Theme" and "Music" that you like for your video. Just load up the images, make some configuration and your video is done in no time. Aside from making videos, this tool also has additional functions like "Split Screen", "Record", "Download" and "Edit". It is indeed a reliable program to create video from pictures without any hassle.
Here's how to create picture video using this tool.
Go to the program's official page and choose whether you like to launch it online or download its desktop version.
After that, open the video maker and start loading the pictures that you need for your video. Just click "Add files", choose the images, and open them.
When the images are loaded, you can start rearranging them according to your will.
After that, you can add the "Theme" and "Music" that you want to use.
To render the video, click "Export", select the size that you prefer for your video and then click "Export" once again.
Use Animoto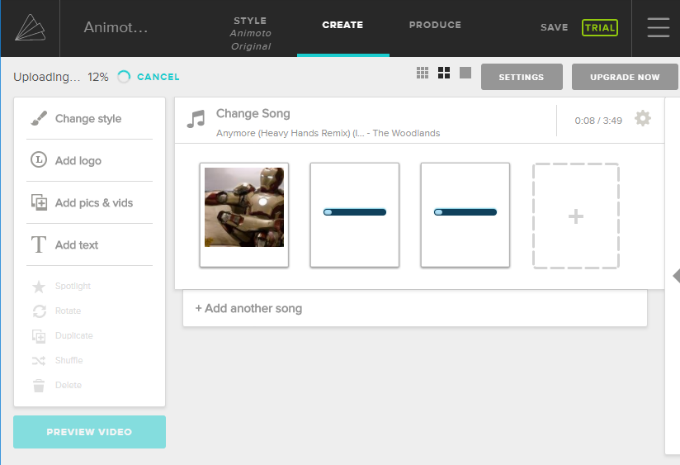 Another way to create animation from still images is by using Animoto. This is a web-based application that serves as an instant video maker. It is also known for the pre-made templates which are good looking and have different variations. Moreover, this tool also gives users an option of whether to change the "Style" that they are using. When you are satisfied with the video you make, you can share it directly on various social media pages or download it on your hard drive. However, to get the full version of the app for removing watermarks, you must purchase its upgrade plan.
To make a video, simply follow these steps.
Go and visit Animoto's official page.
Once on the page, click "GET STARTED" and sign up or log in with your Facebook account. Click "CREATE" under Animoto Memories.
After that, choose the template that you want to use for your video and click it. Click "CREATE VIDEO".
The editing window will then appear, now from here you can add the images and add your own logo or captions if you like. You can also edit the template's built-in music or insert additional background music.
To save your video, click the "PRODUCE" key-in the details required, and then click "FINISH". After the video was rendered, you can either save it on your desired folder or share it on a social media site that you like.
Conclusion
Those are the easiest ways on how to create video from still photos. Making a video from images is not that complex compared to a clip made from a video footage. Using the tools above you can easily drag the images that you prefer and let the tool do the job. Overall, the three programs work well and are reliable enough. But if you are looking for additional functions such as video editing, then ApowerShow has the edge, since it is embedded with extra tools like video editor, screen recorder and more.