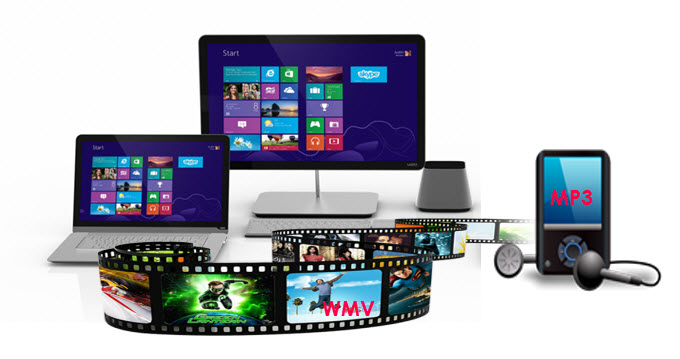 WMV or Windows Media Video is a video file format developed by Microsoft in 2003 and was released to the public in March, 2006. WMV which was originally designed for internet streaming as well as a competitor to RealVideo has become a standard video format. People who still want to enjoy the embedded audio in the WMV video using their gadgets like iPod, iPod Nano after work are in want of ways to extract MP3 audio from their WMV video. There are commonly two methods to handle this: extract the audio from WMV video or directly convert WMV file to MP3. The latter would be simple to people of any level of skill for computer. No professional knowledge for audio codec, bitrate, sample rate and channel are needed. For most common people, this is the best way to get the embedded audio in the video. We have searched out 5 best free yet efficient tools to make this whole process right on. Check out these recommended programs.
5 Best WMV to MP3 Converter Free
i
Apowersoft Free Online Video Converter
Apowersoft Free Online Video Converter is an online application that can be used to free convert any video file into MP3 format without any limit. It has a very friendly user interface that can easily direct people to launch a basic file conversion, and the resulted file will be instantly saved to our computer. This is very different from some common online converter applications that ask people to become a member of their sites before they can fully use the service or some will not let users get the converted files immediately. And the only requirement for using Apowersoft Free Online Video Converter to convert WMV to MP3 online is a reliable internet connection. Go to the official website of the tool at first.
In the "Step 1", click "Browse" to import WMV files that you wish to convert.
In the "Step 2", choose "MP3" as the format for the output file.
In the "Step 3", press "Convert" and the files will start to be converted right now.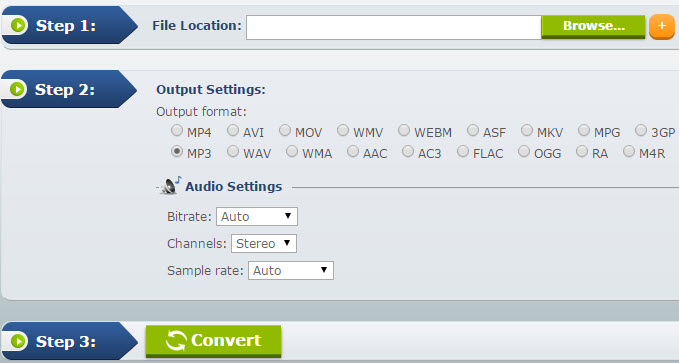 But if you want a more feature-filled program that can convert WMV file to MP3, you may try the desktop program Apowersoft Video Converter Studio. This software can convert all files offline without losing quality at a fairly high speed.
It also comes with other practical features, such as video editor, multimedia player, video downloader, screen recorder, video creator and many more.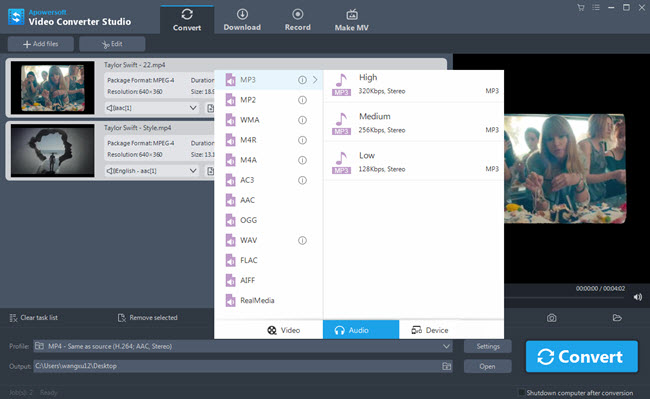 ii
Files Conversion
Like the above mentioned program, the Files Conversion is also an online application that needs not to be installed on your computer. This tool allows you to convert video files into known audio formats as well as video format. All you need to do is to upload the file and select the output format from the list of available options.
However, one downside of Files Conversion is that choices to edit the output are very limited. You can only choose from low, moderate, high and very high quality. What great of this WMV to MP3 converter is it is really free with no known viruses or malware.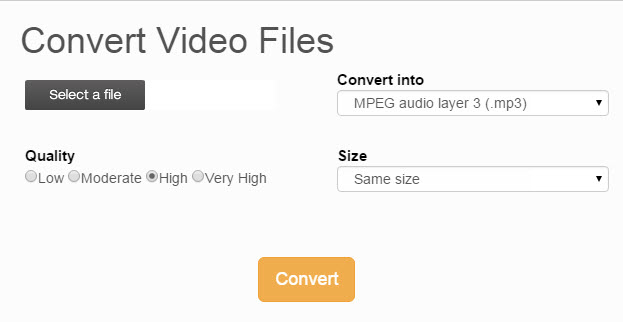 iii
Convertio
Convertio is yet another application that can convert WMV to MP3 online. It gives you several options to upload the file you wish to convert. You can upload the file locally in your computer, or from Dropbox, Google Drive account or with video URL. You can even drag and drop the file to the main interface and conversion will automatically follow.
Despite as a free web-based converter, Convertio comes with a restriction. To be able to increase the file size limit to 1 GB, you need to register to become a subscriber to this site.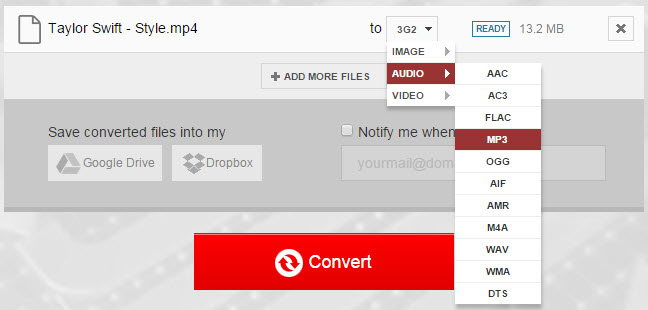 iv
CoolUtils
CoolUtils is another online application that can convert WMV files to MP3 for free. What makes CoolUtils different amongst others is it equally offers a wide selection of utilities that can convert different types of files. It can convert popular files into various formats including videos, audios, documents, movies, PDF, mails, images and many more.
People are not allowed to freely use all its functions. There are services that you need to pay money. However, converting WMV to MP3 online using CoolUtils comes free and needs no further registration.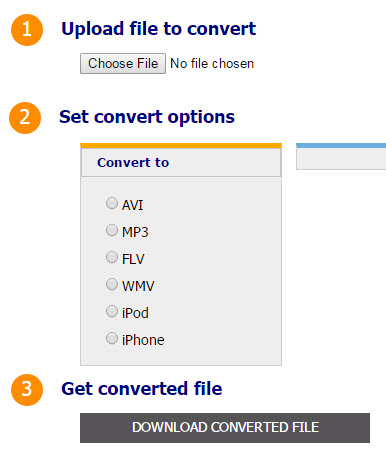 v
Zamzar
Another application that can convert WMV to MP3 online for free is the Zamzar. It is an online application that supports over 1,200 different file conversions. Zamzar is convenient to use, which needs not to be downloaded and promises to perform file conversion in less than 10 minutes. No demand for sign-up or registration before you can actually use the software.
Yet, Zamzar only supports 100MB of file size per conversion for unregistered users. If you need more, you have to purchase one of their monthly packages that ranges from $9 per month to $49 for business users.

Conclusion
If you're asking yourself how do I convert WMV to MP3 without burning holes in my pockets, you can find the answer by trying one of the above programs. If you know other popular online conversion tools that are free and easy to use, let us know by hitting the comments section below and we'll consider adding it to the list.