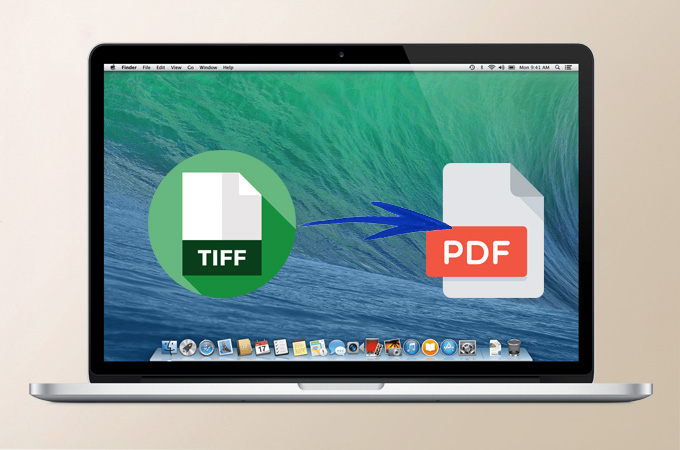 TIFF or Tagged Image File Format is a desktop format for saving raster graphic images. This is commonly used by graphic artists, photographers, and publishing companies. The format is very flexible and can be modified and updated easily. However, compared to other formats, it is pretty large. And this kind of file is less secured and doesn't allow any attachments of documents and links. Hence, if you want to insert additions on your file, the best solution is to turn your file into PDF. Here are the excellent solutions to convert TIFF to PDF. Read and choose the best one for you.
Optimal Tools to Convert TIFF File to PDF
TIFF to PDF
Link: https://tiff2pdf.com/
Pros:
It is fast and easy to use.
There is no need to log in or register.
It can convert numbers of images to one PDF.
Cons:
Although the website says it has no limitation to the size, a too large file size still cannot be uploaded and converted, for example, 100 MB.
It cannot download all converted PDFs with one click.
This excellent online converter comes with a clean and straightforward page that even first-time users can easily utilize it. Plus, the program is absolutely free and won't add any unsightly watermarks on your processed documents. To convert TIFF to PDF online, you can follow these guidelines.
Visit its official website.
Click "UPLOAD FILES", locate and select the TIFF file(s) you wish to convert.
Once converted, hit the "DOWNLOAD" button to save your converted file(s) on your computer.
If you want all process documents merged into one PDF file, you can click "COMBINED".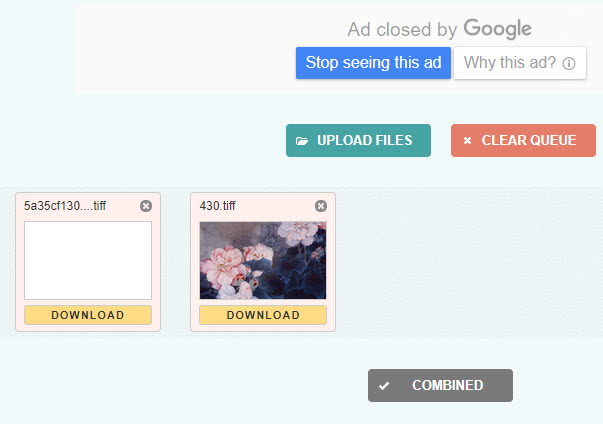 Hipdf
Link: https://www.hipdf.com/image-to-pdf
Pros:
The website is multi-functional.
It is clean with no ads.
It offers more options to upload and store files.
Cons:
It limits file size, only 20 MB can be used for free and the maximum file size it supports is 50 MB.
Another online solution to convert TIFF to PDF for free is the Hipdf. This website works for more than converting TIFF. The website can merge, edit, split documents, and more. What's more, if you register and log in its account, you can check your process, record, and download the documents anywhere during the valid time.
Go to its main page.
Choose a method to upload TIFF files. Wait until the file(s) are uploaded and then click the "Convert" button.
After the process, click "Download" or one of the cloud service icons to save PDF.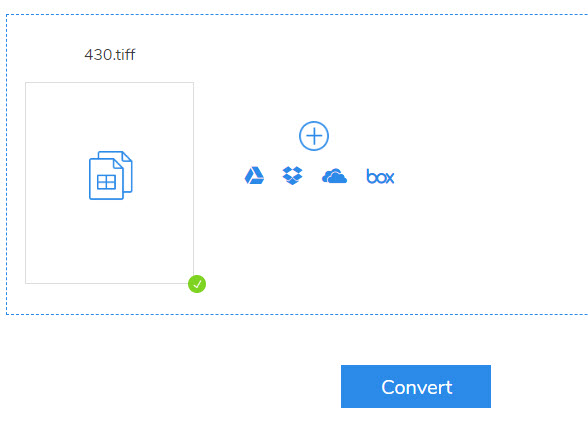 Online Converter
Link: https://www.onlineconverter.com/tiff-to-pdf
Pros:
It supports URL method to upload a file.
The file size it supports is the largest among the three tools recommended in this post.
It has options to resize the file.
Cons:
It can only convert one file a time.
The website is not very clean.
The last tool to convert TIFF to PDF is Online Converter. As its name implies, this site is specialized in converting files online. Actually, it not only can turn TIFF file to PDF, but can also convert other formats, even videos and audios. The interface is simple, and the program works great. Now, let's start converting with it.
Browse the website for TIFF to PDF.
Go to "Source" to select "Upload File" and then click "Choose File" to upload TIFF image. You can also check "Options" to set output file size according to your need.
Next, hit the "Convert" button to start. Once done, it will automatically pop up a window asking you to save the file. Also, you can use "Click here" to download the document.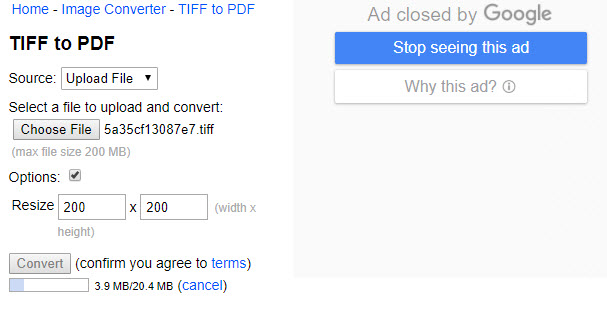 Conclusion
In summary, the mentioned methods are easy to convert TIFF file to PDF. With them, you can convert files without complications. What's more, we also tried other online similar tools. Even though there are some good programs like the ones we recommend here, some are not stable even from browsing the website. Thus, whenever you want to turn your TIFF file to PDF, don't hesitate to try the online applications in this post, which can help save time and energy.