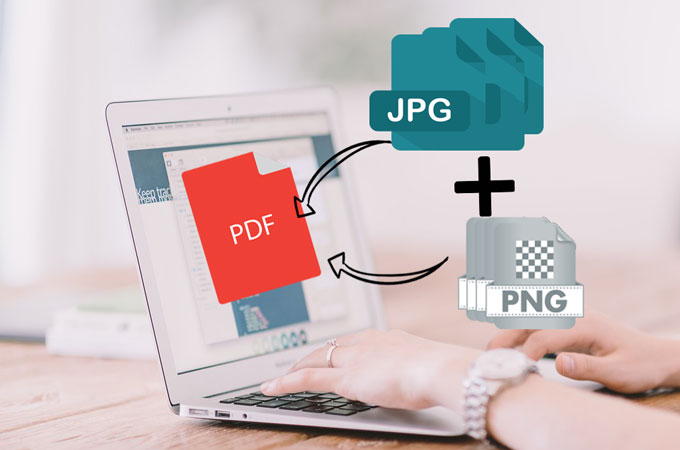 PDF allows users to send vast amounts of content across different platforms easily, hence making it a widely used option by most users all over the world.
Because of the convenience of this electronic format, people who want to store, manage or send a set of images choose to combine images into PDF. For instance, if you have scanned some sheets and you'd like to send them to a colleague or client, you can quickly do so by converting it into PDF.
Check out the following tips and solutions to learn how to merge images to PDF.
Solution 1: Free Online Tool – Free Image to PDF Online
Apowersoft Free Image to PDF Online is a completely free web-based application that's specially designed for converting images to PDF. There's no need to download software, and you can use it anytime without any limitation of usage and without hidden costs.
This online tool offers six powerful key features. It allows you to:
Reduce photo size while retaining high quality.
Convert multiple images to PDF simultaneously.
Import single pictures one by one.
Use two operating modes of conversion: from hard disk and from a URL address.
Add or remove a page by simply clicking the "Add New page" and "Remove this page" buttons.
Show/hide page numbers.Compared to other similar online tools, it has a selection of superior functions and a faster conversion speed.
More importantly, the output quality is remarkably good. For a free software, this application actually gives you a high output quality.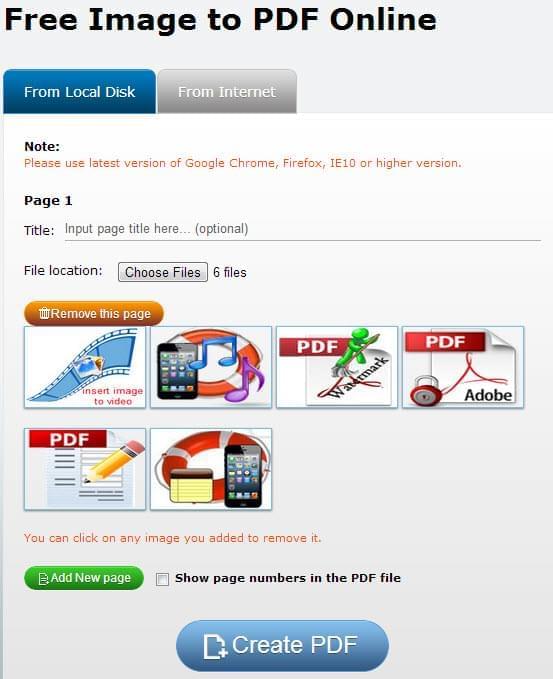 The interface is neat, simple and easy to understand. To convert multiple images to a single PDF, do these steps:
Step 1 – Choose multiple images via hard disk.
Step 2 – After uploading, type in the page title and add or remove pages as necessary.
Step 3 – Click "Create PDF".
Solution 2: Online PDF Converter – www.online2PDF.com
Online2PDF is also a free web-based PDF conversion tool. It can convert images and Word documents into PDF. It also enables you to edit, combine and unlock your PDF document.
However, the main disadvantage is the file size limitation. You can only upload a maximum of 50 MB, and all files (up to 20 only) shouldn't exceed 100 MB.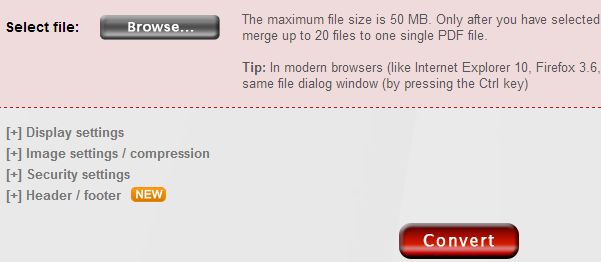 Here's how you can use online2PDF to convert several images into one PDF:
Step 1 – Select an image file to convert.
Step 2 – Edit the image, display and security settings, and the output format.
Step 3 – Click "Convert".
Solution 3: Document Converter – www.docupub.com
Neevia Document Converter is a free online solution that lets you convert different types of file formats into PDF. To use this application for merging images into a PDF document, you'll have to undergo two processes.
First Process: Convert image files to PDF one by one.
After adjusting the settings, click Upload and Convert or provide an email address to receive the output.
Second Process: Merge the converted PDF files into a single PDF.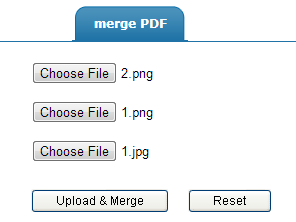 On the same homepage, click "Merge PDF" and then upload each of the converted files one by one. Click "Upload and Merge" to combine them into one PDF.
Neevia Document Converter has an upload limit of 2 MB per file. Also, you can only merge up to 10 images.
Apowersoft PDF Editor to Combine Images Into PDF
Apowersoft PDF Editor is a multi-purpose software that offers a wide selection of features and functions for managing, editing and converting different types of files.
To merge images to PDF, follow these steps:
Step 1 – Convert each of the images into PDF by clicking "Convert" > "From File".

Step 2 – Merge the converted files by clicking "Pages" > "Merge Document".

A noticeable advantage of Apowersoft PDF Editor is the variety of basic and advanced functions it provides not just for converting files but also for editing and securing documents. It utilizes the latest OCR technology for scanning and editing image-based PDF files.
You can merge, crop, split, extract and delete pages, fill PDF forms, add watermarks, add security password, and convert between PDF files and editable formats.
Recommendable Solutions to Combine Images Into PDF
If you prefer to download a reliable software not just for converting but for editing and managing files, then Apowersoft PDF Editor is recommendable for you.
Neevia Document Converter and Online2PDF are viable solutions that you can use for free without downloading anything, although they do have file size limitations.
If you need a fast and easily accessible online application that you don't have to download, Apowersoft Free Image to PDF Online is best recommended. It can help you convert multiple images into PDF for free and without any file size limitation.