Two Solutions to Convert PDF to PowerPoint on Android
Apowersoft PDF Converter
Apowersoft PDF Converter is a multi-platform app which can be used on your Android, iOS, Windows and Mac devices. As its name implies, its main function is for PDF conversion. And it can easily convert PDF to PPT, and the PowerPoint files it processes are editable and all of the data is kept in order. What's the best and amazing function of this app is that it can help you convert documents quickly – as it can batch convert PDF.
Follow the steps below to learn how to convert PDF to PPT on Android with Apowersoft PDF Converter.
Click the download button below to get the app on your Android.
Open the app, and you can directly tap "PDF to PPT".

Press the "Choose file" button, choose which files you want to convert to PPT format and then hit "Done".
For the final step, press the "Convert" button and wait until it completes the conversion process.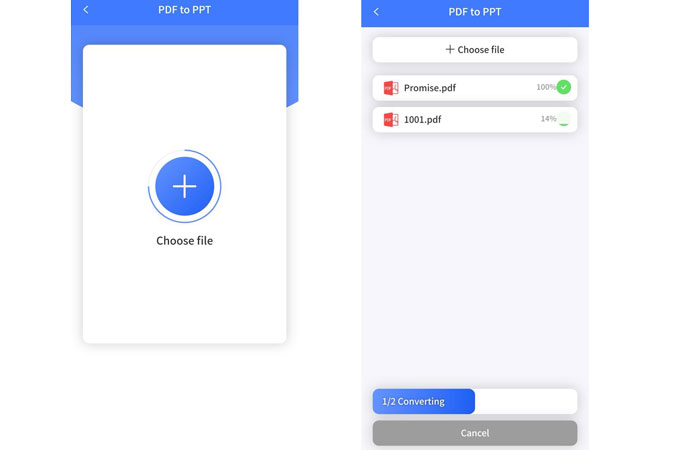 To view the processed documents, you can tap "View document" and hit the file you want to check, and it will guide you to open with the PPT viewer app installed on your Android phone.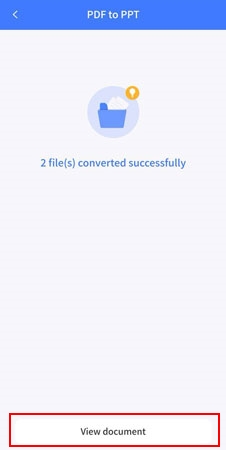 If you use the program and find it good to use, you can give us a good review here: Review Now.
Apowersoft Online PDF to PPT
Another tool that you can use to convert PDF to PowerPoint on Android is the Apowersoft online PDF to PPT tool. This is a web-based app that allows you to convert files for free. And it is available to use on your mobile phone as well as computer browsers. With it, you can process your PDF files with a few clicks. Below is how this website works.
Go to your Chrome browser on Android and visit its website.
Tap the "Choose file" button and then hit "Files" to select a PDF file from your mobile phone.
After that, the website will start uploading and converting.
Once done, press the "Download" button to save the PPT file on your Android device.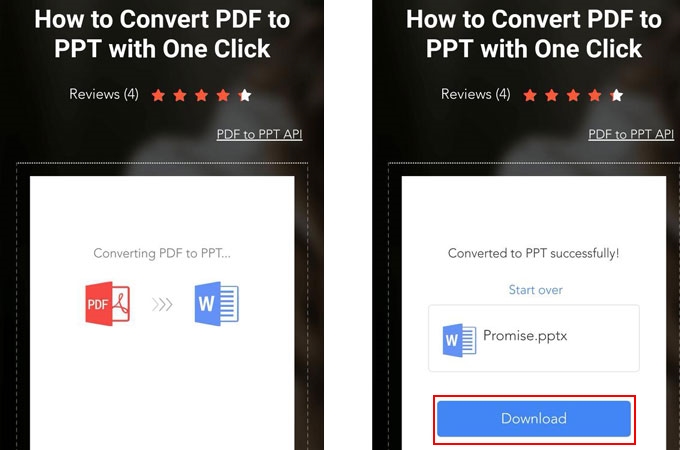 This solution is free to use, but it cannot upload and process multiple PDFs a time. So, it is best suited for people who only have a few documents to convert.
Extra Tip – An Easy Way to Play a PPT on Your Android
After you convert PDF to PPT on Android, you can use the Microsoft Office app edit PPT on your Android. Here, I will tell you a convenient way, you don't even need to transfer PPT to your computer, but can make presentations with your phone and computer.
ApowerMirror is an application which can cast the screen of your Android device to the computer. So with this app, you don't need to stand in front of your computer all the time, but can play the PowerPoint by sliding the PPT on your Android phone. And it has a whiteboard feature which allows you to draw on the presentation and explain your ideas. ApowerMirror is very helpful, especially if you want to deliver your presentation on a bigger screen.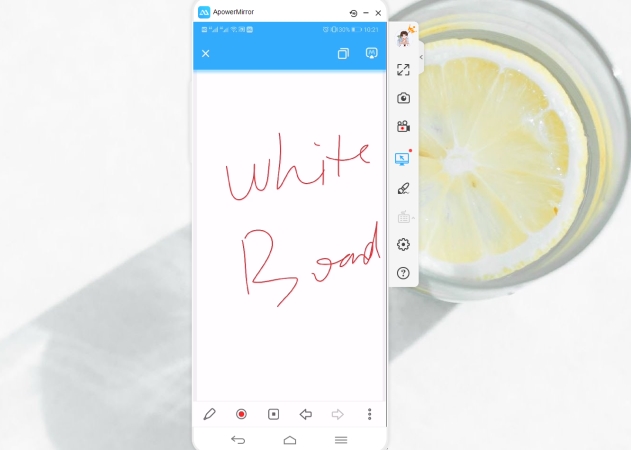 Conclusion
It will be very convenient now since you can convert PDF to PowerPoint on Android, because you can then easily use the PDF's contents for your PowerPoint presentation and you can use apps to modify your PowerPoint even you are not in your office. And taking along a mobile device is much easier than always carrying a laptop along with you all the time. If our solutions helped you or you find any other good features while using our solutions, tell us in the comments section below!