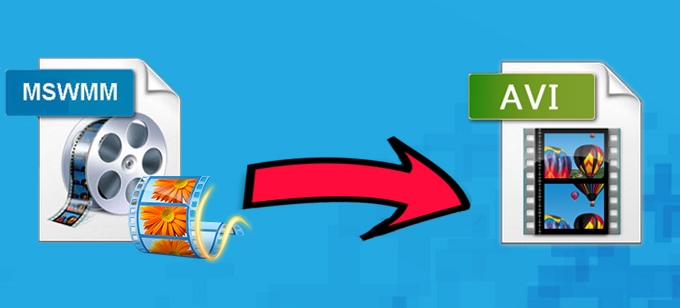 The abbreviation MSWMM refers to Microsoft Windows Movie Maker. This refers to movies created using the software Windows Movie Maker through the process of editing, manipulating and combining all the content to come up with a MSWMM file. However, the MSWMM files are inadequate which deems it important to convert them into other formats.
Some of the reasons why anyone would choose to convert MSWMM to AVI include the following:
Although MSWMM files are movies, they are not compatible with most of the media players in the market today. For instance you can't play MSWMM files with VLC.
MSWMM files can't be viewed as video files. This demands the need to convert Windows Movie Maker files to AVI or other formats.
MSWMM files don't have audio or video information since Windows Movie Maker is simply used as a video editing software.
How to convert MSWMM to AVI?
Outlined below are some of the best MSWMM to AVI converter solutions available today.
1
Save Windows Movie Maker Project As A video
In order to convert MSWMM files for free, you should:
Open Windows Movie Maker and choose the desired file. Click the option Publish Movie.
Choose to save the completed file on your computer and choose the appropriate file name. Choose any location on your computer to save the file.
Click on the settings for publishing your movie and choose the preview option of watching your movie after the publishing is complete.
This is a very simple procedure to save your MSWMM file to WMV. But if you want to get this file in AVI format, you need a video converter.
2
Convert Windows Movie Maker files to AVI with MSWMM file converter
There are many powerful video converter programs that can help to convert MSWMM files, among which we have found two tools worth highly recommending.
i
Apowersoft Free Online Video Converter
Using Apowersoft Free Online Video Converter, you can convert MSWMM to AVI online without any hassles. After you convert Windows Movie Maker files, you can make them compatible to any media player on any device. Some of its key features include the following:
It is free of charge without any hidden costs or need to register, download or install on any device. Also, there is no limitation on the number of files you can convert.
The application also produces high quality output of videos, regardless of how many videos have been converted. There is also no compromise on the speed of conversion which remains as high as possible for every free conversion of MSWMM to AVI.
It is very easy to operate. Once you visit the website, you can upload a file and simply convert. It also comes with a simple user interface with very friendly customer care support in case of any hurdles.
It provides a free editor to let users do some basic edit jobs like trimming, cropping, adjusting playback speed, adding watermark, video rotating, changing audio volume, etc.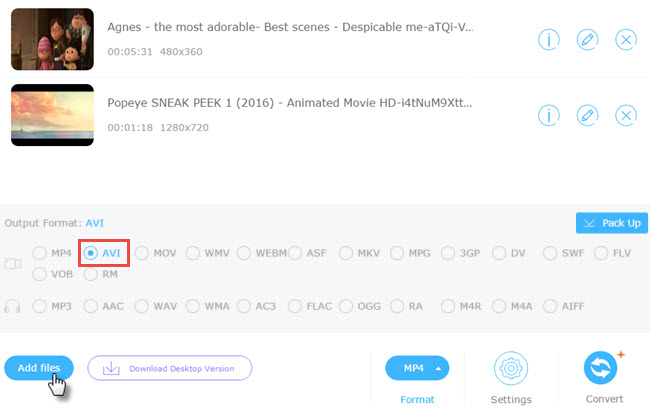 ii
Apowersoft Video Converter Studio
Video Converter Studio is yet another application that can be used to convert MSWMM files into AVI format. Some of its key features that necessitate its function include the following:
The application seeks to preserve the original quality of the original file even after rigorous conversion therefore producing high quality video output.
It also allows you to manipulate the MSWMM video file during conversion by adding extra audio files and subtitles where necessary. Also, with the subtitle editor, you can either choose to add the subtitles in different languages, edit the font and position them carefully within the video file.
The application also allows you to combine two separate videos and create one. You can also choose any format preferable for the final output video. There is also a crop function which allows you to effortlessly edit the video using parameters such as saturation, contrast or brightness.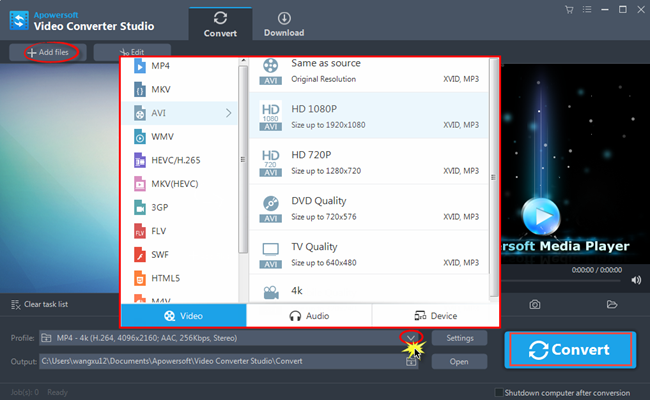 In conclusion, thanks to all the above solutions for converting MSWMM files into AVI, you can watch different video files on any device whether a PC, iPad, iPod or iPhone.