Two Methods to Free Convert DAT video to MP4
Apowersoft Free Online Video Converter
The Apowersoft Free Online Video Converter is an application running on the web. There is no need to install for converting video files. Aside from the fact that it saves a good amount of space on your hard drive, using this web-based tool is totally free of charge. This handy file converter is best for people who are using computers in a friend's house or public places because it doesn't require installations, memberships, registrations, or log-in details.
The online application can convert DAT to MP4 online at blazing fast speed, not to mention that using it is extremely easy. You just follow the steps below.
Click "Select files to start", you'll be instructed to download an Launcher to your computer.
After it is well installed, files can be added to convert.
Select "MP4" from the Format dropdown listing.

Hit "Edit" to customize your video like crop, trim, rotate, add effects, insert watermarks, etc.
Press the "Convert" button and the files will be saved to the computer very soon.
It is not ordinary because it doesn't have file size limitations or time restrictions which are quite common in other converters.
Using WinFF
Another free DAT to MP4 converter comes to the name of WinFF, a desktop program that you need to install on your PC. Currently, it only supports both Windows and Linux. WinFF is an open-source application meaning downloading and using it is totally free. This software can alter both audio and video file formats.
How to convert DAT file to MP4 using WinFF is nevertheless simple, see the guide below:
Right-click the DAT file and delete the.DAT extension;
Replace it with.MP4 or to the format of your desire;
Launch WinFF;
Click the "Add" button and select the .dat file you've just replaced with .mp4;
Hit "Convert to" and select MP4;
Choose the right video quality as well as settings;
Click "Convert".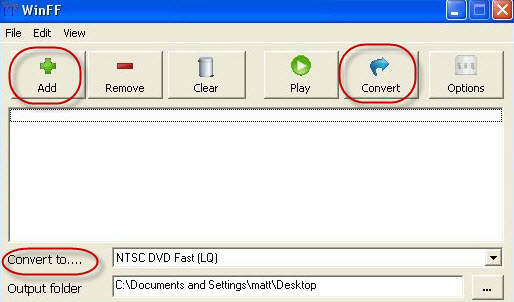 The main disadvantage of WinFF over the online converter listed above is that using it is a bit complex. You need to install the program, download the right version and replace file extensions. Additionally, bear in mind that WinFF is an open-source application, which means there might be some bugs, malware and crashes.
The Shareware to Convert DAT to MP4
If you have a bit of cash to shell out and don't want to be tied up with free DAT to MP4 converters, check out Apowersoft Video Converter Studio. With this premium software, you can not only convert popular media files to different formats but also can download videos from various websites and edit them as well. Press the "Download" button to install it on your PC and you will finish the conversion instantly.
Moreover, it supports high-definition videos with resolutions up to 4K (4096×2160). Directly converting DAT files so as to make them readable by portable media gadgets such as the iPhone, Samsung, Android smartphones, PSP and many other devices is likewise possible with this shareware. Here are the instructions about how it works.
Click the "Add files" button to load your files
Open the "Profile" drop-down list, choose your output format as "MP4".
Select the folder to place the MP4 file.
Hit the "Convert" button and wait for the completion.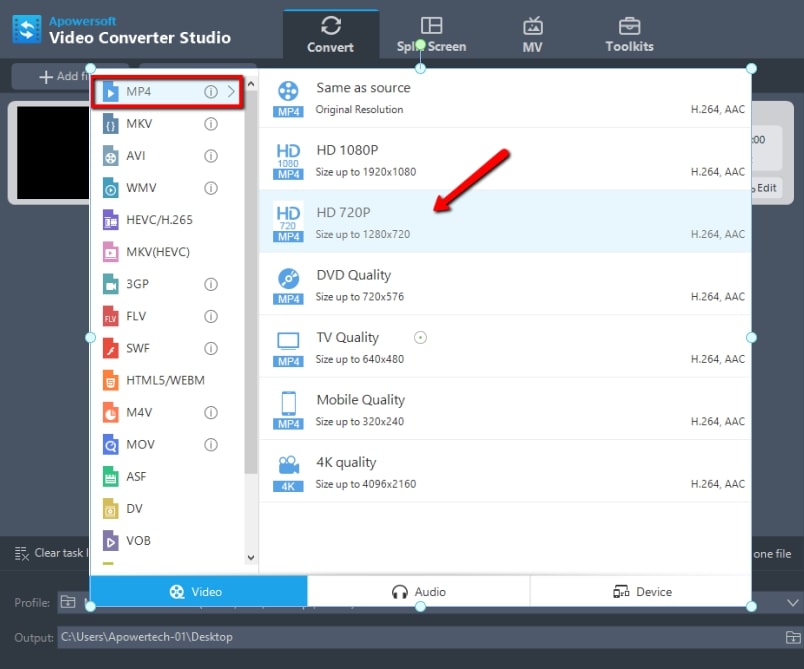 How to Play VCD (.dat) on PC without Conversion?
If you just want to play DAT files on your computer meaning you have no intention to convert DAT video to MP4, you can use a VLC media player. VLC is a free multimedia program that can play a wide variety of formats like FLV, DVD, WebM, WMV, MP4, DIVX, DAT, VCD and more. It is currently available for Windows, Linux, and Mac OS X users.