List of Best Solutions to Compress Your PDF
Apowersoft PDF Compressor
This first in our list is a new product of Apowersoft. We had done hundreds of thousands tests before it was published to make sure the compression service can help most users to reduce the file to a specific degrees as they need. We also made the application to show the estimated file size, so you can have a general idea about output file size. Now, follow the guide below and let's start checking how it works:
Click the download button below to get the program and open it.
Click the "Choose file" button in the center of the app and import one or more documents.
You can choose "Clarity priority" to get a high quality but compressed document or go to "File size priority" to customize the compression level.

After this, click "Convert" and wait it to complete the procedure. And you will get small-sized files.
Apowersoft Online PDF editor is a tool that can be used to compress PDF files online. This tool can also be used to edit, create, converting and combine PDF files. With it, you can adjust graphics and images. Furthermore, it allows you to compress PDF file in a quick way. Even if you are a beginner, you can easily use this tool because it has a professional and friendly user interface. To get more information on how to use compress a PDF online using Apowersoft Online PDF editor, see steps below:
1. Visit Apowersoft Online PDF editor on your browser.
2. Click the "Edit Online" button and click "Create PDFs" to choose a PDF file on your computer.

3. Under the file section, select "Reduce File Size" to compress your PDF file and then save to your computer.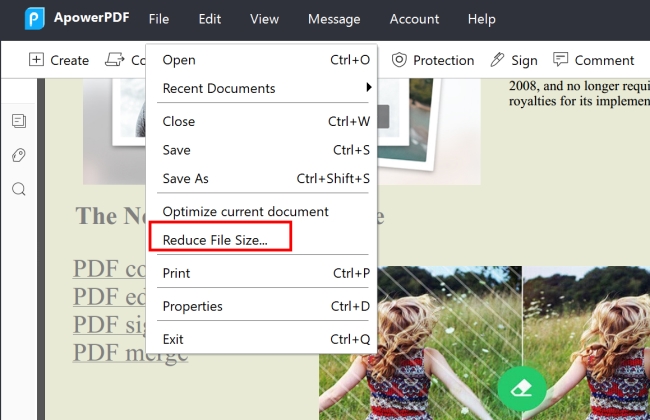 Soda PDF Anywhere
Soda PDF Anywhere is an application that is available on both desktop and online. The desktop application allows you to download the application and it can be used offline. Meanwhile, the online version allows you to access its features on any devices or web browsers. Soda PDF Anywhere can create a number of file formats, convert file types such as Word, HTML, Excel, images and many more. Furthermore, this tool can also compress the PDF file size. Here are the steps on how to compress a PDF file.
1. Go to its official website, select "Compress PDF".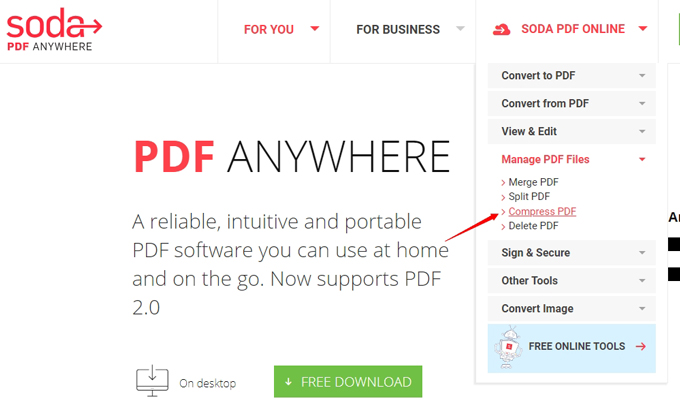 3. Choose the quality of the document that you have compressed and download.
PhantomPDF Online
The last tool recommended is PhantomPDF Online. It enables you to convert, and create multiple file formats to PDF and vice versa. This tool offers various features, like comment, edit, organize, sign PDF files and more, to use. It has different types of languages so that users from many countries can use the program easily. To know more about how to compress a PDF file, read the guide below.
1. Go to PhantomPDF's online official Website, Select the "Choose File" option and select what files you want to compress.

2. Under the "Home" section choose "Compress" and login to reduce your PDF file.

3. Then the file will be saved to your local drive.
Conclusion
As noted above, these are the tools that you may use to compress PDFs were mentioned. But these tools have some different features that you should learn more about to be able to choose the one best suited for you. Below is a chart of the advantages and disadvantages of the tools.
| | | | | |
| --- | --- | --- | --- | --- |
| | Apwersoft PDF Compressor | Apowersoft PDF Online Editor | Soda PDF Anywhere | PhantomPDF Online |
| FREE | × | √ | × | × |
| Login | √ | × | × | √ |
| Document quality selection | √ | √ | √ | × |