3 ways on how to compress BMP files
ApowerCompress
ApowerCompress is one of the best tools that can help you solve your problem about how to compress BMP. This amazing tool is free and easy to use. It supports a lot of file formats including JPG, JPEG, PNG, TIF, TIFF, PNG, GIF and BMP. Moreover, it also offers a very flexible compression strength function for you to compress BMP more freely. Furthermore, you can also customize and modify the size of your image by cropping its width or height. This tool is absolutely one of the best compression tools. Try this awesome tool by following the simple, yet instructive steps we have listed for you.
Go to download and install ApowerCompress on your PC.
Download
After downloading the application, open it and then proceed to the "Compress Image" tab. Click the "Add Image" button or drag the image into the drop box on the interface to upload it.
Adjust the compression strength and choose the output format whether to keep it original or save it as JPG.
Finally, click the "Compress" button to start the compression process.
Image Optimizer
Another online tool which can assist you in compressing your BMP files is Image Optimizer tool. This is a free compression service with which you can optimize and compress BMP online. Moreover, it offers both web-based service and downloadable app for free. Both versions can compress images at fast speed and with high compression rate whether in single or in bulk. Check this wonderful tool by following the procedure listed below.
Visits its official website through this link.
Upload the BMP file that you want to resize. After that, adjust the quality that suits your need as well as the max width and height.
Finally click the "Optimize Now" button to adjust the size of your BMP image.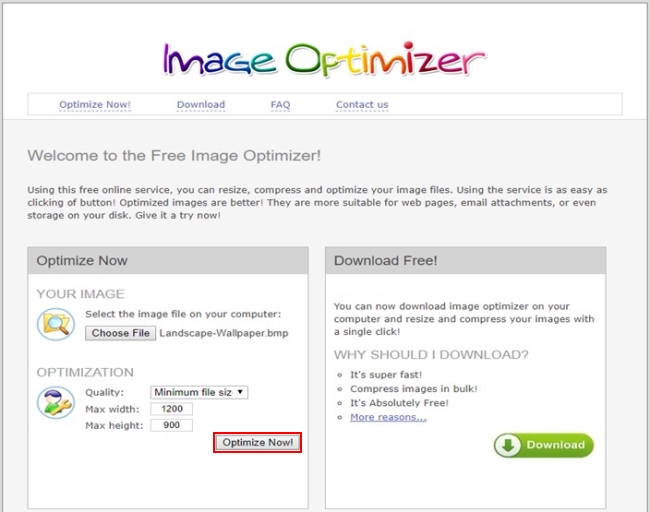 Reduce Images
Our last tool that you can use to compress BMP is the online compressing tool called Reduce Images . This web-based tool allows you to resize your BMP file by decreasing its pixels while try to maintain the original quality. Check this tool by following steps we listed for you.
Open your web browser and go to visit this link.
Click "Upload Image" to upload your BMP and then wait for the uploading process to finish.
After that, proceed to the step 2 and adjust the pixels and size, select the output quality for your images.
Finally, click the "Resize" button to start the compression process.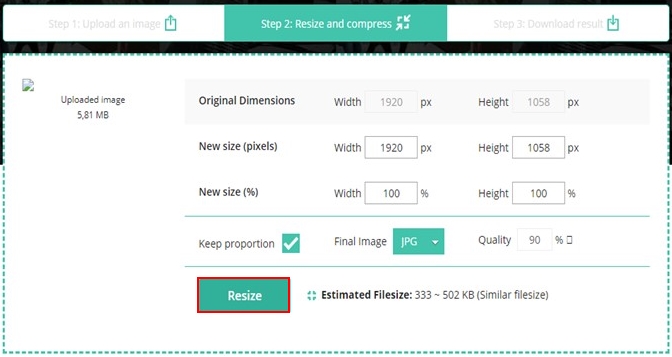 Conclusion
Listed above are the top 3 ways on how to compress your BMP files. These are the best tools that can help you resize your images fast and easily. To use them, you just need to finish the simple steps we have listed for you above. All of them are effective and feasible to use due to their friendly user-interfaces. However, if you are looking for a compressing tool than can also help you compress a video or a PDF file, ApowerCompress is highly recommended for you.