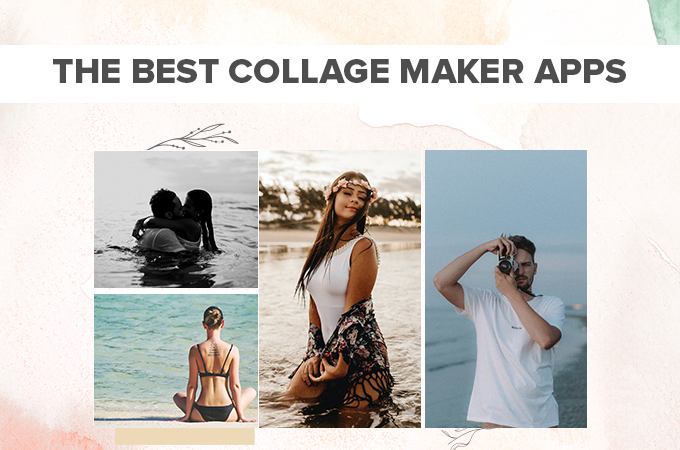 Collage is a visually appealing style in photography that you can use to make a storyboard of your photos. This is a simple way to stick all your photos together in artistic form. Good thing, you will find a bunch of mobile apps that specifically made to be a collage tool. In that way, you can easily create your own masterpiece with these collage maker apps. Dropping all the images in one photo template is not difficult as you think. With the right tool, you can give the word or meaning in one photo more than what you think.
6 Best Collage Maker Apps for iPhone & Android
PicCollage
Create a distinct collage photo with this app called PicCollage. This Android app offers fun free templates, story layouts, photo frames, and more to help you make your memorable event extraordinary. You may also do some freestyle on your template wherein you have the total freedom to have your own pace. Bring your creativeness with this collage maker tool.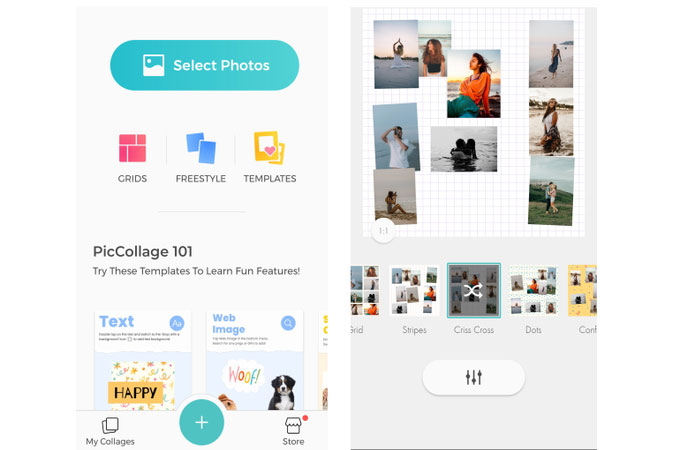 Pros:
Free app.
Offers ready-to-use templates.
Will allow you decorate your own template.
Cons:
Sometimes it takes time to upload the images.
Collage Maker
You can decorate all your images in one photo with this app known as Collage Maker. You can select multiple photos in one go with the help of its collage feature. It will allow you to combine more than 18 photos and will give you pre-set frames and grid layouts. Present your beautiful photos with this pic collage app.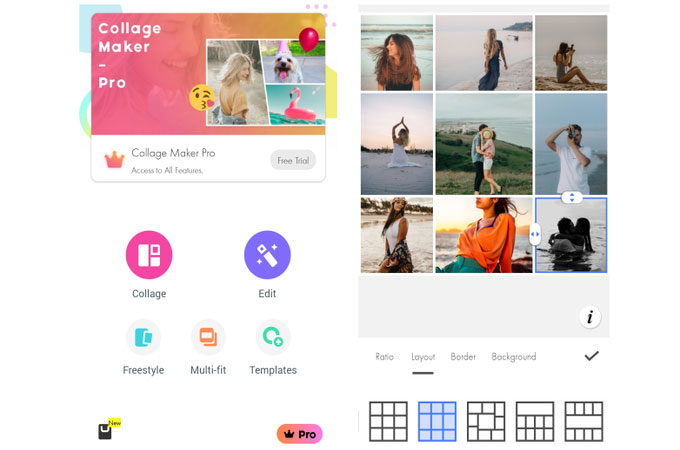 Pros:
Can combine up to 18 photos.
Offers large number of backgrounds, stickers, and fonts.
Seamless photo editor.
Cons:
Pip Collage Maker
Pip Collage Maker is a photo editor that can give you multiple photos. With its 3D collages, unique text, and stickers, you can build a group of photos in one image. You can choose the theme of your college from its library and set it directly on your photo. Surely, you will have the best college with this best collage maker app.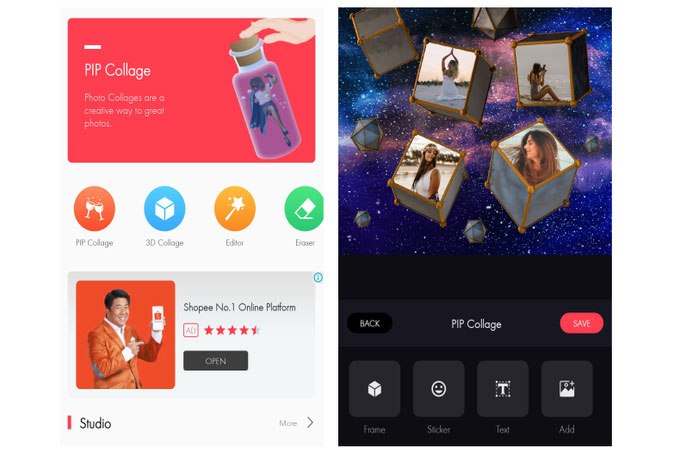 Pros:
Make own high quality photo layouts.
It will let you customize background images.
Offers various stickers, fonts, and more.
Cons:
Ads keep popping while using the app.
inCollage
You can have a professional-looking photo collage with inCollage. This iOS app will remix your photos to make them stand out together. It provides a lot of different layouts, templates, stickers, backgrounds, text, filters, and many more. Moreover, this app is an all-in-one photo editor that will let you experience a lot of photo editing features. No wonder that this tool can be your best pic collage app.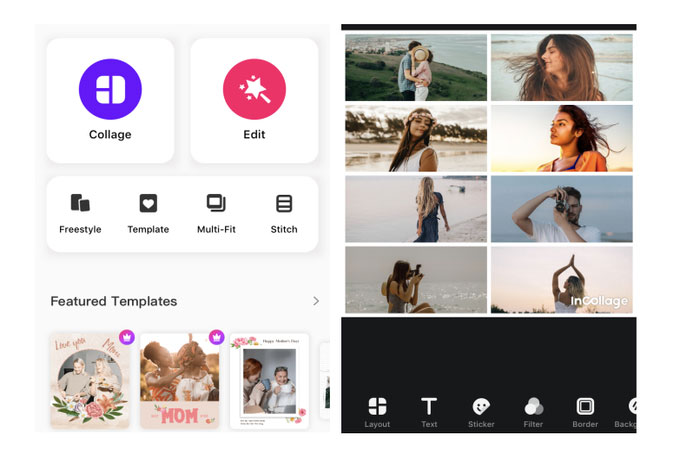 Pros:
Create collage with 20 photos on it.
Large collections of backgrounds, stickers, fonts, and more.
Save and share photos in high resolution.
Cons:
Limited photo editing features.
Storyart
The app that will help you make your own creation of collage photos is Storyart. This app is one of the most reliable apps that you may use on your iOS phone. You can make your photo collage story on different social media account such as on Instagram. This collage story maker is indeed one of the best collage maker apps that you can have.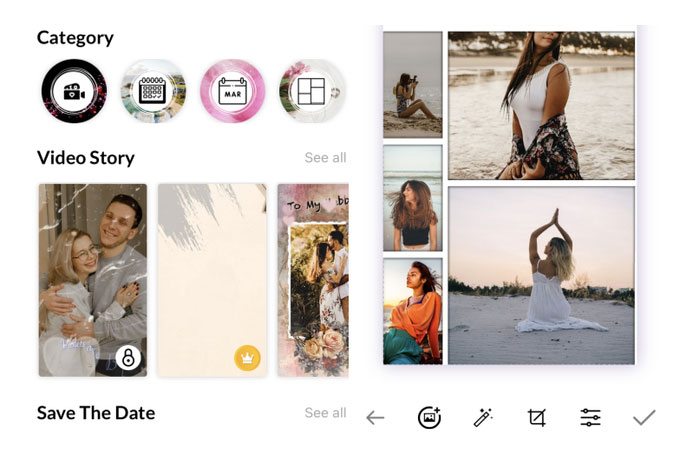 Pros:
Tons of text, poster fonts, and stickers.
Will let you use 40000 + feed templates and photo collage.
You can directly transfer work into your phone library.
Cons:
Photo Collage Maker
Photo Collage Maker can unleash your creativity in making your own photo collage. You can combine a lot of photos with different frame patterns. With this app, you can decorate your collage using some of the lovely themes. So suit yourself in using this great collage maker tool.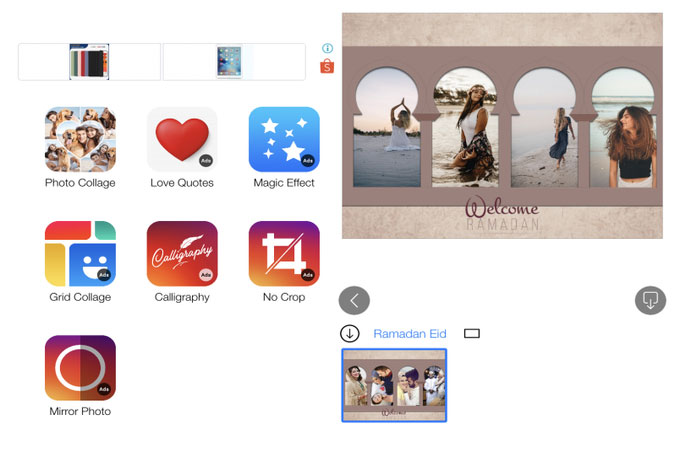 Pros:
Offers 10 + design styles for collage photo.
Lots of great filters for your images.
Share photos.
Cons:
Purchase the app to fully access its features.
Conclusion
These are the photo collage app that you may have on your Android and iOS devices. Choose the best app for you and start creating your collage photo. If you know other apps that need to be on this list, please share them with us in the comment section below. Moreover, if you would like to have this feature on Apowersoft Background Eraser, please let us know. So that it can be one of the best collage maker apps that you may have on both Android and iPhone devices.