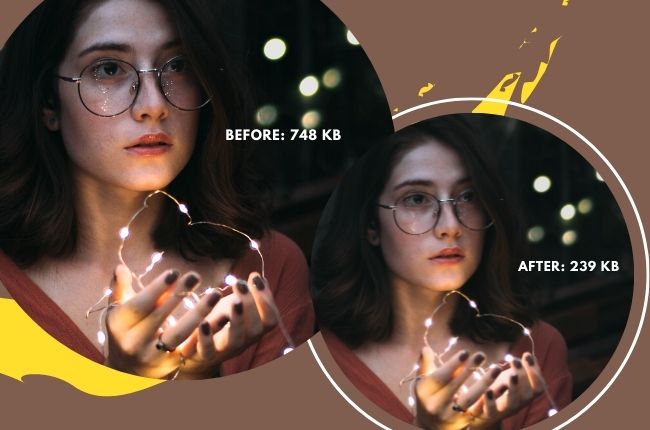 Optimizing photo sizes for your website will load instantly and can give your visitors a great experience browsing your site. By using photo compressor tools, you can lessen the photo sizes without losing the original quality. We collected some of the
best image compressor
tools that you can use on desktop and online like PicWish. Learn more about it and other tools below.
Free Image Compressor Solutions
Easy to Access Online Tools
PicWish – 100% FREE
PicWish is one of the most excellent image compressor tools that you may experience online for FREE. This compression tool can process different image formats like JPG, JPEG, PNG, GIF, AND TIFF directly. It uses a best-in-class AI compressor algorithm where it minimizes the distortion of your photo to achieve the balance of the image quality and its file size. And because this is a 100% FREE website tool, you don't need to download, register, or pay anything.
Here arre the steps to optimize photo with this best image compressor – PicWish
Go to the PicWish online image compressor tool on your favorite browser.
Click "Upload Image" to upload the photo that you need to compress.

A new interface will show up, choose compression type and output format and hit "Apply".

Once done with the process, click the "Download" button.
Optimizilla
One of the best image compressor online tools that you may use on your desktop is Optimizilla. This program uses a clever combination of the best system algorithms to compress JPEG, GIF, and PNG photos. Also, this tool will keep the original quality of your file with its minimum size. With its ultra-configurable system, you can have a great result with Optimizilla.
Compress images with Optimizilla
Search the official page of Optimizilla on your browser.
From there, drop your files on the interface or click the "Upload Files" button to get the image that you will use.

The tool will process your file automatically giving you the compressed file.
Finally, hit the "Download" button.
Image Compressor
Another best free image compressor tool for you is Image Compressor. This tool can optimize the size of any image by up to 80% or more. More than that, Image Compressor is good for batch processing where you can process up to 20 images. You will definitely love this tool for it retain image quality while reducing its size.
Rely on these steps below to compress your photo quick and easy.
Go to your browser to search for the official page of Image Compressor.
From its interface, click "Select image" to upload photo.

Click "Compress Images" to process the images.

Once all set, hit the "Download All" button.
Useful Desktop Tools
Apowercompress
Apowercompress is an easy-to-use photo size optimizer tool that can compress images in JPG, JPEG, PNG, BMP, GIF, TIF, TIFF, and many more. This free image compressor also offers three compression types which include size, normal, and quality. What is amazing about this tool is that all its features are easy to understand and will surely give you a good result.
Download
Follow the simple guide below to compress your picture easily with Apowercompress.
Download and install the software from apowersoft.com/compress-file-online on your browser.
Run the software, drag or click the add file icon to upload the picture.

Then, drag the slider to adjust the compressed size that you need and set the output format.
After that, click the "Compress" button to process your file and save it automatically on your folder.
JPEG Compressor
This free image compressor that can practically compress digital images in just seconds is what they call JPEG Compressor. This software will automatically resize photos to any specified dimension or file size you need. With JPEG Compressor, you can have batch processing mode.
See the steps below to optimize photo size easily.
Download and install it on your desktop.
Drag the image that you need to optimize.

The software will automatically give you the processed result.
Once satisfied, just go to "File" and save your image.
PNGOUTWin
This easy-to-use image size optimizer can transform your files into more useful photos for your website. PNGOUTWin can be one of the best free image compressor tools that you may use especially if you don't have any skills in photo editing. This program converts images of various photo formats like BMP, GIF, TGA, and many more.
Download and install the program from its official page.
Open the program, under "File" select "New File Convertion" to get the photo from your computer library.

The program will automatically compress your photos.

Once done with the process, the tool will also automatically save your work.
Conclusion
This article gives you the best image compressor tools for online and desktop. Among these tools, PicWish and Apowercompress are the most recommended ones not only because of their ability as an image compressor, but also its user-friendly interface that everyone can understand. But it is still up to you which tool you will use, just don't forget to share with us your experience using it in the comment section below.