Best Methods To Remove Red Eye from Photos
Eye Color Studio (Android)
Eye Color Studio is an Android app that can not just magically remove red eye from photo, but also offers tons of cool eye colors and effects. Besides that, this app offers realistic eye effects in different types just like unique contacts, scary eye effects, and some animal eyes, etc. With them, you can create your own eye color as you wish, adjust the opacity, as well as brightness and contrast.
Below we've provided a short guide of how to use this red eye remover application.
Download and install the app on Google Play.
Run the app, tap "New Photo" > "Gallery" > "Images" and import the photo that you need.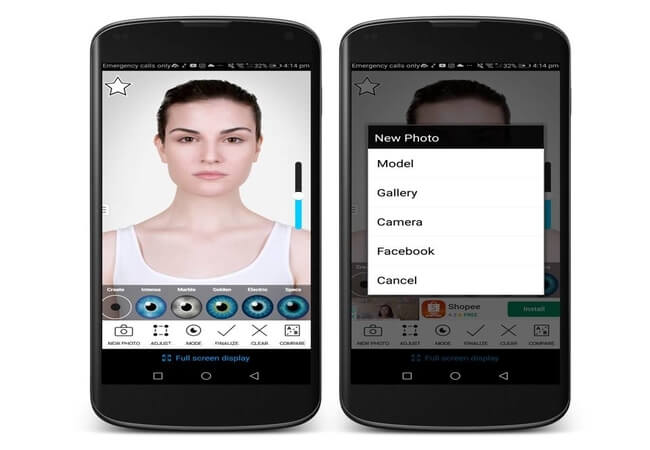 Adjust the points and the pupil, and then apply the same effect to the other eye.
Choose among the colors and effects to apply to your eyes.
Finally, tap "Finalize" and the save icon to save the photo on your mobile device.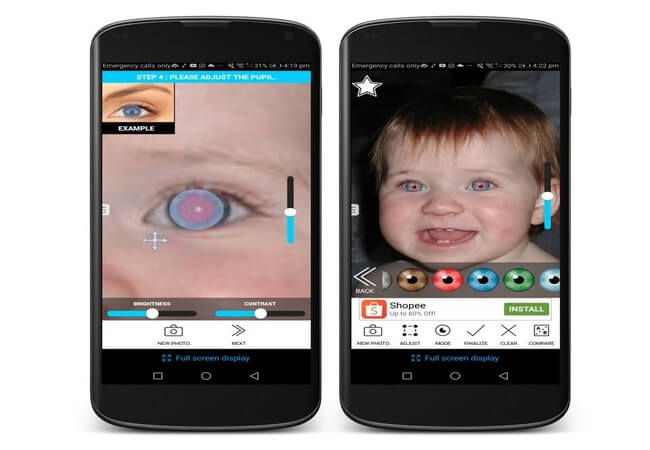 Facetune (iOS)
Another red eye remover app that you can use is Facetune, a perfect app for iOS users that has powerful eye features including emphasizing your eyes, changing your eye color and removing red and white-eye effects. In an instant, you will have a perfect photo without exerting too much effort. Facetune also offers an easy-to-use interface so you will be able to use it like a pro in no time.
Go to your App Store, download and install the app.
First, tap the "Gallery" icon to select the photo that you will use on the app.
Choose the "Eyes" icon, then "Red eye" and place the black circle on the part of the red-eye effect.
Once done, hit the "check" mark icon to save your work.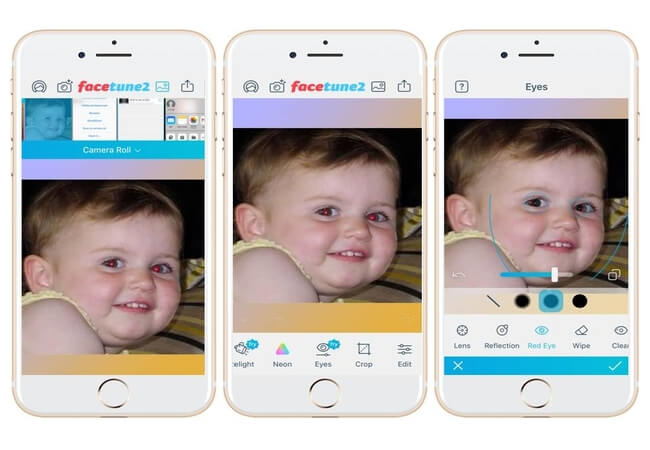 Fotor (Online)
Fotor is an online photo editing tool that can help you remove red eye from photos with just a few clicks. In addition to that, it also has many other useful functions to make your photo the best, such as effects, stickers, text and HDR. The whole process is also very simple when you'd like to remove the red eye effect. Just follow the instructions below.
Go to your browser and visit the official website of the tool.
From its interface, click "Get started" > "Open" > "Computer" to upload the pictures that you want to start editing.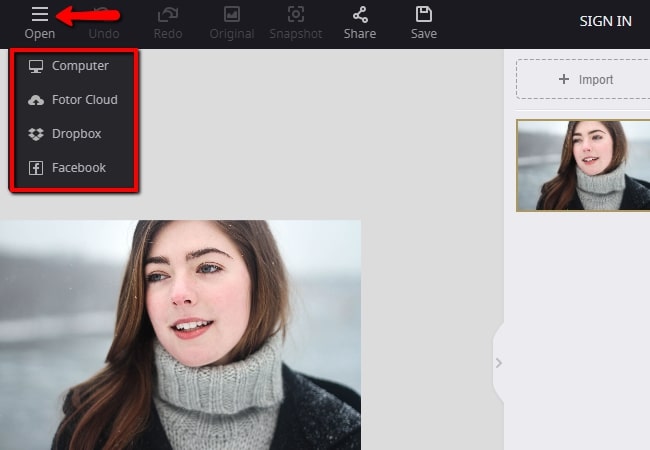 Under Beauty, click "Red-eye Remove" and highlight the red part of the eyes.
After that hit the "Apply" button to process the photo.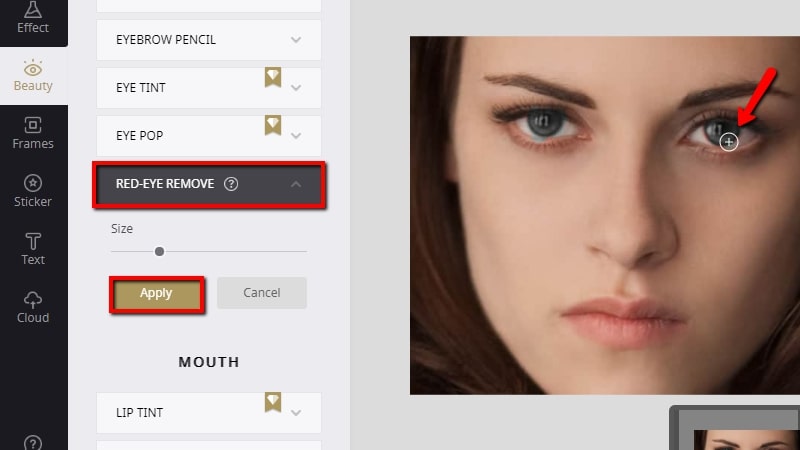 GIMP (Desktop)
Next is GIMP, a desktop tool that works superbly, especially when removing red eye because it has a special "Red-eye removal" feature to process the eye effect. GIMP is suitable for even professionals to use, and lots of its features can be difficult to understand if you are just a beginner or not tech savvy.
Open the tool, under "File", click "Open" to import the photo that you want to edit.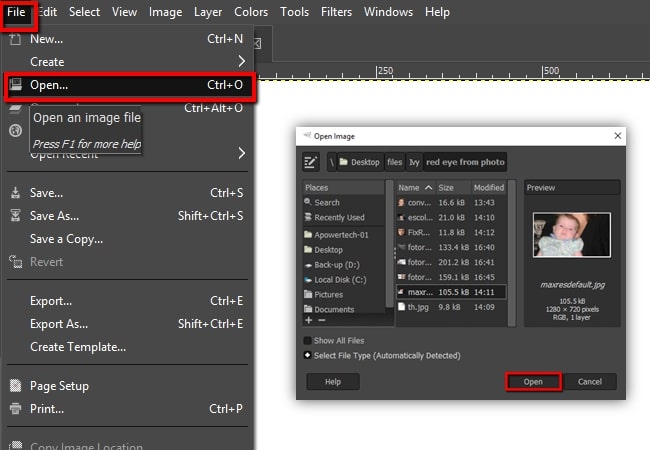 Choose the "Free Select Tool" icon and select the red eye of the photo.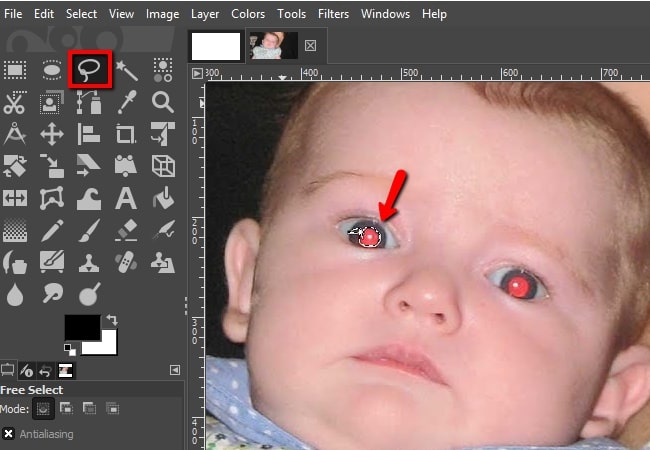 After that, select "Filters" > "Enhance" > "Red-eye removal" and it will be automatically processed.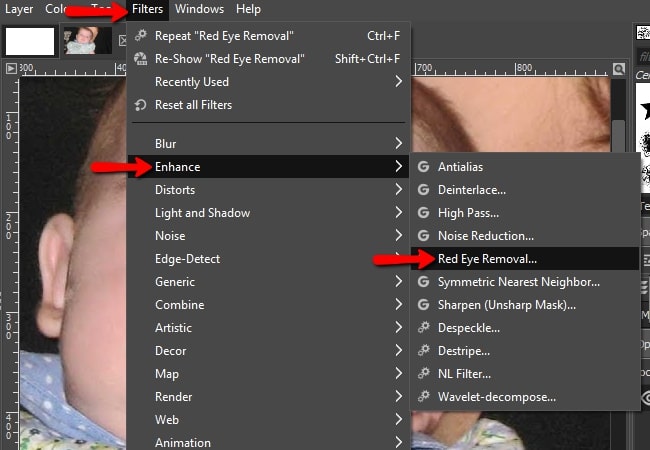 Bottom Line
Above are the tools that you can use when you need to remove red-eye effect from your photo. No matter which OS you are running, you will certainly find a suitable program to use on your device. If you have other suggestions, do not hesitate to leave your comments below.