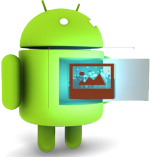 Android devices usually have a default gallery app. However, many Android users are not satisfied with the default one as it is very simple and admitted, its only function is to show the photos and videos taken from the camera. A lot of Android users are looking for a new gallery app for them to view their photos and videos by folder, by date, or to edit them (default Android gallery app usually does not possess these features). With that being complaint, below are gallery apps for Android in 2015 which you can use as substitute of the default one.
Tips:
Before revealing the gallery apps recommended, here is a quick tip for you in case you would like to manage your media files on PC.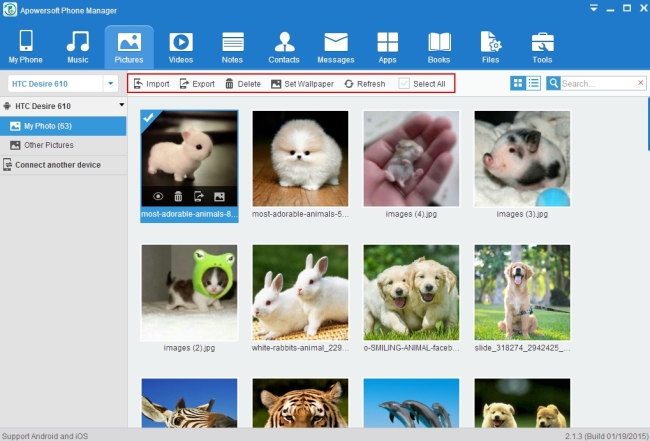 Apowersoft Phone Manager allows you to import or export your photos from Android phone easily. This can help users to edit their photos in the computer easily. Additionally, the tool is also great in managing all the other files saved in your Android device including music, videos and apps. Just click the button below to get the application.
Top 10 gallery apps for Android

QuickPic
One of the best gallery apps for Android is QuickPic. This application is believed to be fast and modernized. It is virus free and supports online album services. Additionally, the tool can view and slide show photos in higher quality as compared with the default one. It also allows users to easily hide photos and videos that are private and it protects them with password.

JustPictures
JustPictures can also allow users to browse photos from synchronized album services just like Picasa, Flickr, and Photobucket. It also lets users make a full screen browsing with sensor based rotation and it also does slideshow of photos. Additionally, this application helps you set a photo as wallpaper, email attachement or a contact icon. Another good thing about this is that it has a batch mode edition like Favorite, Move, Delete, Save and more.

A+ Gallery Photos & Videos
If you want to have an iPhone style, then try this best Android gallery app 2015. This is a gallery app which can view photos by year and by date. If you use this app, you'll feel like you are using an iPhone default gallery app. Additionally, it uses Facebook for cloud backing up. If you search it in the Play Store, this app is one of those with high star rating.

Photo Gallery (Fish Bowl)
This gallery app has a photo and album organizer and it has a file browser. It also allows users to share, edit, organize and lock private pictures whether they are taken with the device or just copied from the computer. Moreover, just like the other gallery apps given, this app can also play slideshow and set wallpaper. The best thing about this app is that it can compare multiple photos.

MyRoll Gallery
MyRoll Gallery is an award winning app which can be an alternative to Android default gallery. This gallery app allows users to organize photo gallery according to events, date, time and location. If you want to have a collage-like view, just use the "Moments" view. In addition, users can share group of photos easily to some social networks like Facebook and Google+.

Gallery KK
One best android gallery app is Gallery KK. This app has a fast photo and video viewer and it has configurable thumbnail color and size. Moreover, this app lets users to do a grid or flip view of photos and videos. It also supports GIF and can do slideshow animations like fade, zoom, slide and flip. In addition, it has a photo editor with many features including exclusive filters.

Cyanogen Gallery
This application is another utility gallery app for Android. You can view your photos and videos through it easily. As it supports Flickr, Picasa, Dropbox and Facebook, you can upload and do further editing. Furthermore, it has a Chromecast support so that you can quickly share your favorite moments wherever you are.

Piktures
Pictures is a gesture-based gallery app. Users just need to swipe and glide to view photos and videos. In addition, this application has a location and calendar view which can be scrolled vertically for fast browsing. It can also hide albums. Comparing with Cyanogen, it can re-size photos before sharing. So it is really a good alternative to the default gallery.

Image & Gallery 3D
Image & Gallery 3D can easily browse phone pictures whether they are hidden or not. The highlight feature of this app is that it can show photos in 3D effect. And it has the best quality for full screen browsing among these gallery apps. It also has some small editing functions that can meet your needs in editing pictures.

Gallery Vault
Gallery vault is another gallery app for Android which imports private pictures and videos. It fully supports detecting both SD card and phone photos. Moreover, It can also take and hide photos and it has a media browser that provide users a smooth slide and zoom experience.
For the apps above, which one is the best photo gallery app for Android? It is really hard to tell. But each of them can definitely help you to view your photos and videos in a more organized and efficient way.