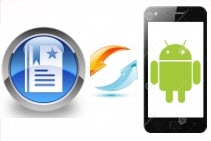 Bookmarks are links to webpages you stored before. They let you go back to your favorite sites in a fast way. Many people prefer to browse the bookmarks on their Android phones or tablets as they are more convenient to use and easier to bring than computer. For fear that you should lose some important bookmarks by accident, you may want to backup Android bookmarks. To help you with that, I would like to share three handy applications.
Best Apps to Backup Android Bookmarks
1. Powerful and comprehensive app
3. Organized but complicated app
Apowersoft Phone Manager
If you want to save your bookmarks to the computer or transfer them from one device to another, Apowersoft Phone Manager is your best choice. As a professional phone management application, it mainly concentrates on giving users a platform to manage all the data on their mobile devices from the computer. With this great tool, you can easily transfer files, such as music, videos, pictures, apps, contacts and so forth, between your device and PC. It is highly praised for its stable performance and powerful features. Besides, its user-friendly interface makes it quite simple to operate even for new users. Now, in order to backup bookmarks for Android, just follow the steps below.
Download and install this phone manager on your computer.
Run the program. Connect your Android to PC by using USB cable or via WiFi.
After successful connection, click "Notes". All the bookmarks will be listed here. Choose the ones you want to backup and click "Export". Then the bookmarks including their titles and website links will be saved in your computer.
To transfer them to another device, you can connect the device in the same way, and click "Notes" and then "Import". Find the bookmarks and begin to transfer. The process will not take much time.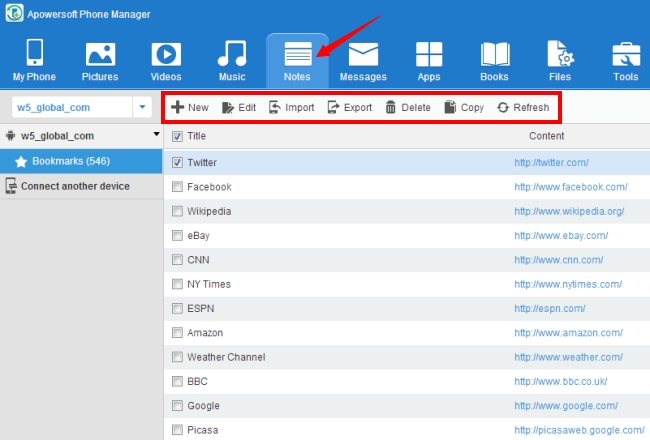 Tips:
You need to turn on USB debugging in your Android so that it can read your phone data.
For WiFi connection, Android and PC need to be under the same network.
It supports two forms: Excel file and XML file.
Apart from exporting and importing bookmarks, it also enables you to create new bookmarks, edit them, delete them or copy them to clipboard. As you can see, it is really a strong tool for you to manage the bookmarks.
Cons:
Cannot directly open bookmarks on Android.
Bookmark Sort & Backup
If you have stored bookmarks in your browsers such as IE, Google Chrome or Firefox on your Android, I would suggest you to backup them to a safer place in case you should clear the browsing history and erase them forever. Bookmark Sort & Backup is a wonderful helper for you to save and manage your bookmarks on Android. It provides you a nice place to save all the bookmarks. You can change the positions of the bookmarks by tapping the arrows. After tapping them for a while, you are able open them from browser, edit them or delete them. All in all, it is a tiny but useful tool to backup browser bookmarks on Android.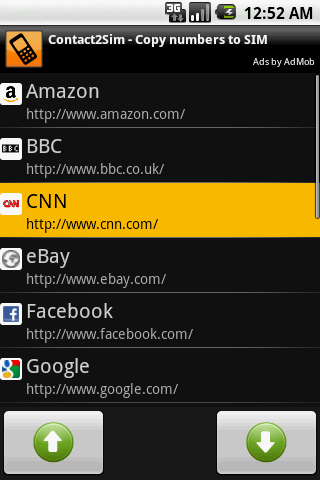 Cons:
The functions are too limited.
Cannot manage bookmarks in an organized way.
Bookmark Folder
Another awesome app for you to govern the bookmarks on Android device is Bookmark Folder. Different from others, it can arrange all the bookmarks into various folders. This organized way makes it very convenient to find a certain bookmark among hundreds. It consists of three parts: folder, most visits and history. Under the folder column, you can create new folders and new links. It has many practical features, including copy, cut, delete and open bookmarks, set password for them and create bookmark shortcuts on Android desktop. Besides, it allows you to sort them according to different criteria: title, URL, creation, visits and history.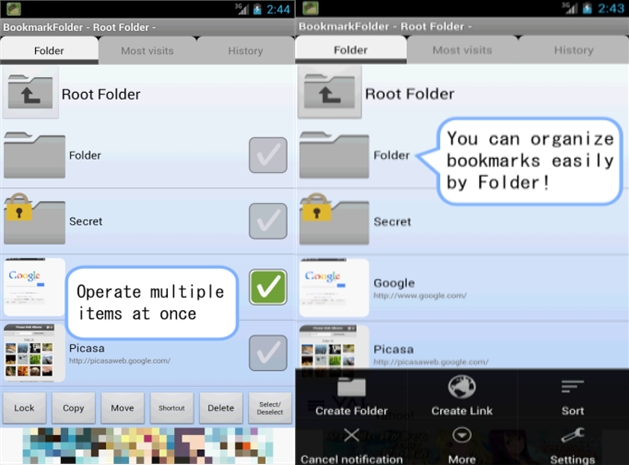 To backup Android bookmarks in it, you need to tap the icon on the upper right corner. Go to "More > Import". Then a window will pop up, letting you choose to either import from browser, HTML, settings or restore from backup. After that, all the bookmarks will be transferred into this app.
Cons:
Cannot import bookmarks automatically.
Cannot directly drag and drop bookmarks into folders.
Bothering ads at the bottom.
Above are the three best apps for you to solve the problem of how to backup Android bookmarks. You can choose either one as you like. However, the first one is more recommended, because managing a great amount of bookmarks from a big computer screen will be more comfortable.