Top 7 Transparent Signature Maker Apps of 2022
Apowersoft Background Eraser (Android & iOS)
Apowersoft Background Eraser is the ultimate app that you may install on your mobile devices. This app uses advanced Artificial Intelligence technology that automatically detects the subject from the background. This will surely give you a clean transparent background of your signature.
Main Features
Remove background in just one tap.
Basic editing features: crop, resize, duplicate, flip, rotate, etc.
Save edited photo in HD quality.
Supports almost all photo formats.
Make transparent signature with Apowersoft Background Ersaer
Open the app, choose the "Remove Logo Background" tab.

Upload the signature and wait for the transparent result.
Once done, tap the "Save HD" button.
Pros:
Uses AI tech in removing the background.
Offers manual remover tools for better results.
Offers several solid background colors and stunning backdrop templates.
Cons:
Paid App. (To get 100 images giveaway, make sure to visit its web version page.)
Simple Background Changer
Without any doubt, Simple Background Changer is one of the apps that you may rely on in removing unwanted background from your photo. In that way, you may also create a transparent signature with just a snap of your fingers. You may have full control over cutting your signature from its background with the use of its Auto, Extract, and Manual remover tools.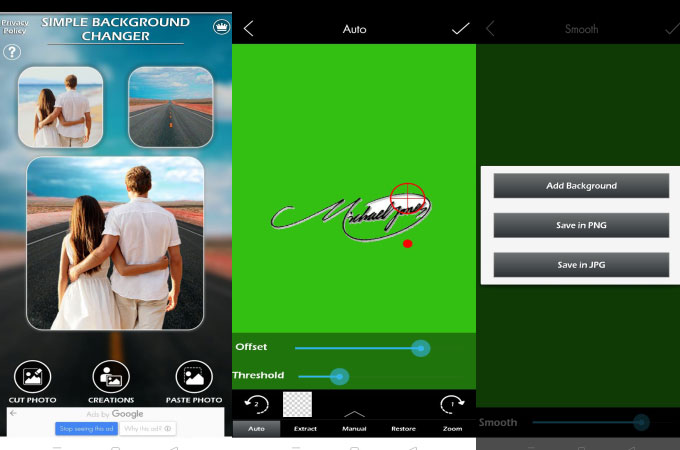 Pros:
Simple interface
Allows you to have full control of the tool.
Seamless photo background changer.
Cons:
Annoying Ads keep on showing while using the app.
Background Eraser
Background Eraser is an app mainly designed to erase any unwanted background from any image. The app has three remover ways which are Manual, Lasso, and Auto Erase features. You can have your own transparent signature in just a minute, without exerting a lot of time and effort.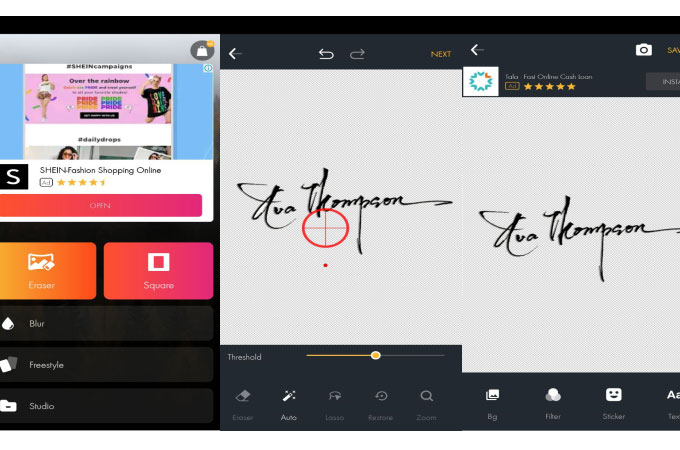 Pros:
Consists of three manual eraser tools.
Easy to use background eraser tools.
Provides useful photo background editing features.
Cons:
Sometimes it suddenly crashes.
Transparent Background
Another Android app that you may have on your mobile phone to help you out in making your signature transparent is Transparent Background. With the app's powerful and easy-to-use remover features, you can achieve a precise cut-out of your signature that you may add to your online documents. Indeed, this transparent signature maker will make your life easier.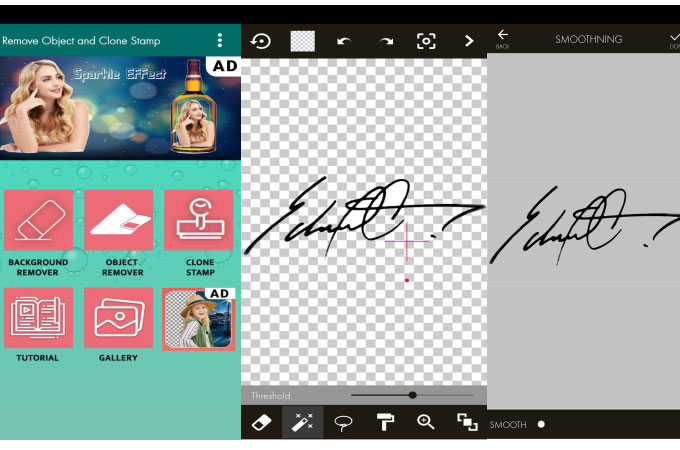 Pros:
Remove any object from the photo.
Offers four photo background remover tools.
Complete video tutorial on how to use the app's features.
Cons:
Occasionally, the results are not that precise.
Magic Eraser
For all the iOS users out there, Magic Eraser is another photo editor that can make your signature in a transparent format. You can use the remover tools to remove the background from the photo and directly save it to PNG format. More than that, this photo background editor can do some basic photo editing features for you to create a transparent signature in HD quality.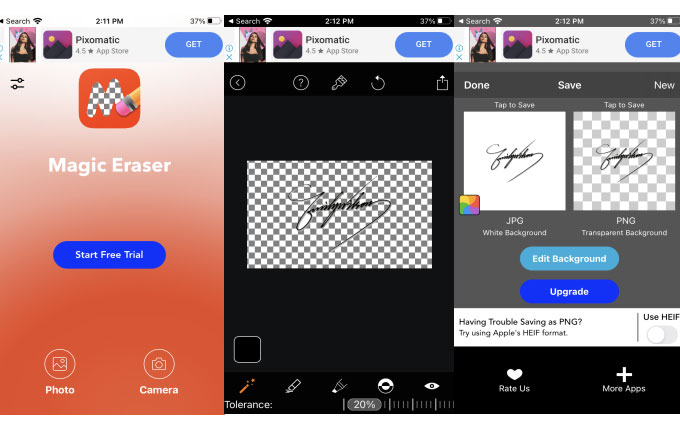 Pros:
Make the photo background transparent in one tap.
Remove similar color areas automatically with Magic Wand.
Save in high resolution – no watermark.
Cons:
Sometimes it doesn't give precise results.
Photo Room
Photo Room is one of the best photo background editors that you may have on your iPhone. Loaded with different photo editing features which include its competence in removing the background. You just need to upload the signature photo and the app will automatically remove the background and present a transparent signature.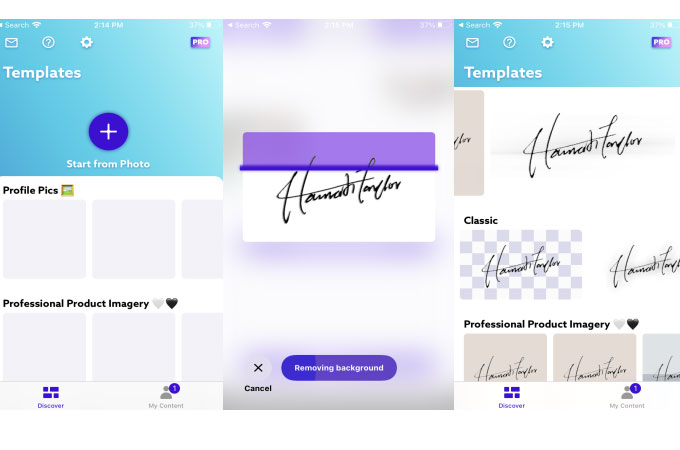 Pros:
Erase background automatically.
Present various background templates.
Offers a lot of photo background editing features.
Cons:
Need to purchase the app to access all its features.
Eraser Pic
Eraser Pic is another iOS app that can be used to make your signature transparent. This app can get rid of the background of your signature with its cut-out tool. Moreover, the app has almost all the photo editing tools you need to perfectly complete your signature. Undoubtedly, Eraser Pic can be the best transparent signature maker have.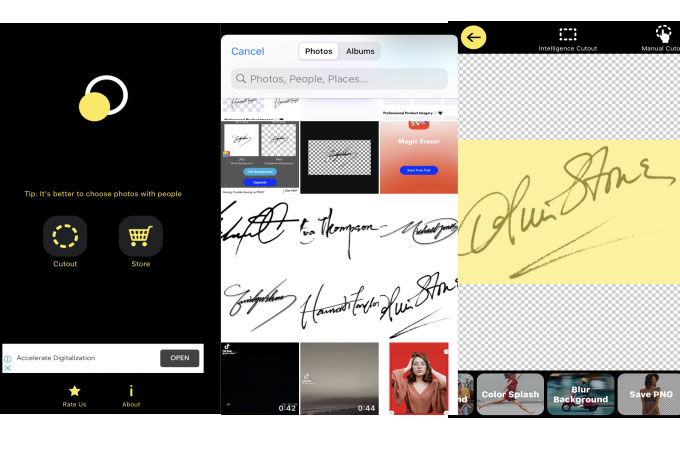 Pros:
Automatically remove background.
Allow to manually erase the background for a more precise result.
It has an automatic magnification display processing area.
Cons:
A little bit confusing for beginners.
Conclusion
Here are the best apps that can make your signature in transparent format for both Android and iPhone. They are all efficient and can give you satisfying results. You can save time, money, and effort. After all, Apowersoft Background Eraser is the most recommended app because of its versatility. Try these apps and share with us your experience in using them to create a transparent signature.