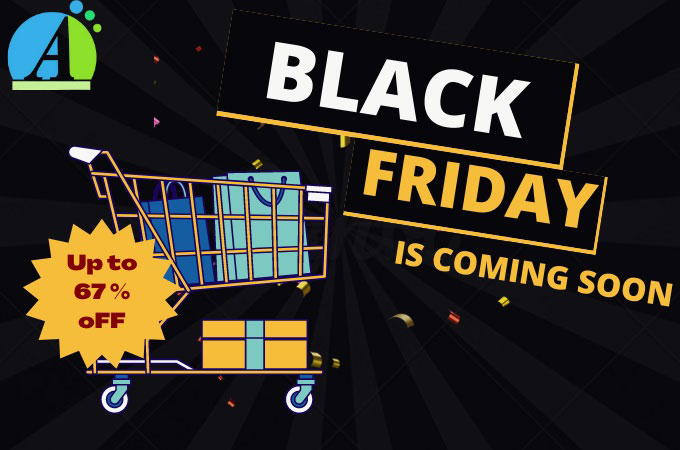 Black Friday is just around the corner! Many users send emails to us, asking when our promotion begins, how many discounts we offer, especially for our Super Star products like ApowerMirror and ApowerREC. We really appreciate our users' trust and support! Without further ado, let's take a look at the Black Friday Big Promotion this year!
Apowersoft Black Friday Promotion 2022
Warm-up Activity (Time: Nov. 18 – 22)
We offer Free Giveaway for Yearly VIP of ApowerCompress. This program can help you compress pictures, videos, and PDF files in one click. It's a handy and frequently-used tool for everyone. Please get the free VIP and download the program here: https://www.apowersoft.com/give-away
Detailed Promotion Plans (Time: Nov. 24 – 30):
Only $19.9 for Yearly VIP of Apowersoft Unlimited
Apowersoft Unlimited is an all-in-one software package, which contains 23 programs, such as ApowerMirror, ApowerEdit, ApowerREC, Video Converter Studio, etc. You can get the Yearly VIP of this valuable package for only $19.9. It is definitely the lowest price for the whole year. Don't miss it!You can download it and have a try now.
Buy Yearly VIP of ApowerMirror, Get Extra 6 Months VIP
As one of our top products, ApowerMirror surely has numerous fans. It can mirror Android & iOS phones to PC or TV, mirror PC to TV and control mobile phones from PC in real time with high quality. It's the best partner for you at work or for entertainment. During Black Friday Promotion period, if you buy a Yearly VIP of ApowerMirror, you will get extra 6 months VIP for free!
If you haven't downloaded it yet, you really need to have a try!
Only $49.95 for Yearly VIP of Streaming Audio Recorder & Video Converter Studio Bundle
There's no need for extra introduction of these two hot products. Their names explain everything. The original price for the Yearly VIP of Streaming Audio Recorder is $59.95. The price for Video Converter Studio is $59.95. During Black Friday, you only need to pay $49.95 to get the Yearly VIP of both products!
Download Streaming Audio Recorder here:
Download Video Converter Studio here:
Discounted Prices for More Products
We will offer discounts for several other products, such as ApowerREC, LightPDF Editor, and Apowersoft Background Eraser.
The official promotion will begin at Nov. 24. Don't forget to open our website here: https://www.apowersoft.com/, and press Ctrl+D to save it. Don't miss our big promotion then!