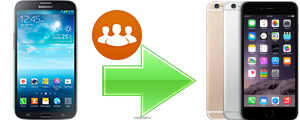 There are many Android phone users who want to try iOS phones and vice versa because they want to try out the latest models like Apple's iPhone 6 or Samsung Galaxy Note 4. However, many of them are in doubt because changing phone from Android to iOS phone is a bit problematic especially when users want to transfer contacts from Android to iPhone. Usually, Android phone can only be synced to Android phone and iOS phone can only be synced to iOS. Actually, transferring contacts in this situation is possible if you do it manually (copying the contacts one by one) but it is something that is time-consuming especially if you have too many saved contacts.
Saving contacts to your new phone is very important because this will allow you to get all the contact details of the important persons that you need to communicate with. Additionally, having your contacts saved in your new device allows you to recognize who is calling or sending you a message. With that being said, below are some ways which can help you easily transfer contacts from Android to iPhone or vice versa.
Way 1: Use Apowersoft Phone Manager
Apowersoft Phone Manager is a free application which is made to manage any Android and iOS phones. Using this tool, you'll be able to manage all the files in your phone including contacts. You just need to have it installed on PC. This tool allows users to import, export, delete, or add new contact. Below you'll know the process of transferring contacts from Android to iPhone 6 using Apowersoft Phone Manager.
Step 1: Go to Apowersoft Phone Manager and download and install the tool on your computer.
Step 2: After installing, launch the application on your computer.
Step 3: Connect Android phone to computer via USB cable or WiFi. For using WiFi to connect, you need to install Phone Manager apk file on your Android at first, and then enter the code or simply scan the QR code on PC.
Step 4: Once connected, click on the "Contacts" tab on the top part of the tool.
Step 5: Check "Name" to select all the contacts saved in your Android device or check them one by one if you do not wish to copy them all.
Step 6: Click "Export" and save them on computer.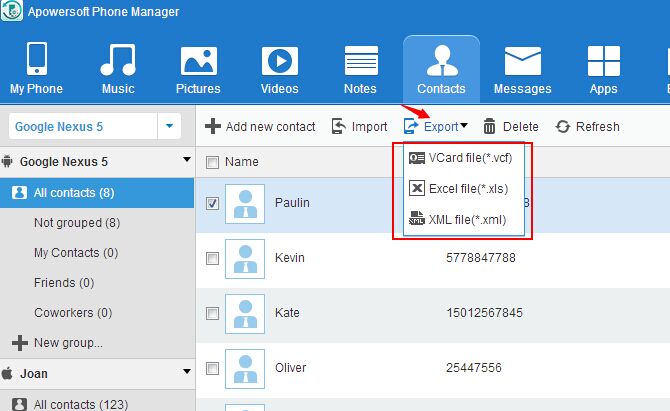 Step 7: Now disconnect the Android phone under "My Phone" tab. You'll find the disconnect button at the bottom part of the Android's screen display.
Step 8: Connect iPhone 6 via USB cable and go to "Contacts".
Step 9: Click "Import" and choose all the contacts you saved on your computer.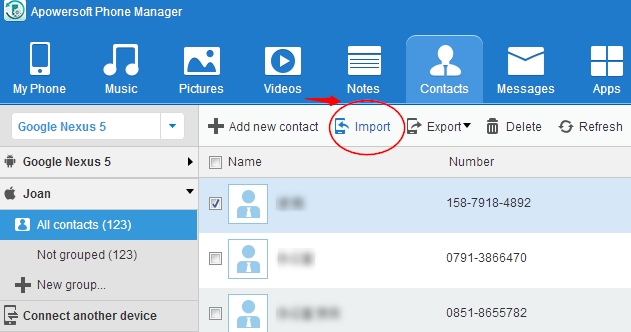 Tips: Apowersoft Phone Manager supports managing unlimited phones running different operating systems. So you may connect your Android phone and iPhone 6 at the same time, and then transfer files from one phone to another easily.
Way 2: Use Outlook and iTunes
Another way to transfer contacts from Android to iOS is to make use of Outlook and iTunes. This method also allows users to transfer unlimited contacts. Below are the steps to make the transferring contacts possible.
Step 1: You first need to have a Gmail and Outlook account. If you already have, sync your Android phone contacts to Gmail contacts.
Step 2: Sync Gmail contacts to your Outlook account.
Step 3: After synching, open iTunes in your computer and connect the iPhone.
Step 4: Once connected, click on the device icon found on iTunes and click on "Info" tab.
Step 5: Put a check on "Sync Contact With" and then choose "Outlook".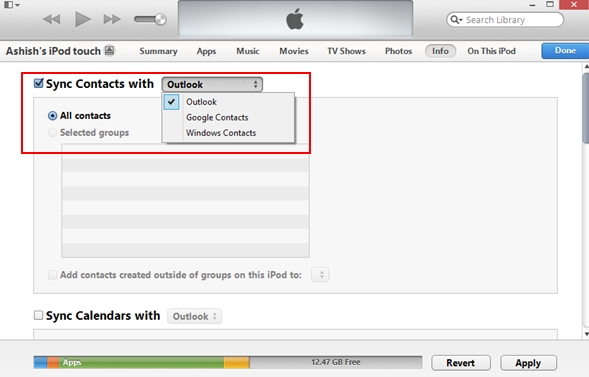 Step 6: Click "Apply" and sync the iPhone to iTunes and you're done.
Way 3: Use USB cable and Email
In case you don't want to use a third party desktop tool, you can use USB cable and Email to transfer Android contacts to iPhone 6 or 6 Plus.
Step 1: Using the Android device, go to "Contacts" and tap the menu button. Tap "Import/Export > Export to Storage" and select the contacts you want to transfer.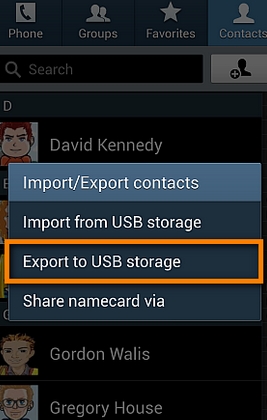 Step 2: Connect the Android phone in the computer using a USB cable. Just make sure your phone is in the Disk Drive mode so that it will appear as a drive in "My Computer".
Step 3: Create a new folder in your PC where you will put your contacts. Save the contacts as VCF file in your computer.
Step 4: Now open your e-mail account (any account) and send yourself an email attaching the VCF file.
Step 5: Open the email in your iPhone 6 and the tap the attachment. Tap on "Add all contacts" and you are done.
All of the ways given are useful and very helpful on how to transfer contacts from Android to iPhone 6. However, if you take a closer look at all of those given methods, it is easiest to make use of Apowersoft Phone Manager. You don't need to do a lot of work. A simple connect and disconnect will let users easily manage their contacts and many other mobile files.