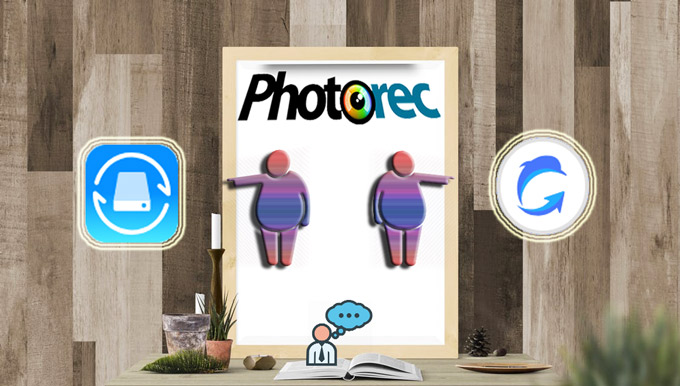 Nowadays, data storage has been made more digital comparing ten years before. Now you don't have to print every paper that you need to read because you can save them as a document for later viewing. Same thing goes for pictures, videos, audio files and many more. Due to the above facts, having reliable recovery software is a must for any computer or gadget owner.
One of the most promising data recovery software available on the market right now is called PhotoRec. This open source and freely downloadable application is designed to recover lost file from memory cards, flash drives, hard disk drives and CD-ROMs. It can retrieve deleted photos, mp3s, documents, PDFs, HTMLs, archives and zip files. Even though free and easily downloadable online, many users are not satisfied with its performance, somewhat technical usage and not so lovely looking interface. Moreover, it can't recover data thoroughly. For those looking for efficient alternatives to PhotoRec for recovering data on Win, Mac and mobiles; please read on.
Two Great PhotoRec Alternatives
1. PhotoRec similar software for Mac and Win – Data Recovery
One great substitute for PhotoRec is called Data Recovery. It can retrieve deleted videos, photos, audio files, emails and documents on your memory card or hard drive. Data recovery can restore more than 500 formats, so whatever file type you're looking for, rest assured that you can get it back using this software. Data recovery offers two recovery modes – the wizard mode which is perfect for beginners and standard mode meant for a more customizable data recovery operation.
Within the standard recovery mode, there are five more recovery options which make data recovery one of the best PhotoRec replacements for Windows or Mac. There are the lost file recovery, raw file recovery, partition recovery, and iPhone recovery from iTunes, resume recovery. In addition to this, the file preview option of Data Recovery makes it a true standout amongst other retrieval software. Right before restoring you can view the selected picture, video, listen to audio files, preview emails, documents and more.
Data recovery is very simple to use, here's how:
Install and open the program on your PC.
Select the right recovery mode that you need.
Click the scan button and wait until the process completes.
Preview the recovered files and check the ones you need to restore.
Hit the "Recover" button and you're done.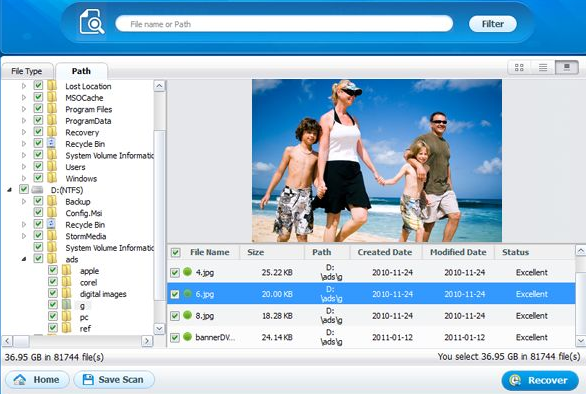 Different from other programs like PhotoRec that are free to use, Data Recovery might require you to shell out a bit of a sum but it is premium recovery software packed with tons of features. And for hesitant users, there is a free trial available in which you can recover up to 100MB of files.
2. PhotoRec Alternative for iPhone – iPhone Data Recovery
The iPhone Data Recovery may not be on the same league as with other PhotoRec similar software for Mac or Windows, but it actually functions the same if not better than the former. This time, instead of recovering lost files from your PC, the iPhone Data Recovery works with your Apple devices. It supports the latest iPhone 5s to 5c, iPad 4 and iPod Touch 5.
The iPhone Data Recovery offers three recovery modes: recover from the device, restore using iTunes and restore from iCloud backup. Now even without having any iTunes or iCloud backup, you can still retrieve lost files within your devices. Restore your deleted or accidentally lost photos, SMS, contacts, call lists, bookmarks, voice memos, notes, videos, reminders, and all others. Just like the above PC program, the iPhone Data Recovery entails a preview function which smartly lets you see the files even before restoring it.
This PhotoRec alternative in mobile form is easy to use, you just need to:
Download and install the software on your PC.
Choose from three recovery modes.
Connect the device to your computer by using the supplied USB cable.
After the program recognizes your gadget, click "Start".
On the left of interface are different categories containing recovered files.
Choose the most appropriate category and preview the files you want to recover inside it.
Hit checkbox of every file you want to restore and click the "Recover" button. You will get all recovered files in output directory set by you.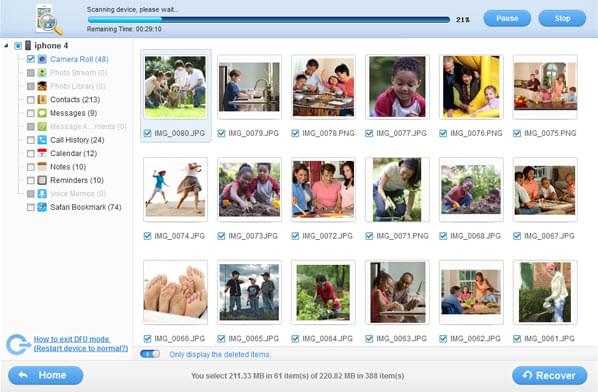 If you're looking for programs like PhotoRec made especially for mobile phones and gadgets, then the iPhone Data Recovery tool is what you need best. Imagine that with this application, you can recover all your mobile files lost due to accidental deletion, software malfunction, firmware upgrades, viruses or any other reasons.
There is no doubt that PhotoRec is wonderful software. However, not everybody can comprehend well when it comes to technicalities linked with file recovery. With the above alternatives to PhotoRec, both novice and advanced users wouldn't find it hard to retrieve deleted files. Depending on your needs, you may want to choose Data Recovery which is meant for PC or the iPhone Data Recovery made for Apple gadgets.