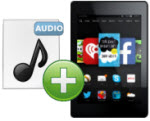 With the sudden advert of computer tablets, Amazon was right in the line to compete with big technological companies like Apple and Samsung. On November 15, 2011, it released their very first version of tablet PC labeled Kindle Fire. It was a successor to the big hit Kindle e-book reader but with more powerful specs meant for daily computing. With Kindle Fire, users can browse the Internet, stream movies, play TV shows, read e-books, play music and install applications from Amazon Appstore.
Being the second bestselling tablet in 2012, many users find the Kindle Fire more of a multimedia gadget than anything else. This little gadget is capable enough to store thousands of songs but how to add music to Kindle Fire is yet another part of the story. If you are having troubles putting music on your mini tab, check out these efficient solutions below.
Flexible Methods for Adding Songs to Kindle Fire
Buy Music from Amazon Store
Probably the easiest way to put songs on your device is to purchase tracks directly in the store. With this method, you don't need to install additional apps or use cables just to pile up your favorite songs. Moreover, this method is so easy that it would only require few clicks. Check out the instructions below.
Open the "Store" icon on your device and tap "Amazon MP3".
From here a collection of albums, songs, singles and tracks can be viewed together with their respective prices.
Just tap the song or album you want to purchase.
To get a preview of the song, you can hit the "Play" button next to it.
If you decide to buy the song, just hit the orange price button. When it turns into a green "Buy" button, just tap it again to confirm your purchase.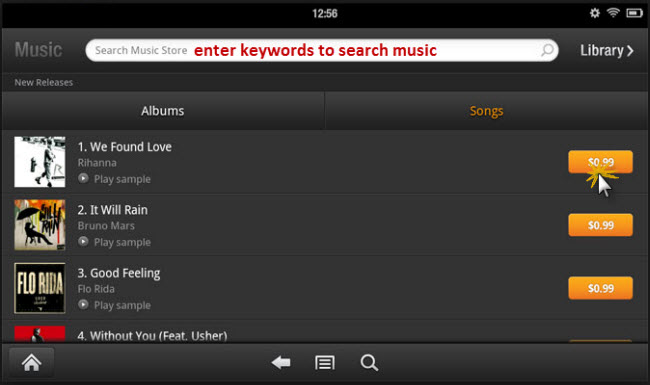 The song would then be saved into your device or into the Cloud Drive. While this can be the most convenient solution to put music on Kindle Fire, it would definitely burn lots of money.
Transfer Songs from Computer to Kindle Fire
1. Transfer MP3 to Amazon Cloud on Computer
Should you opt to be frugal and download songs on the Internet then upload it on your device, you can always use the Amazon Cloud to make the whole process a lot simpler. Remember that Amazon give its user a free 5GB of cloud storage, so you could store a large number of songs in it.
Obtain the music files. Except of adding your local songs to Kindle Fire, you also can get some new songs free with online tool. Thus, Apowersoft Video to MP3 is an ideal option for you. It provides two ways to download music.
a. Input video link into its given space and extract sound from video.
b. Type in the song title into the box, search your loved songs and download them.

When your files are ready, just visit Amazon MP3 and click the "Amazon Cloud Player".
Hit "Upload to your Cloud Drive" and select the files you wish to add on your gadget.
Click "Upload" and wait until all files are transferred.
To access your recently uploaded music files, just tap "Music" then "Cloud" button on your Kindle Fire.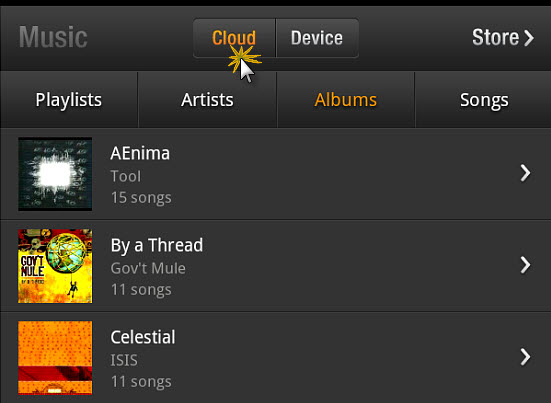 2. Add MP3 to Kindle Fire with USB
If you don't want to use the Cloud service of Amazon, you can always utilize the USB to transfer music to Kindle Fire. Though, bear in mind that Kindle Fire doesn't come with a free USB cable and you need to purchase this accessory separately. After you have gathered all the songs you wish to transfer and the USB cable readily at hand, just do the following steps:
Connect your device to PC using USB cable.
After successful device recognition, you should see a message on your Kindle Fire saying "You can now transfer files from your computer to Kindle".
On your computer, the device will be showed as a removable disk drive, open it and click "Music".
For adding music to Kindle Fire, simply drag and drop files to the folder.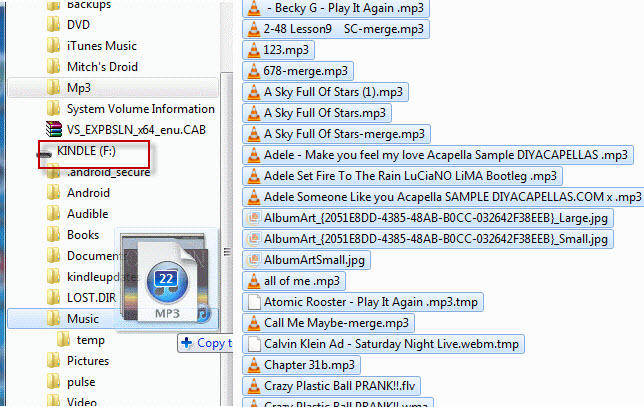 Once everything is complete, you can disconnect the device from PC.
Related Issue: Audio Formats Supported by Kindle Fire
Majority of music files are playable on Kindle Fire. It can open AAC LC/LTP, HE-AACv1, HE-AACv2, AMR-NB, 3GP, MP3, MIDI, OGG, PCM, and WAVE. On the other hand, if you have a music file that failed to be recognized by the device, you can use an online converter to convert these files making them compatible with your Kindle Fire. Just upload the file, select an output format, and click the "Convert" button. After that, you can download the converted audio file and import it to Kindle Fire.