Best 5 Tools to Upload GIF to Instagram
Instagram
With the use of Instagram itself, you can easily add GIF to Instagram story. You don't need to download anything, just simply log in with your account and tap "My Story", then everything will be clear for you. Here are the simple steps that you can follow on how to upload GIF to the Instagram story.
Log in your Instagram account.
Tap "Your Story", you can take a photo/video or just pick from your camera roll.
Once your file is being uploaded, swipe up the screen to view the stickers. Then, choose the GIF file that you want to upload to your Instagram story.
Once done, just hit the "Your Story" button on the lower left of your screen to save it.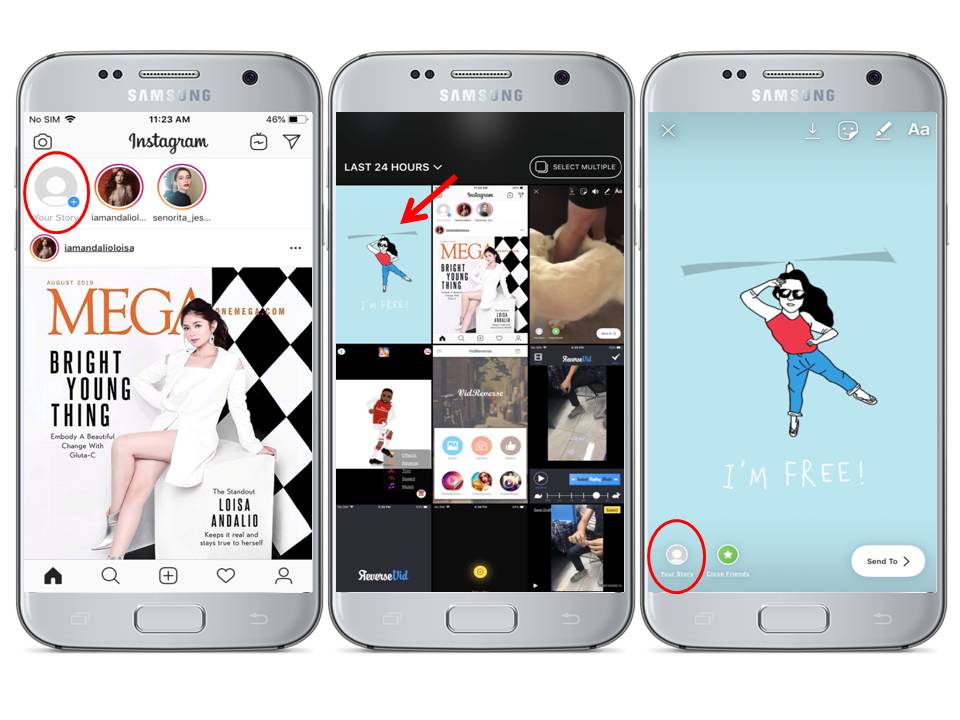 GIPHY
User's rating: 4.7
Compatible System:iOS 11.0 or later & Android 4.4 and up
File Size: 86.3 MB
GIPHY is a well-known app that is also able to add GIF to Instagram story. It has the largest collections of animated GIFs and stickers. You can search the trending GIFs on the internet with just a click. In addition, you are allowed to record your own GIF content with the built-in recorder. Moreover, this app has lots of elements that you can add to your video like stickers, filters, and captions, etc. Follow the below steps to upload GIF to Instagram by using it.
Download and install the app on Google Play or App Store.
Open the app and search for the GIF that you want.
Tap the paper airplane icon and look for the Instagram from it.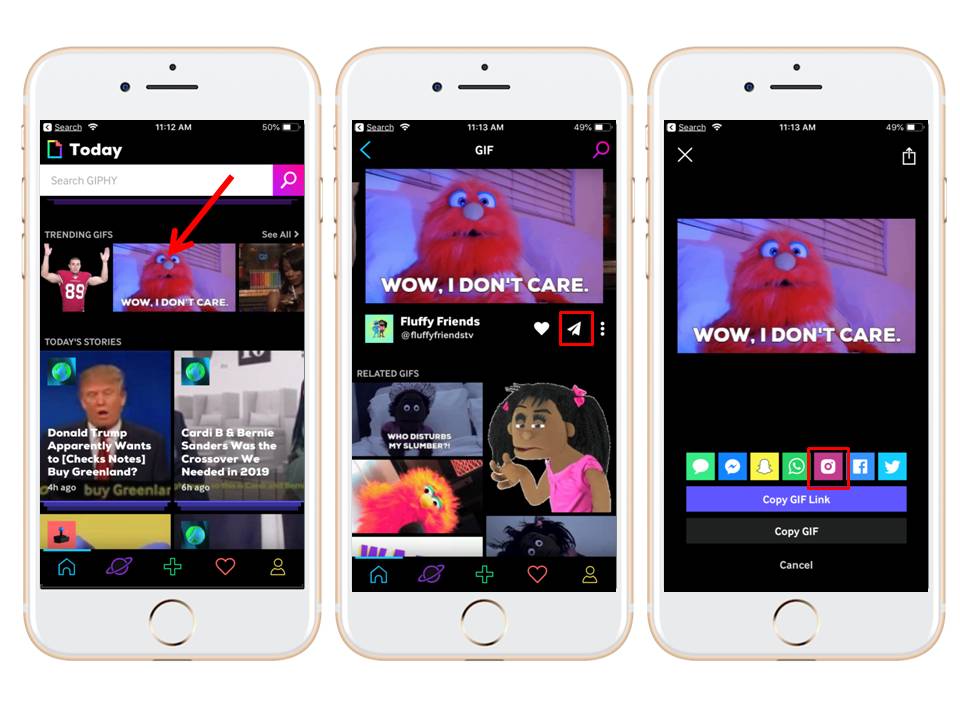 Once done, the interface of Instagram app will be opened and you can tap "Story" > "Your Story" to post the GIF.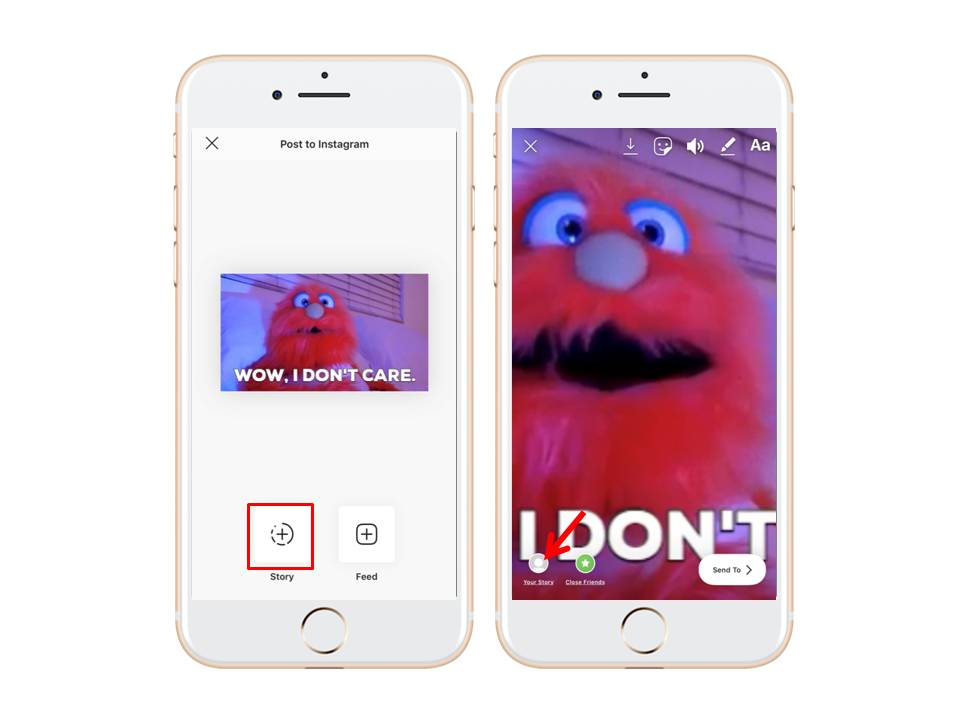 StoryGIF
User's rating: 4.4
Compatible System: Android 5.0 and up
File Size: 26 MB
StoryGIF is another app that can also add GIF to Instagram and other social media sites. With this tool, you can create fun content on your GIFs for your Instagram story by adding music or sound effect. Indeed, StoryGIF can make your Instagram story exciting and funny. Here comes the guide to add GIF to Instagram Story with it.
Go to Google Play to download and install the app on your Android phone.
Run the app and choose among the hundreds of GIFs that you want to post in the interface.
Tap the GIF that you want, and then tap the "Download" icon.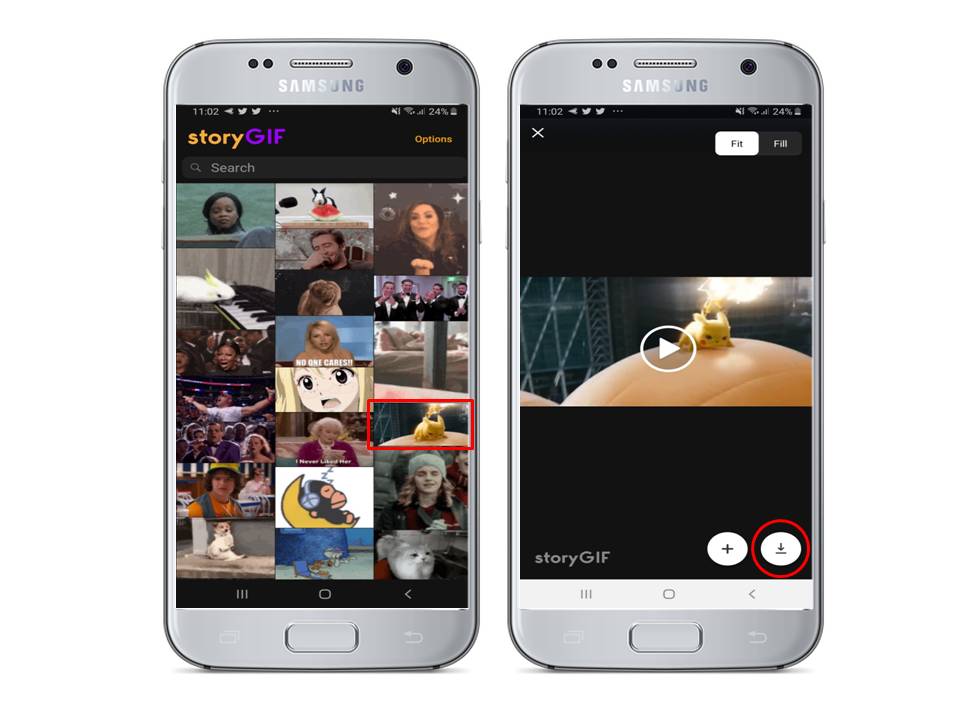 Next, choose "Share Video", and look for the Instagram icon.
Lastly, hit "Your Story" button to post the GIF on your Instagram story.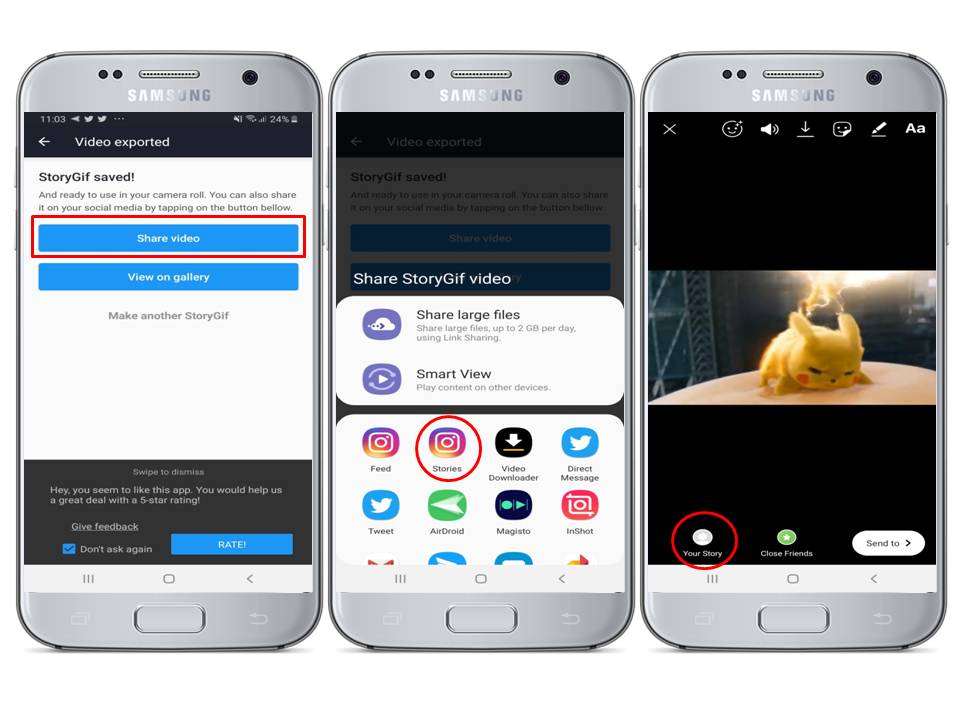 Gfycat
User's rating: 4.6
Compatible System: iOS 9.0 or later
File Size: 131.9 MB
One of the best apps that can upload gif to Instagram on Apple iOS devices is Gfycat, an app consists of high-quality GIFs and stickers that you can add not only to your Instagram Story but also on Snapchat, iMessage, Twitter, and Facebook. It has a library of millions of stickers and GIFs. You can refer to the instruction below to know how to add GIF to Instagram story with it.
Open the App Store and look for the app, to download and install it on your phone.
Run the app, then tap the plus sign icon at the lower part of
the screen to make GIF using your camera or choose among the trending GIFs on the app library.
Once you already choose what GIF you want, tap it and look for the Instagram icon.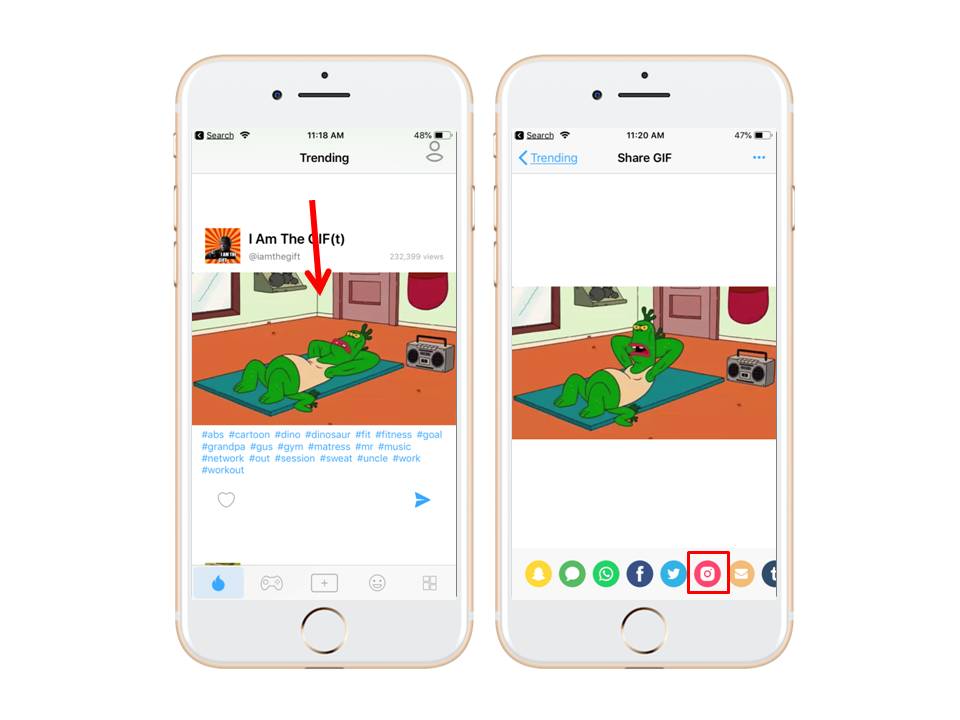 Finally, a window will pop out, select "Share to your story" then "Your Story" for the GIF to be posted on your Instagram Story.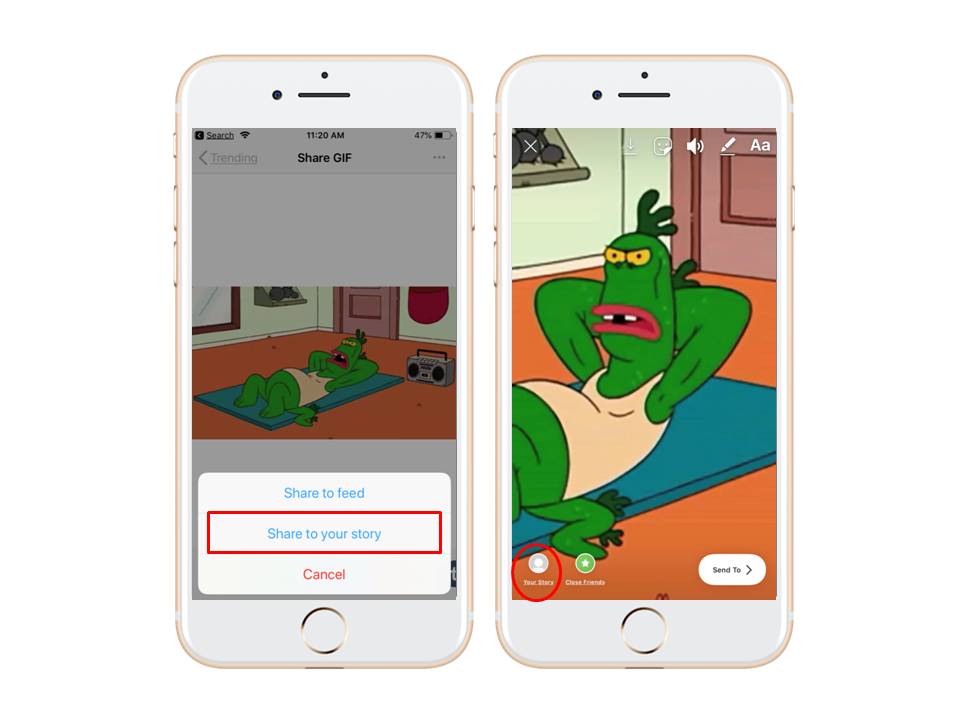 Beecut
User's rating: 4.1
Compatible System: Windows & Mac
File Size: 67.8 MB
If you are more comfortable in editing your Instagram video on the desktop, you can have Beecut. This video editor can easily add GIF to Instagram story in just a minute. It fully supports the Instagram square video format. You just need to drag and drop your video and GIF to the timeline and merge them together. As a video editing tool, you can also make use of the pre-ready tools to render your Instagram video into the level. You can simply follow the guide below to add GIF to Instagram on it.
Download the software into your computer by clickint the button below. It fully works with Windows and Mac both. But the functions vary a little.
From its interface, choose the aspect ratio for your Instagram story under "File" > "New Project" > "1:1 (Instagram)".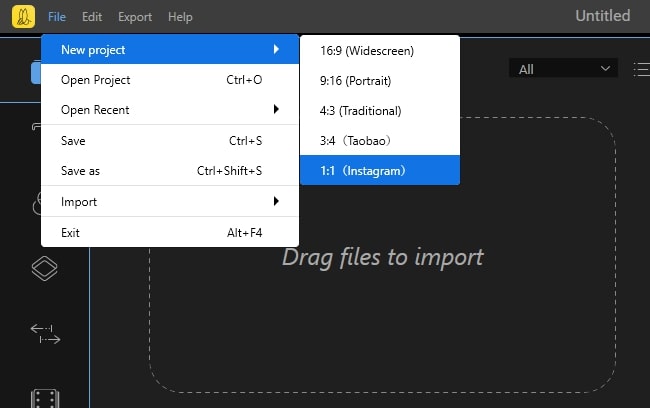 Click "Import" > "Import File" to upload the video and GIF that you will be using on the software.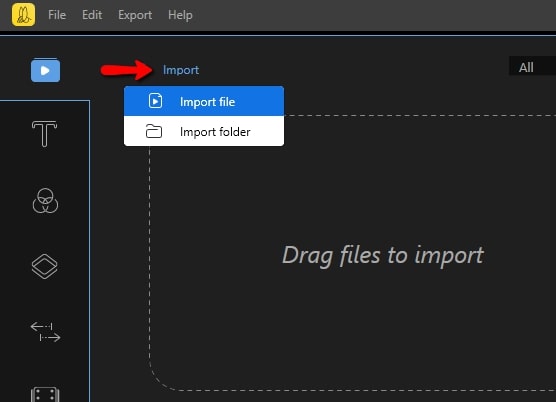 Drag and drop the video and the GIF to the timeline at the lower part of the screen.
Place the GIF on the video and set the duration, motion if you want. There are also animated effects in the "Elements" tab which you can use in your video.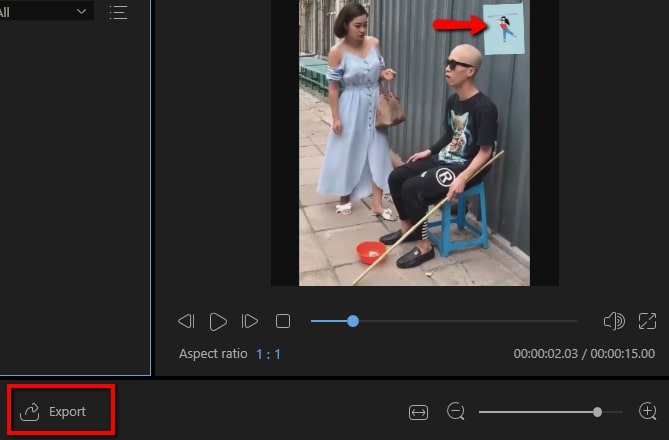 Once done, you can export the video in your preferred quality and format.
The Final Words…
That's it! It will be easy for you to add GIFs on your Instagram story with the help of these tools. If you want it to be easier, you can just add GIF within your Instagram account. But if you want your story to be more unique and superb in the eyes of the viewers, you can use other tools. If you know other great ways to add GIF to Instagram story, feel free to write your apps below.