4 Best Tools to Add Background to Picture Online
| Features | PhotoScissors | Background Burner | BeFunky | Apowersoft Background Eraser |
| --- | --- | --- | --- | --- |
| Free | | With watermark | With watermark | Offers free trials before purchase |
| Custom Background | | | | |
| Built-in backdrop templates | | | | |
| Built-in background colors | | | | |
PhotoScissors
PhotoScissors is the first practical web tool that can easily let you remove background from photo and add background to photo online. It offers basic editing features and selection tools that can be used to get a precise cutout easily. It's great even if you have no previous photo editing experience. It has two parts on the screen when you started processing your photo. The left part of the screen is for editing, while the right part gives you a preview of your result. Here are the steps that will help you add background to image online using this tool.
Visit the official website and click the "Upload" button to select an image from your local disk or PC you want to edit.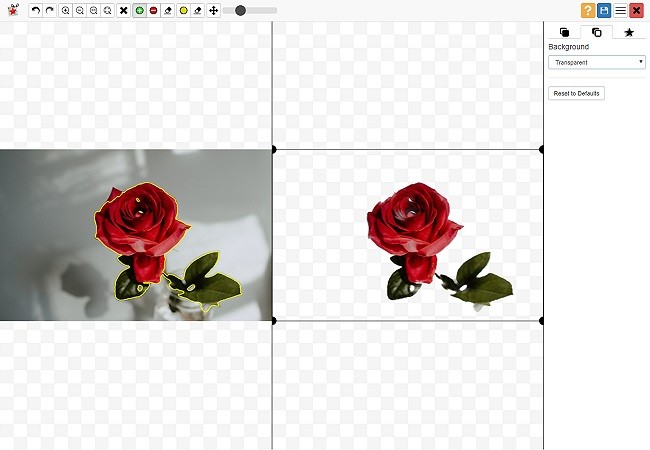 Once done, you can use the red marker tool to mark the background that you want to delete. Or, you can use the green selection tool to mark the main subject you want to keep.
After that, add a background by selecting "Image" in the dropdown, then click the "Select Image" button and choose the image you would want to use as a new background.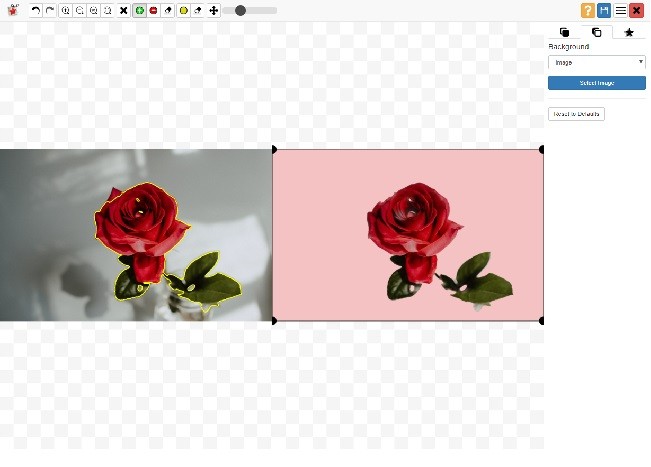 If you are satisfied with the edited image, hit the "Download" icon on the upper right corner interface to save it on your computer.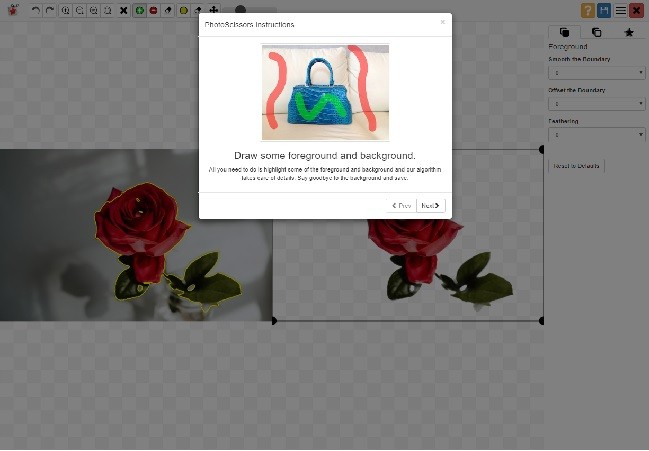 Background Burner
Another site that will allow you to add background to photo online free is Background Burner. It provides automatic results for you to choose from. If you are not content with the cutout, you can also adjust the image manually. After that, you can add background for your photo with your own image or choose from the built-in templates. Though it does not require payment to fully use its functions, it will leave a big watermark on the left corner of the final file. Follow the simple guide below to learn how to add background to photo with Background Burner.
Go to the website and choose a photo from your computer.
Next, the program will instantly make your image background transparent. Then tap the "Checkboard background" option to choose a solid color or plain white color to add new background.
Once done, tap the "Finish" button to download.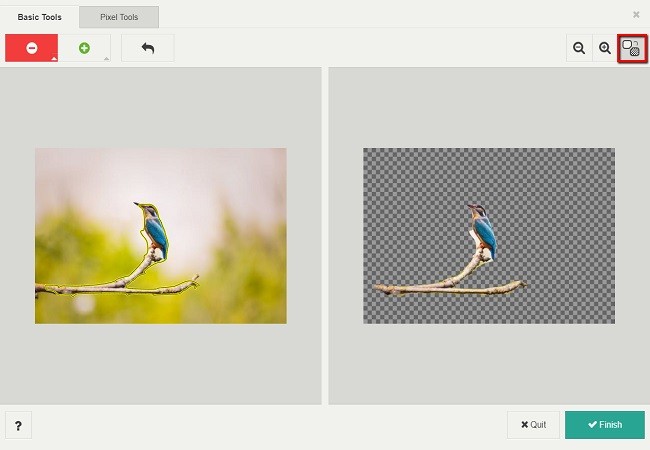 Note: You have to sign up first to download the program.
BeFunky
BeFunky is a free photo maker that will help you add background to picture online. It offers an advanced photo editing technique that you can use to make your background transparent and replace it with a new background. Aside from that, it is compatible with mobile devices, Android and iOS. To get started, follow the steps below.
Open the website to import or drag an image you want to edit.
Once uploaded, choose the background tool, and make sure the box for Transparent is checked. Then select Paint from the Background tool menu, then select Inverse.
After that, use your mouse to apply the paint tool to the background of your photo. Your background will be erased when you click and drag. Save it first the change as .png formatted.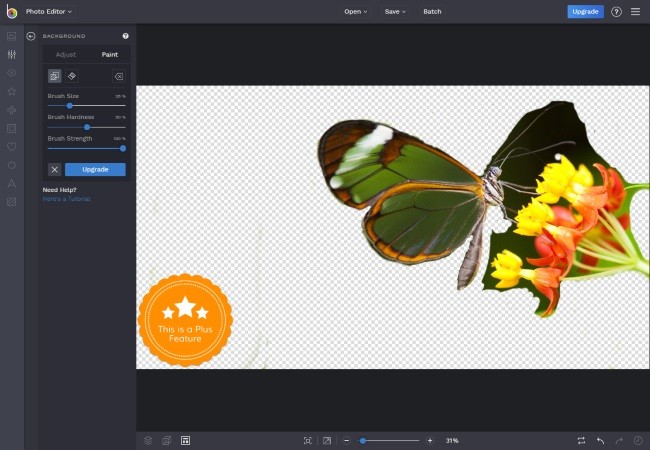 To add a new background, click the "Image Manager" tab, then hit the "Computer" button to find the .png image you have saved. Next, double click the thumbnail to add is a layer to your new background image. You can use the blue circles to resize and rotate until you liked the looks you want.
Finally, click the "Flatten Layers" button in the top left corner interface to make the two layers one image. Then save it.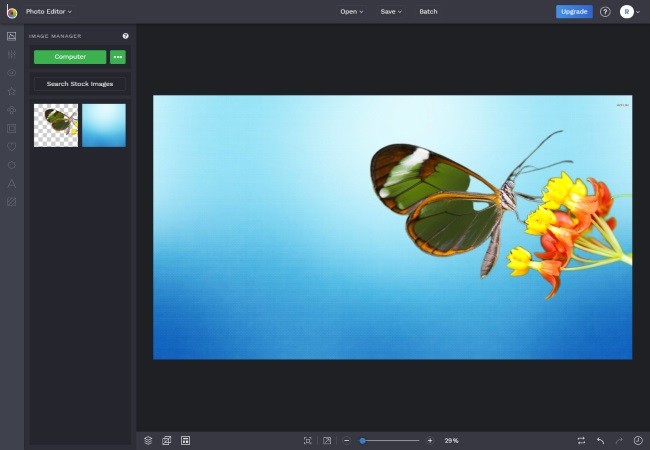 If you are tired of using online tools, you can refer to the desktop solution below that will also help you create a great photo, especially to replace your image's background.
Apowersoft Background Eraser
Apowersoft Background Eraser is the last solution that you can use to add background to photo online. It is an impressive desktop program that offers great user-friendly features. It will automatically make your background transparent. It has built-in plain colors and stunning template backdrops that can be applied to your background. These amazing features drastically improves your image. It offers three free trial uses.
Download and install the software on your computer.
Open the program and choose either "Portrait recognition" or "Others recognition" to start editing your image".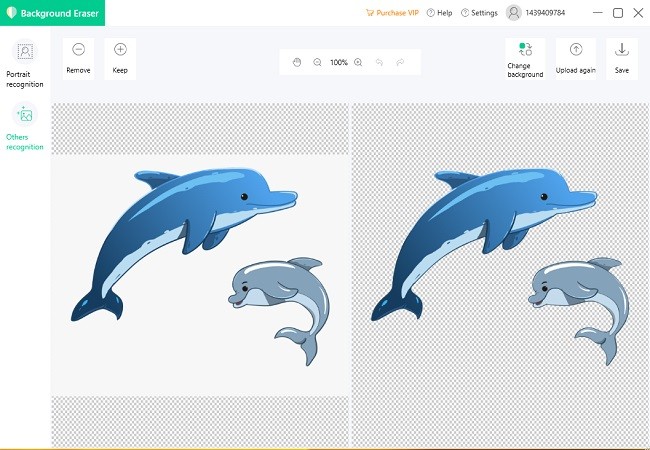 The image background will instantly make a transparent. To add a new background, you can use the two features: plain colors and backdrop template.
Tap the "Save" icon on the upper right interface to save it on your PC.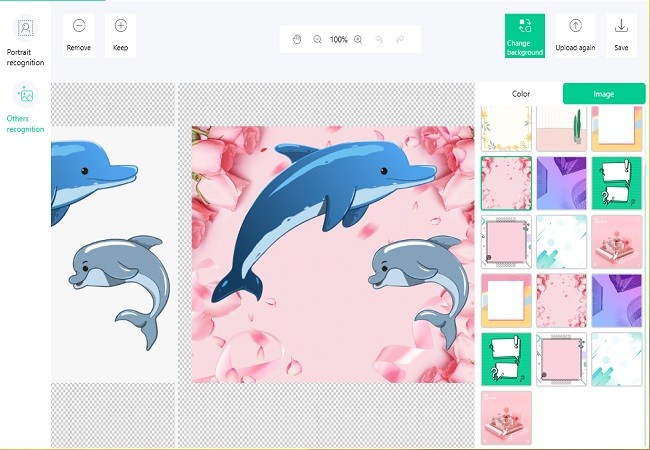 Conclusion
The tools mentioned above are the best options for photo editing, specifically if you want to add a new background from your image. Make sure you have an internet connection once you utilize the online tools listed above. Also, you might want to consider using a desktop program which is Apowersoft Background Eraser. It will definitely save time to add a new background to the image.