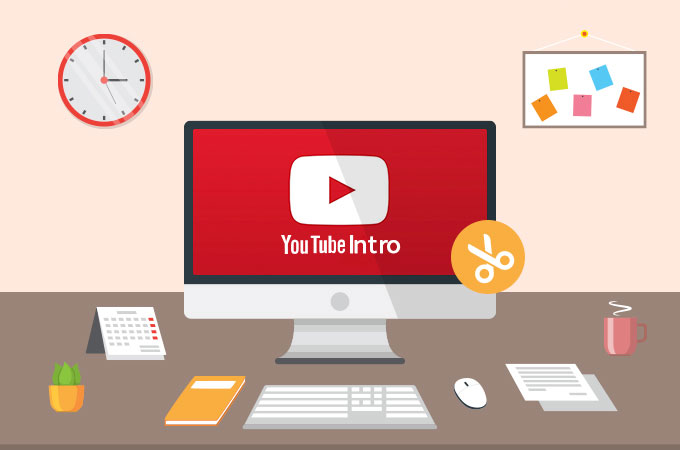 A video intro is usually a small clip inserted at the beginning of a video. If you intend to make a video for publishing on YouTube, you will probably try to make a cool and stylish intro to make your video stand out from millions of competitors. Is it difficult to make a professional intro for a beginner or non-tech-savvy person? Actually, now you have the chance to create a high quality intro easily by using the free online YouTube intro maker shared below.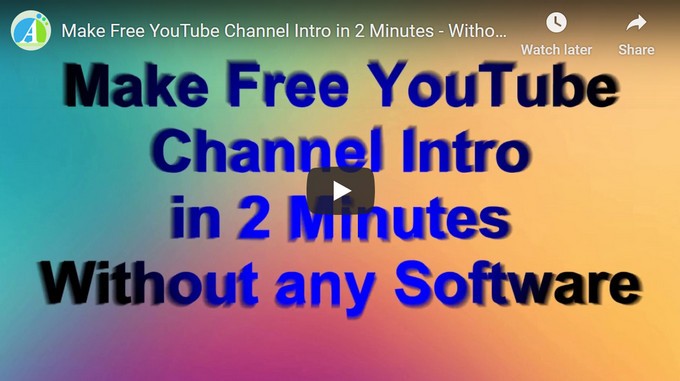 5 recommended free online YouTube intro makers
Bonus tips: Besides using the five free online services to create YouTube intros, you can also use BeeCut to make a cool intro effortlessly and quickly! You just need to select the template and input your own texts. You are allowed to set the text style, motion and do the other basic settings.
LightMV
LightMV is a quick and effective online video creator that allows you to add photos and text to create fashionable video intros.
Though its template library is limited compared to other competitors, each of its themes is crafted by advanced designers. You will be amazed by the high-quality animated video effects.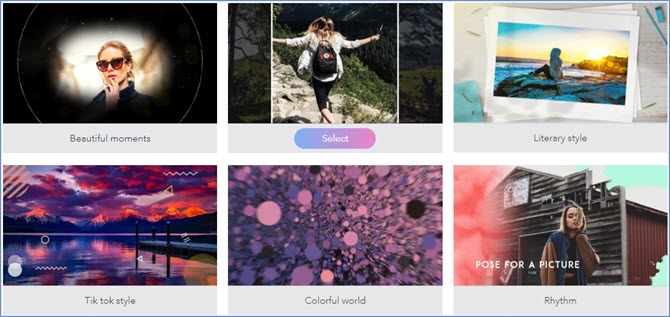 The great feature about this service is it doesn't require you to sign up or log in with social network websites' accounts. All you need to do is open the web browser, visit its website, and then add photos and text to create awesome intros with a few clicks.
Don't want to see the annoying watermark on your video intro? Just try this online application! It is a free YouTube intro maker no watermark.
IntroCave
IntroCave allows you to create various kinds of videos like an intro, an outro or a logo animation for your channel and business.
You can find a number of good-quality templates for making a professional intro on this site. Each of the templates has its own requirements about the number of images, logos, and texts.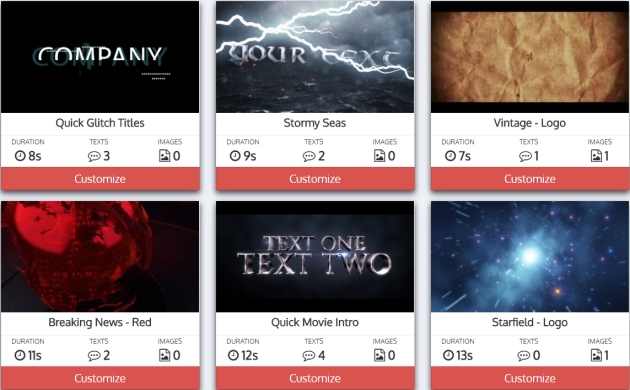 The process to use this site to create an intro is very easy! You just need to select a template, fill the forms, and then you can preview your customized video intro. If the output intro video just fulfills your needs, you can choose to purchase 720p or 1080p version.
Tube Arsenal
Tube Arsenal is designed especially for YouTube users to create video intros for branding their channels.
It has classified the templates into three categories, including intro, lower third, and outro. You can choose to create 2D, 3D, long logo, square logo, and other kinds of intros.
You don't need to download any software to use the application to create YouTube intro online free.

It has an intuitive interface. You just need to preview and select the template you like and then customize the photos, text, and colors.
If you don't buy the subscription, you will get your final video intro with a watermark. The price for each 720P video is $9, and you need to pay an extra $4 to get a video with HD 1080P.
Renderforest
Renderforest is a powerful online video and animation maker that can help you make intros, outros for YouTube channel, explainer animations, slideshow videos, mobile app tutorials, music visualizations, and promotional advertisements.
According to your needs, you can use it to create intros with 3D, clean, colorful, dark, bright, holiday logo reveals, or exploding and burning reveals.

Please pay attention that most of the templates provided by this service are not free. If you are a free user, you can browse videos, have 500MB storage, use limited number of music tracks, and get videos with watermark.
The price for exporting a no watermark video with 360P is $9.99. Of course, to export a video with higher quality, you need to pay more.
Flixpress
Flixpress has a variety of templates that will let you create innovative videos for product intros, gaming intros, business promotions, slideshows, presentations, advertisements, seasonal & gadgets, and special events.
Flixpress is similar to the above online tools, but it is a little cheaper. If you are short in your budget and want to create a professional intro using the expert templates on Flixpress, you might choose to purchase it.

This tool also doesn't require you to have any experience in video or photo editing. You just need to upload the photo, crop it, input title, and then customize the color, and that's it.
Any Google user can log in this service with your own account. This will be convenient for Google users who don't want to sign up a new account step by step.
Conclusion
These are the 5 YouTube intro makers we have introduced to you today. All of them come with automatic templates and allow you to create attractive YouTube intro videos in minutes. Among the 5 tools, LightMV is the only free YouTube intro maker without watermark. The other 4 tools will add a watermark in your output video. If you need to remove the watermark, you may buy the subscription on their websites. You may try two or three of them to see which one works best for you.