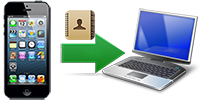 Many iPhone users need to save their iPhone contacts to PC for various reasons. First, if you plan to restore your iPhone and you don't want to lose any of your contacts, you can backup your data on a computer. Additionally, when you need to access your contacts while using your PC, you can easily do so when your contacts are saved in your computer. There's no need to juggle your iPhone and computer and keep switching from one to the other, as you can easily manage your contacts and media files via PC. Listed below are three easy and effective solutions to help you save iPhone contacts to computer.
3 easy ways to save contacts from iPhone to PC
Solution 1: Use Apowersoft Free Online iPhone Transfer
This is a multifunctional tool that transfers various files from iPhone, iPod or iPad to PC free of charge. You can use it to export files from your iOS device to iTunes. This application is designed not only for transferring files but also for managing all media files on your device, which means you can delete and edit unwanted contacts, music, photos, videos, etc. It's compatible with all iOS including the latest iOS 7.
Follow these simple steps on how to save contacts from iPhone to PC using Apowersoft Free Online iPhone Transfer: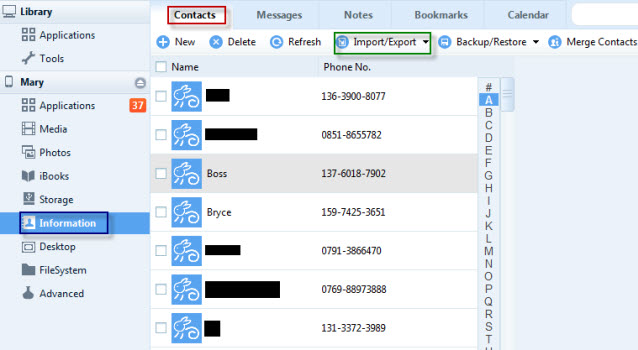 Upon connecting your iPhone to PC, click "Launch Application."
Once the application launches and the library loads, check the list on the left and click "Info."
Go to "Contacts" and you'll find your list of iPhone contacts.
Choose all contacts that you'd like to save to your computer, and click "Export."
Launching the application takes some time and requires a stable Internet connection, so it's best that you download the desktop version so you can transfer files quickly whenever you want, regardless of internet connection. With the desktop version, you can enjoy a lot more useful functions and features such as transferring media files in batch and more. It's much easier to manage your phone's content via PC using the desktop version.
Solution 2: Use iTunes
You can also use iTunes to backup your contacts. Follow these steps on how to save contacts from iPhone to laptop using iTunes: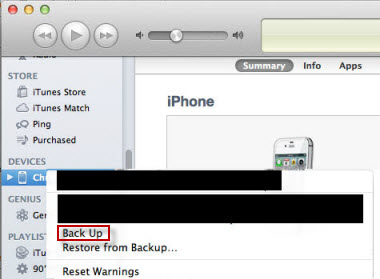 Connect your iOS device to PC via USB, and launch iTunes.
Click iPhone from the list on the left, and click "Info."
Check "Sync Contacts."
Right-click on the name of your device, which you can find beneath "Devices," and then choose "Back Up."
Note: If your iCloud backup is turned on, iTunes will be automatically disabled, so make sure that your iCloud backup is turned off.
Solution 3: Use iCloud
iCloud allows you to store your data safely in the cloud server. Given that your devices run iOS 5 or above, if you have multiple devices registered under a single Apple ID, iCloud also lets you access your data from these devices. The main advantage of using iCloud is that you can transfer data online wherever you are as long as there's Internet, so there's no need to use a PC. Here's how you can save contact list from iPhone to PC via iCloud: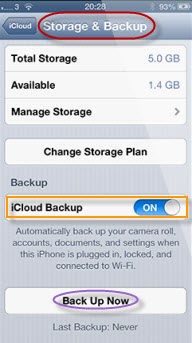 Go to your phone's settings, and select "iCloud."
Ensure that your iCloud account is properly set up, and turn on "Contacts." (Note: Be sure to enable the backup option.)
Choose "Storage and Backup."
Press "iCloud Backup" and switch it to "On", and then choose "Back Up Now."
Keep in mind that backing up your data requires a Wi-Fi connection. You can successfully transfer your contacts once your device is connected to the net over Wi-Fi.
Transferring your contacts to PC is important to keep your precious data intact in case of accidental deletion or unexpected phone malfunctions. Just choose any of the solutions provided above, and you'll surely be able to learn how to save contact from iPhone onto new computer successfully.