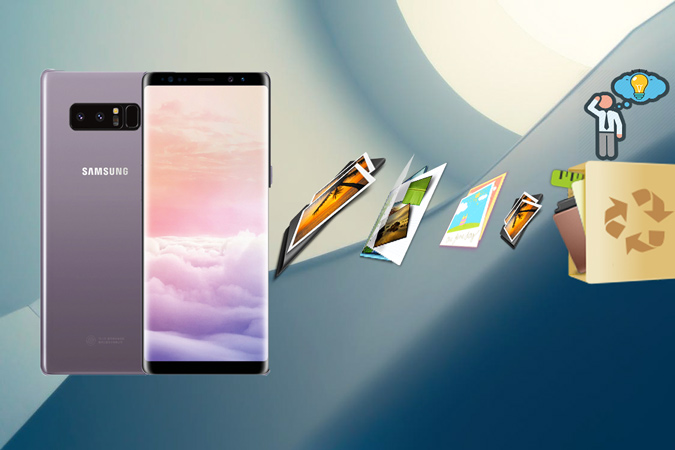 I was browsing my photos on my Samsung Galaxy Note while doing something on my computer. I thought I was good at multitasking until I realized I accidentally deleted all my photos! I have important pictures lost so I badly need good suggestions for recovering them. Please help!
You may have experienced the same problem in the past if you are a mobile user. Aside from accidentally deleting images on your device, there are several other reasons why data on your device might get lost, which we will discuss on the latter part of this article. In the meantime, we will be discussing the solutions on how to retrieve deleted pictures from Samsung Galaxy Note.
Samsung Galaxy Note Photo Recovery Applications
There are various applications available nowadays that would let you recover missing data on your mobile device including images. Here are some of the best ones that you can try for recovering pictures on your Samsung Galaxy Note.
Freeware – 7-Data Android Recovery 1.0
The first software that we'll talk about is 7-Data Android Recovery 1.0. This is a freeware that you can download and install on your computer. You can use this to scan your phone or your memory card to find missing files like your pictures. However, this application is still in beta, which means that the features are still being tested. Since it's still unstable, you may not be able to fully recover deleted photos from Samsung Galaxy Note or it might now work as smoothly as it should be. Moreover, the scanning and recovery process could take some time.
Shareware – Data Recovery for Android
The next recovery program on our list is Data Recovery for Android. This is a shareware, which means you can download and use it for free for a certain period. You can try its features during the free trial and decide if you really like it before purchasing the full version, which you are probably going to do because this is one of the best recovery programs for Android around.
It can recover deleted photos on Galaxy Note 2, as well as other Android devices including Sony, HTC and LG. This is an easy to use application as it will walk you through the steps on how to recover your images, as well as other lost data. Even if this is your first time trying the software for recovery, you should not have any difficulties. It can effectively find lost photos on your Samsung Galaxy Note so you can restore them.
Once it's done scanning, it will show the files that it was able to find. You may click on the checkbox next to "Gallery" if you wish to recover all. But if you want to preview and select specific photos to restore, click on "Gallery" and click on the checkbox next to the images you wish to restore. Click the "Recover" button and you'll have your lost photos back. You can do the same for your messages, contacts and videos.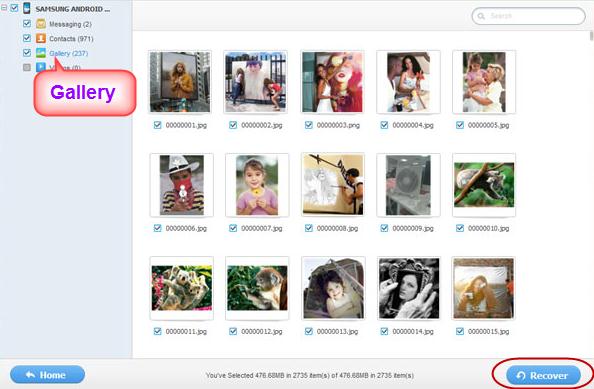 Reasons of Samsung Galaxy Note Photo Loss
As mentioned on the first part of the article, after going through the methods on how to recover Galaxy Note lost photos, we will tackle about the causes of photo loss or data loss in general. It is important to learn about this so you'll know how to prevent it from happening.
Just like what happened to the photos of the user, images could be lost due to accidental deletion. So be careful when browsing on your data.
Virus is another common cause, which is why installing virus protection on your device is vital. You should also avoid transferring data from unknown sources.
Abrupt disconnection of USB cable when transferring on computer or powering off of the Samsung Galaxy Note device is another reason. Be careful not to move the USB cable when transferring files and make sure that your Galaxy Note is fully charged.
Accidental dropping of phone on water or breaking the memory card could also cause your photos to be lost. So make sure to take care of your phone and memory card properly.
But in case you experience losing important images on your phone, you can use Data Recovery for Android, which is the best Samsung Galaxy Note photo recovery program you can find.