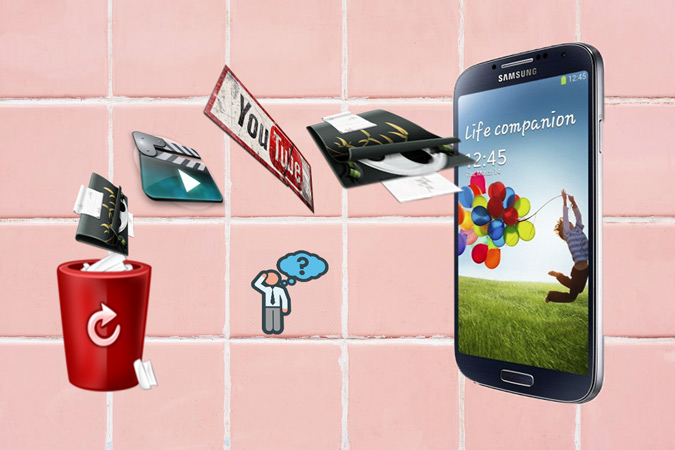 I was deleting some of my old videos on my Samsung Galaxy so I could free up space on my memory card. I didn't realize that I accidentally included important videos that I needed saving until it was too late. Is there a way for me to get them back? – Carol
A lot of smartphone users experience the same problem. They accidentally delete videos on their device that are important to them. Aside from this, there are also other causes of file loss including virus infection, phone updates, abrupt disconnection of the device during transfer and reformatting. If you are one of these people, you may also be asking the question: "how to recover deleted videos from Samsung Galaxy S3".
The good news is that there is still a way to recover missing videos on your device. There are various applications available that will let you do so. Two of these programs are DiskDigger for Android and Android Data Recovery, which we will discuss in this article.
Software to Recover Deleted Videos from Samsung Galaxy
DiskDigger for Android
First, we'll talk about using DiskDigger for Android to recover deleted video from Samsung Galaxy. DiskDigger was first released in 2009 as a Windows application. With its success, the developers released another version for Android. This application is currently in beta so it still has some stability issues.
While it offers various options for saving your recovered files such as transferring with Bluetooth, adding to Dropbox, sending to e-mail and saving locally, the formats supported are only limited. Only MP4 video formats can be searched and restored using this application. So if your videos are saved in another format, DiskDigger for Android will not be able to restore them. It can also find missing images but only those that are in PNG and JPG formats.
Android Data Recovery recommended by Apowersoft
The next Samsung video recovery application that we will discuss is Android Data Recovery. This is a reliable application that you can use not only to recover deleted videos on your Samsung but other lost files as well including images, contacts and messages. It also supports all Android devices aside from Samsung such as Sony, HTC, LG and ZTE.
This is an easy to use program. After downloading and installing it, launch the application and connect your device using the USB cable. You will be taken to the steps that you need to follow to detect the device. Once the device is detected, the program will scan for your missing files. After scan is complete, you will be presented with the result. If you wish to recover all videos, click on the checkbox next to it to put a checkmark. If you want to select the videos that you want to restore, click "Videos", click the checkbox next to the video files that you would like to get back and click the blue "Recover" button. That's how fast and convenient it is to restore your Samsung Galaxy videos with this program.
Things You Can't Do After Your Samsung Galaxy Video Loss
After deleting files on your device, they are actually not really gone. You will not be able to see them but they are still recoverable using file recovery applications like the ones discussed in the article. However, if the files were overwritten, then that's the time that they cannot be restored anymore since the old files are no longer there as new files already have their filenames. If you realized that you need to recover lost video on Samsung Galaxy S2, do not use the phone to record or transfer new videos. Also, there are applications that can permanently delete files and make them unrecoverable. These programs are useful if you want to protect your privacy and you want to make sure that no one would have access to the deleted files. However, do this only if you are sure that you will no longer use the videos or files in the future.