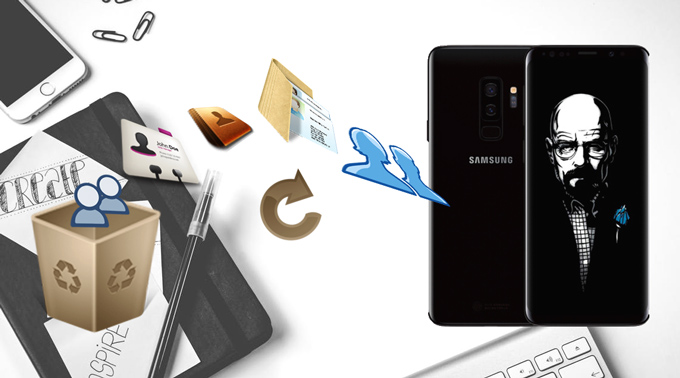 Even we like it or not there always come a time when your smartphone suddenly faces some issues and it may cause a total elimination of your phone's contacts. This can be caused by a system error, a corrupt memory or can even cause by the user. I bet everybody does not want to mess up with their contacts since it will require you a far more effort to gather those contacts once again. Most of the smartphone users such as those that use Samsung smartphones can't help but ask about, the ways on how to recover contacts from Samsung mobile? Luckily there are now ways that can be used to answer this query, I will elaborate on them furthermore as I continue with the post.
Finest way to recover your Samsung lost contacts
If you have trouble about losing contacts on your Samsung smartphones then worry no more, since the finest ways to recover Samsung phone lost contacts will be elaborated below.
Method 1: Recover your Samsung lost contacts from your Gmail
One of the ways for you to perform complete Samsung contacts recover is by going into your Gmail account. Yes with your Gmail account, here are the things that you must do.
Log to your Gmail account and on the upper left corner of the screen you will notice a Gmail icon with a downward arrow beside it, just click the arrow select contacts and you will see all your contacts from there.
If you can't still access to your contacts then just key in "CTRL + F5" to refresh.
However, this method will only work if you synch your Samsung smartphone to your Gmail account before the loss of contacts has occurred. If the sync is not done, then this method will be useless. In this case, you may need a professional Samsung contacts recovery tool to help you.
Method 2: Data Recovery for Android to recover deleted contacts on Samsung mobile phone
As we noticed, the first solution can be effective but its function is limited. For this, it is far better to use a professional application to recover deleted contacts on Samsung Galaxy. This excellent program is the Data Recovery for Android.
By using this program you are entitled to all of the wonderful features that this app has. This includes an ability to recover lost contacts and SMS messages on almost smartphones that runs under Android OS, it is also powerful enough to restore other files such as audio, images, and videos regardless of the way that they were lost. Moreover, this program utilizes a very safe Android data recovery without any personal information being leaked. And you are also given a choice to browse the files before restoring it which is fantastic. With Android phones being popular nowadays it is a must to have a program such as this to protect all of your Android files.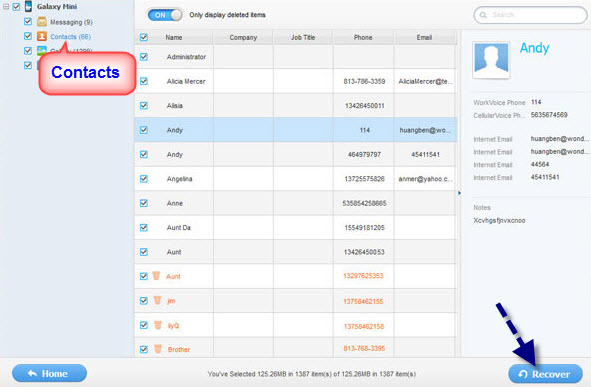 Which method is the best?
Upon going through the above-discussed methods, we can clearly see that the first method with the use of a Gmail account is limited, due to the fact that it can only work if the user saves their phone contacts with their Gmail account. Unlike the Data Recovery for Android that can work under any circumstances as long as the devices run on an Android OS. And it has numerous useful attributes that can be utilized.
Avoid losing your Samsung Contacts
The best way to avoid any loss of phone contacts is to back it up once in awhile since smartphones are unpredictable and fragile and any crash, lost, or any troubles can happen anytime.