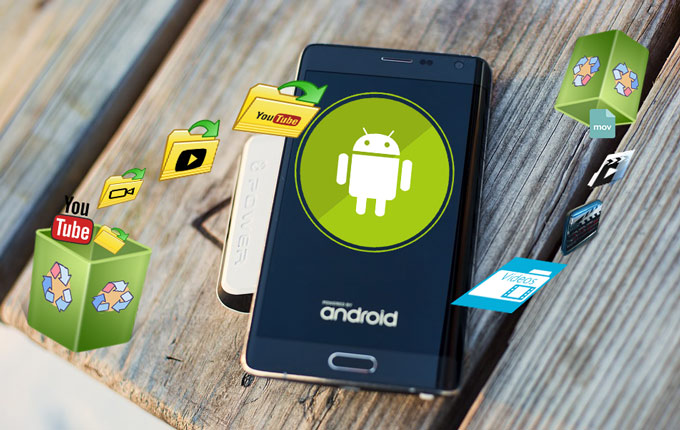 Android devices offer various new functions aside from the usual phone features. It also turns out to be a portable media station for bringing videos anywhere with you, but the problems also come here – you may lose your videos taken on the mobile or transferred from the computer due to some reasons. There are several reasons why this may happen including accidentally deleting the files and videos lost due to virus or corruption. Whatever the reason is, you would surely want to find a solution on how to recover deleted videos from Android if you ever experience this situation.
Wonderful tools to Recover Deleted Videos from Android
Losing your favorite or important videos on your phone can be upsetting. However, there is still a big chance that you can get them back using a recovery application. This is because files deleted or lost on your device are not completely gone. They are hidden and can still be restored using the right tool.
After you realize the loss of data on android, make sure that you do not save anything on your phone as it would not be possible to get them back once they are overwritten with new files. In this article, I will give you two Android video recovery applications that you can use to resolve your problem. Read on to determine which of these options would work best for you.
Android Data Recovery
The first application that we will talk about is Android Data Recovery. This is a tool that you can use not just for recovering videos on your Android device but other files as well including messages, contacts and images, etc. It is straightforward and easy to use making it a good option for every user even those that do not have technical know-how.
When it scans your device, it does not just look for missing files but those existing ones as well. Lost files that were found will have a different color than your current files so you would know which to restore and which you already have on your phone. Furthermore, this would not just let you recover Android videos that were lost, but you can also use this to backup files on your computer.
While other applications have risks of having your personal information or important files leaked during the recovery process, this is something that you should not be concerned about when it comes to Android Data Recovery. The application is safe and secured so you know your files and data are protected. The program supports a wide selection of Android devices including Samsung, LG, Sony and ZTE, as well as various file formats such as AVI, WMV, WMA, MP4 and more. It also lets you preview the files before restoring them so you could decide which to recover.
Here are the easy to follow steps on how to recover videos from Android phone using android data recovery:
Download and install Android Data Recovery on your computer.
Launch the application once installation completes and connect your Android device to your computer using its USB cable.
On the Android Data Recovery window, select your operating system and follow the specified steps on how to enable debugging on your device.

Click "Start" for the tool to start analyzing your device.
You will receive a request on your phone. Select "Allow" on your device then click "Start" on the Android Data Recovery window to start the scan process.
Select the videos or files you wish to recover and click "Recover".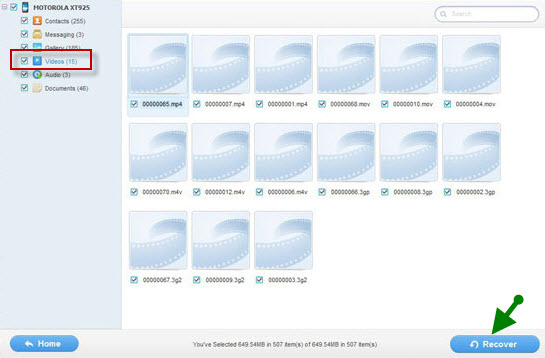 Pros:
Supports recovering various files including videos, messages, images, etc from Android.
It is secure and very easy to use.
Works well for more than 2000 kinds of Android phone or tablet devices such as HTC, Samsung, ZET, Sony, LG and so on.
Provides free lifetime upgrade for all purchased customers.
Cons:
It is not freeware, but shareware. You need to purchase it for file recovery.
Undelete for Root Users
The next recovery tool on our list is called Undelete for Root Users. This is an application that you can install on your Android device. However, as the term suggests, your mobile needs to be rooted or you need to have root access or privilege control in order for this to work. It can recover files that have not yet been overwritten, allow preview, restore folders and can recover various files including videos and images. Even if you can use it while on-the-go without the use of computer, it would still be easier to do the recovery process on a bigger screen. You also need to purchase the key for the product as the free version can only recover images.
Pros:
Available to undelete data even without a computer.
Allows you to preview files before recovering.
Cons:
You need to have your Android devices rooted if you want to use it to recover data.
A little complicated to use, especially for the newbies.
After going through the two applications, we can conclude that Undelete may only be convenient if you do not have a computer to use for your file recovery. But if you do, the best solution to recover lost videos on Android is Android Data Recovery. It is simple to use, it effectively restores missing files and it supports various devices and file formats.