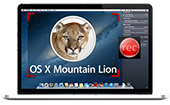 Taking pictures of your OS X Mountain Lion is possible by using various shortcuts on your keyboard like "command+shift+3". However, this will not work if you are trying to record a video of your screen. There are various reasons why people record their screen. The video can be used for presentations, tutorials and even for creating personalized greetings. So how can you record OS X Mountain Lion screen?
Since there is no built-in application that will let you do this, you can use a third program that is compatible with Mac. There are free, as well as paid screen recorders that you can find around. They also offer varying features. In this article, we will talk about two of your options.
How to Record Screen on OS X Mountain Lion
Method 1: QuickTime Screen Recorder
The first option on the list is QuickTime. This is a free multimedia player from Apple Inc. It is not just used for playing audio and video or viewing images but it can also be used as a free screen recorder for OS X Mountain Lion. It can record the whole screen or only part of the screen. You can also record audio while the screen is being recorded using the built-in microphone or one that is connected to your computer.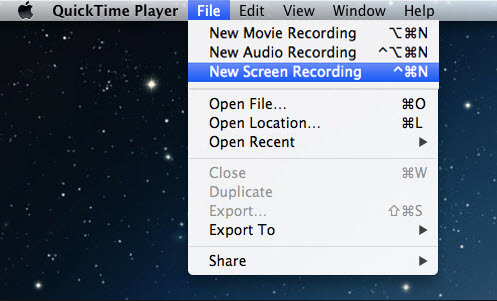 There's also the option to adjust the video quality to medium or high. Choosing "high" will give you high quality video but note that the size will also be larger. Mouse clicks can also be included on the recording if you prefer to show each click you make on the video. Videos are saved on the movies folder of your Mac and they are saved with ".mov" format. While the program is free, the features are only limited. If you wish to edit or convert the video to another format, you need to use another application for this.
Method 2: Apowersoft Mac Screen Recorder
The next Mac OS X Mountain Lion screen recorder that we will discuss is Apowersoft Mac Screen Recorder, which you can download by going to this site. It comes with a cost but it also has a free trial that you can use for a few days before deciding to purchase the full version. The advantage of this application from QuickTime is that you could not just record video and audio from microphone simultaneously, but audio from the system as well. It also comes with editing features that you can use to customize or enhance your video.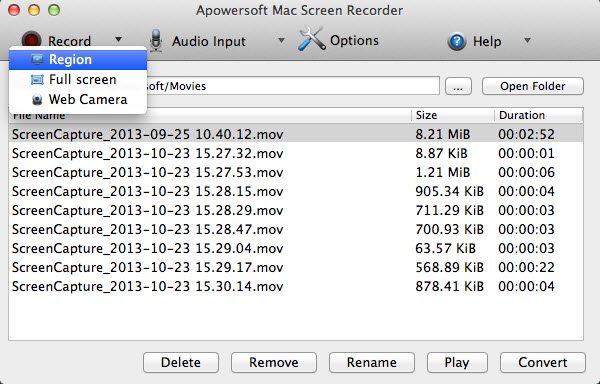 If you wish to convert the video to another format, you don't need to use another converter as this screen recorder also comes with this feature. It supports varying formats and it allows batch conversion letting you convert videos to AVI, MP4, FLV, SWF, 3GP, MKV, MPEG and other video formats at the same time. Moreover, you can insert webcam video while recording your screen by simply clicking on the webcam icon while recording. This tool has a user friendly interface so it would not be difficult to familiarize yourself with its use. Follow these easy steps to record screen on your Mac.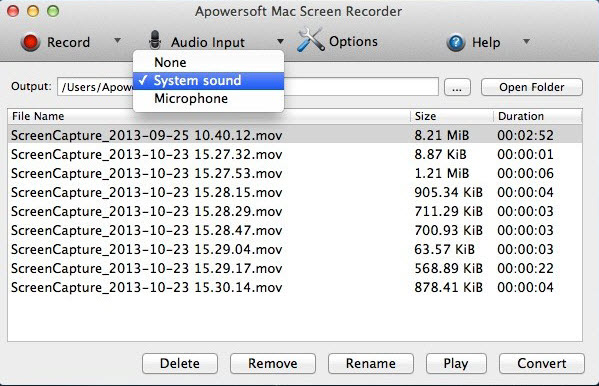 Step 1. Launch the program.
Step 2. Click "Audio Input" and select from the options including "None", "System Sound" and "Microphone".
Step 3. Click "Record" and choose if you want to capture the full screen, a specific video or use the webcam.
Step 4. Click the "Start" button to start recording and "Stop" once done.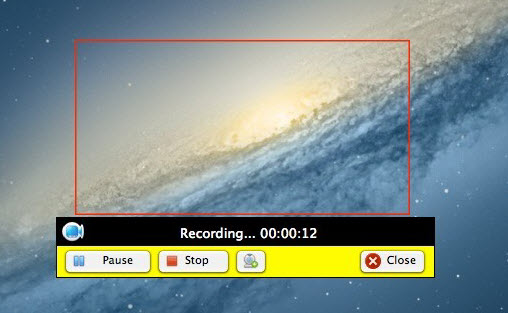 How to Record Mac OS X Mavericks Screen
Apple Inc. has released the latest version OS X Mavericks that offers the latest features, the most advanced technologies and the strongest security. The good news is that old users can update to OS X Mavericks for free, so many people choose to try the fantastic features. Meanwhile, they may put up a new confusion – can Apowersoft Screen Recorder run well in the new system? Absolutely yes. The steps of recording Mac screen of OS X Mavericks is similar to those on OS X Mountain Lion, you will get what you want with ease.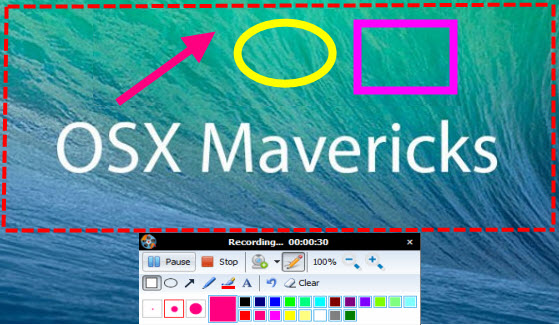 After discussing the two options on how to record screen on OS X Mountain Lion, we could say that Apowersoft Mac Screen Recorder is a better choice than QuickTime. While the latter is free and it can record your computer's screen, Apowersoft Mac Screen Recorder offers more features that the other program lacks including recording video with the system's audio, video editing and conversion.