They always say that picture paints a thousand words and indeed this is true. Thanks to modern smartphones and cameras, capturing wonderful photos is easy! From your kids' growing up pictures to great memories of hanging out with friends, you can take photos of everything.
But saving all those wonderful photos directly on your gadget is quite boring. To this, many people opt to create a photo slideshow or movie along with a matching music to make things more dramatic and entertaining. With music-embedded photo movies, it's easy to share all those precious memories with your family, friends or video streaming websites. How to put music to pictures is very easy. In fact, you have several options to choose from that will enable you to do this trick quickly and simply. Discover them all after the jump.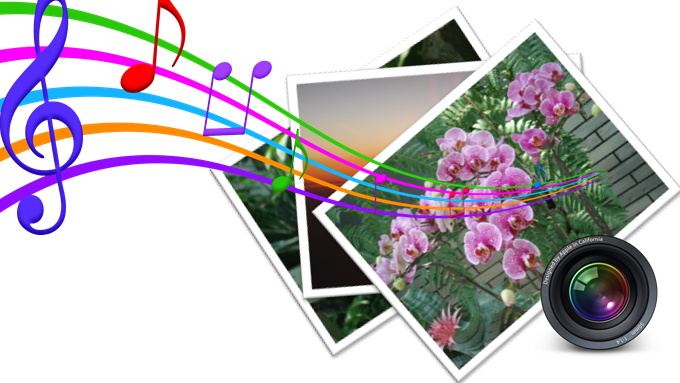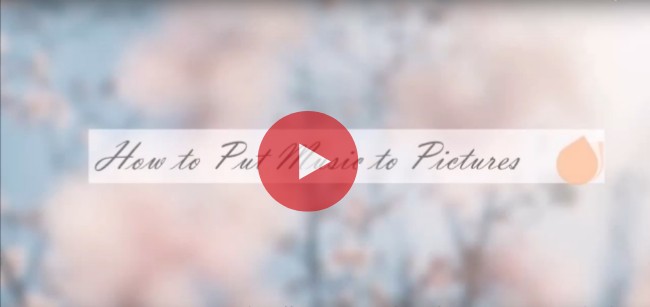 5 Ways to Put Music to Pictures
Use LightMV
LightMV is a free online video maker, which supports making picture videos with music. It is compatible with iOS, Android, Windows and Mac OS so that you are free to create your own masterpiece or continue your project on any device. LightMV also provides you with various templates, such as fashion, wedding, business, birthday, family, ceremony travel and so on. With these professional templates, you can easily make a cool video or put music to pictures. Below are the detailed guides on how to use LightMV:
Go to LightMV's official website and click the "Get Started" button on its interface.

Preview and choose a template.

Upload your pictures to the editing area.
Click the "Change Music" button to upload your own music or just use the default music.
Click "Produce" to generate the video.

Click the "Download" button to save the video to your device.
Use BeeCut
BeeCut is a very practical and powerful video editing tool which allows you to create a professional video in minutes. With this program, you can edit videos any way you like: adjust color, trim and crop, add overlays, texts, elements, zoom, add mosaic and so on. Moreover, it supports various kinds of aspect ratios including 16:9, 9:16, 4:3, 3:4 and 1:1. The whole interface of BeeCut is made up of 3 parts: media panel, preview panel and edit panel. To start to put music to pictures, simply follow this guide.
Download and install BeeCut on your computer. It supports both Windows and Mac systems.
Import your pictures and music to the program by clicking "Import" > "Import file". You can also import a folder by clicking the "Import" > "Import folder". Drag all the pictures to the video track on the timeline. Drag the music to the audio track.

Click the "Transitions" tab, select the transitions you like and then add them to your pictures. If you don't want to add the transition manually, click "Apply random transitions". Double-click the music on track and then you can adjust its speed, volume, etc.

Highlight the picture on the track, click "Set duration" if you want to set playback time for the picture. This video editor supports adding two audio tracks simultaneously. Drag another song to the second audio track if you need it.

Click the "Play" button on the right panel to preview the video. When all things are done well, click the "Export" button to save your work.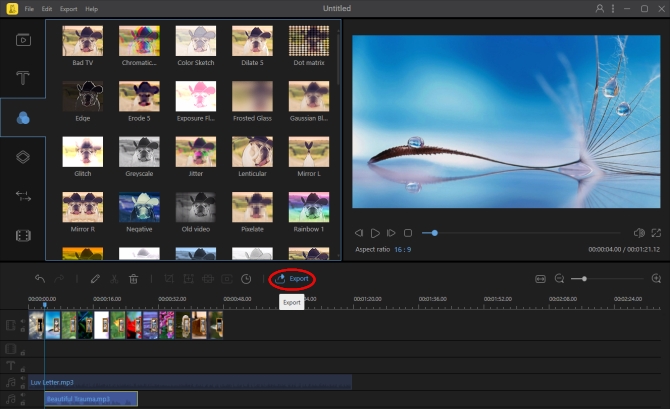 Use ApowerShow
ApowerShow is a new tool developed especially for you to create and show your stylish video. It comes with a bunch of exquisite themes and filter templates. With this tool, you can convert still images into vivid videos, create cool split-screen videos, download videos from websites, record all activities performing on your computer and edit video by trimming, cropping, rotating, etc. Unlike other traditional video creators, it offers you a very intuitive interface so that you can know how to use it at first glance.
Using its MV function, you can create a fashionable video out of photos and music in just a few minutes. To put music to your photos, you just need to finish these simple steps.
Visit ApowerShow and launch the application by clicking the "Launch Online" button.
Drag and drop your photos into the rectangle area under "+ Add files". Select the theme from the right pane and click the "Play" button to preview the effect. Click the theme you like most.

Click the "Music" tab and "+ Add music" button to import music from your computer.

Click "Export" tab and select the size as 480P, 720P or 1080P. Click the "Export" button to save your file.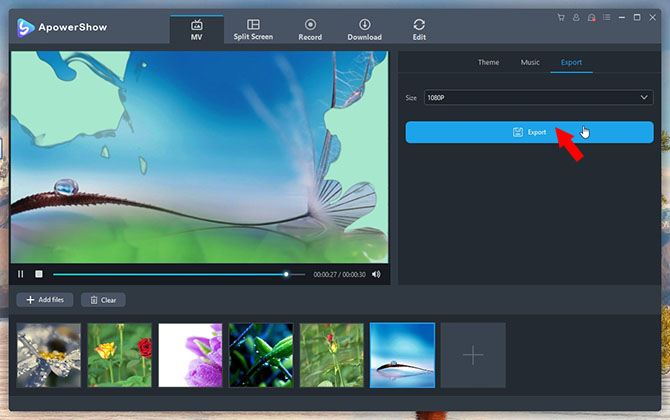 Use Apowersoft Video Converter Studio
An ultra-high-speed video converter, Apowersoft Video Converter Studio is not just an ordinary file format modifying software. It is equipped with extra features that users will truly love such as the ability to create picture movies, put music to photos, edit video, download video, record screen, edit audio, and many more. It is an all in one and easy-to-use application.
With its built-in MV maker, you can add different transition effects, insert music, choose the appropriate output resolution and adjust intervals. To complete the trick using this software, follow this procedure: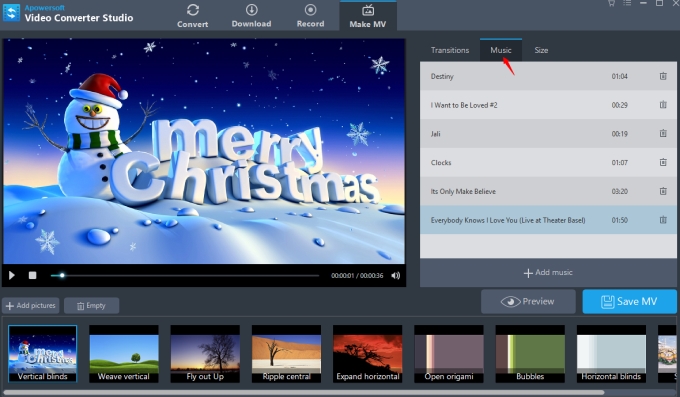 Install Apowersoft Video Converter Studio on your PC.
Open the application and click the "Make MV" tab on top. Upload your pictures by clicking the "Add pictures" button.
You can rearrange the photos if you want by dragging them on the photo line.
To add music, simply click the "Music" icon. And click "Transitions" for applying animation effects. When everything is set, click the "Save MV" icon to finalize your work.
Use Photosnack
Photosnack is yet another application you can use to put music to photos. Compare to the two mentioned programs, this one is an online app. It is a slideshow maker that can produce high-quality portfolios, photo albums, photo movie and many more. Photosnack is versatile enough to run on mobile devices and it comes with ready-to-use templates that make the job easy.
Although, better be warned that the free version of Photosnack does have restrictions. You can only upload 15 pictures per slideshow and there is a watermark on the finished clip. Also, you can't download your video directly on PC and online viewing is only limited to 10,000 times per day. To put songs to picture using Photosnack, check out these steps: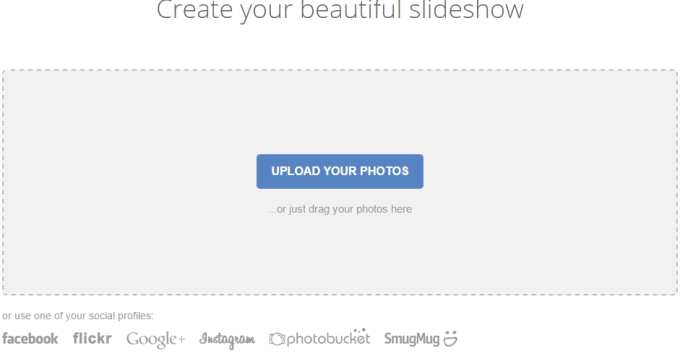 Upload your photos either from computer, Facebook, Instagram, Flickr, etc.
Choose a template from the given options or create your own.
Then, select from the available 30 tracks to add music on your video or upload your own MP3. When everything is set, click the "Publish" button.
Comparison
There are many ways on how to put music to images. You can use Photosnack but you have to bear with its limitations, and locked product features. Or you may want to use LightMV which is free and you don't need to install it first on your PC.
However, another good choice should be Apowersoft Video Converter Studio because it is packed with wonderful functionalities such as file converter, video downloader, screen recorder and powerful MV maker. If you want to do the job online, it is advisable to use ApowerShow.