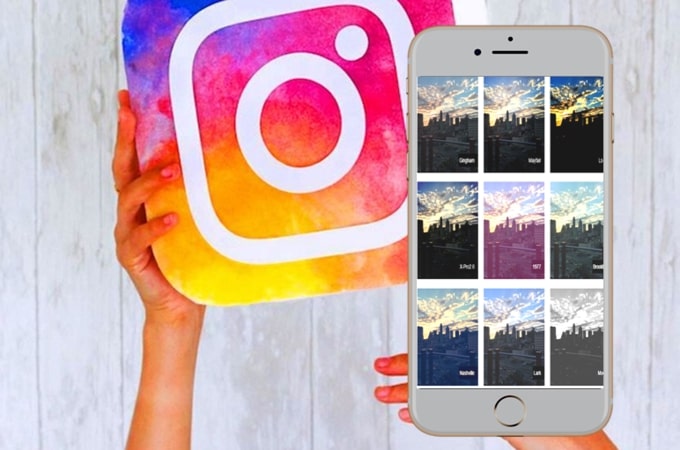 Instagram is a well-known social media site that lets you upload, edit and share your photos and videos. Indeed, photos and videos are playing a big part in it. With this in mind, we select the best filters as well as the best Instagram filter apps that can help you make good-looking posts so that you can leave a great impact on your likers, viewers, and followers with them. Let's check what they are.
5 Commonly-used Instagram Filters
Clarendon
Suitable for: Selifies
Clarendon is no doubt on the top of the best instagram filter, this filter will brighten, darken and intensify colors. This Instagram filter slightly increases the saturation and contrast, which to put it simply, will brighten up the lighter part and darken the darker area to achieve a perfect cooler look of the photo. This filter is very suitable for adding natural look to your Instagram posts.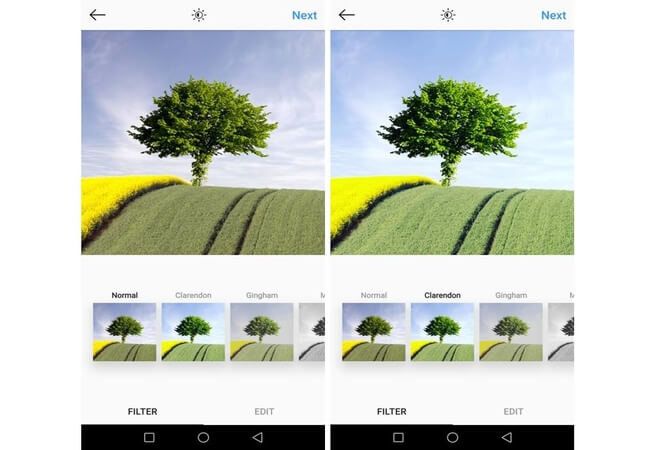 Juno
Suitable for: Make pictures outstanding
This simple yet striking filter is also one of the frequently-used filters by most Instagram users. It will make your photo vivid by manipulating the contrast and saturation. In other words, it will slightly strengthen the warm red and yellow colors, making it stand out a bit more than the cold blue color.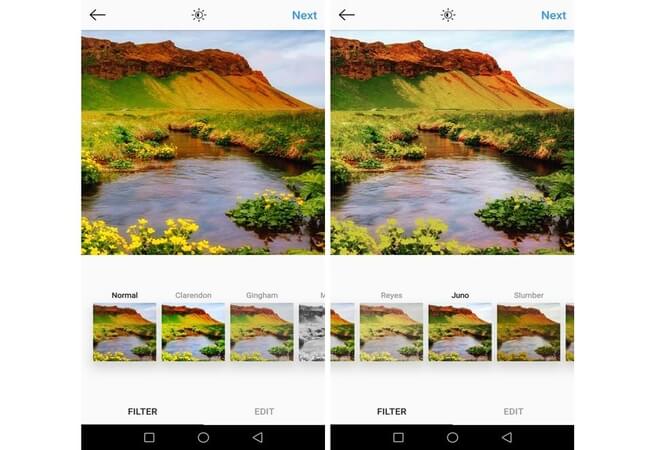 Gingham
Suitable for: Hipsters
If you want a vintage vibe on your Instagram photo, Gingham is the best Instagram filter for you. This filter reduces highlights and saturation while add a white vignette to the image, which creates a subtle warm looking to the picture in this way.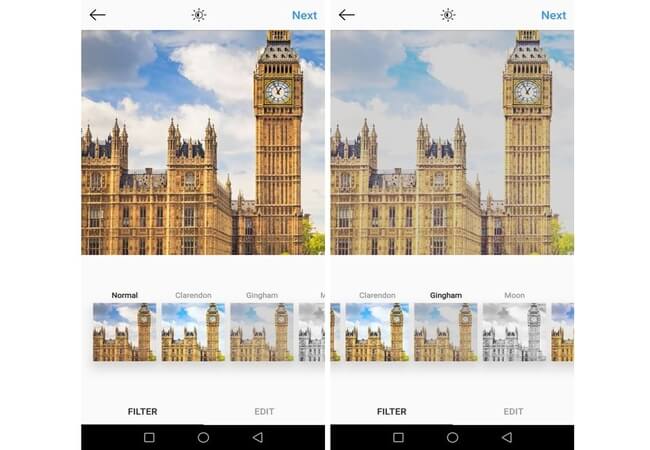 Valencia
Suitable for: Photos with light pinks
Valencia is also the best filter for Instagram users if they want to warm up their photos. This filter will add emphasis to the yellow color of your photo while soften the bright colors of the photo to make it calm.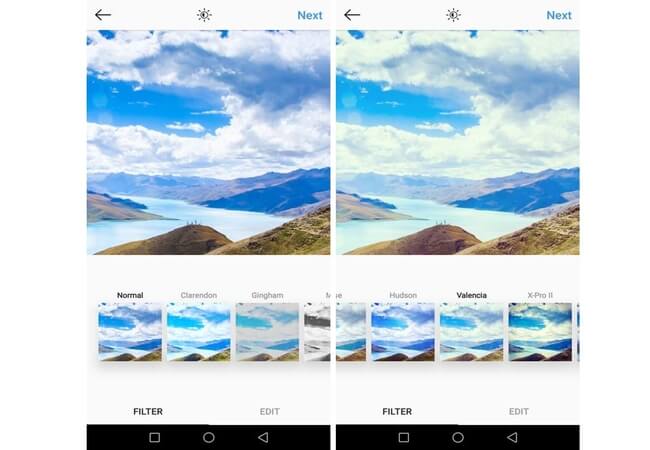 Lark
Suitable for: Nature photos
Last but not the least is Lark which is often used to brighten photos by increasing the exposure and saturation of blue and green colors and decreasing the vibrance, the saturation of red, purple, and magenta, so that they can get a good balance in the visuality.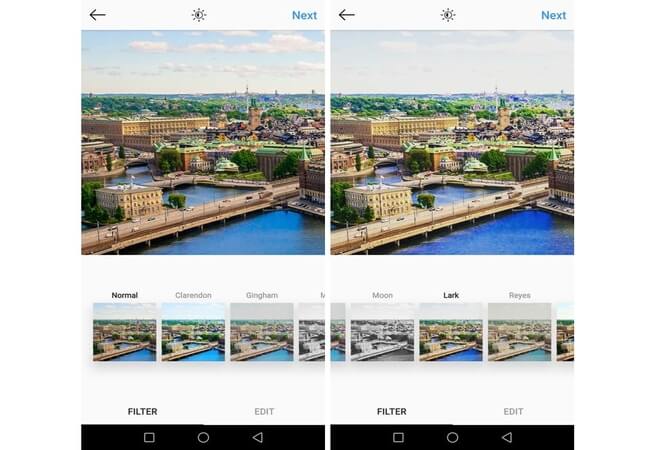 Knowing about the filters is not enough to have a perfect-looking photo and video. We also searched for the best Instagram filter apps that are highly recommended by various Instagram users. Here are the 4 apps that you can use on both Android and iOS users to render your photos and videos. Check them out below.
Best Instagram Filter Apps 2019
Snapseed
Ratings: 4.5
Compatible System: Android 4.4 and up
Size: varies with device
Snapseed is not a typical free Instagram filters app, for it has several unique filters that are really useful on the aesthetic view of your photo. In addition to that, it also has a lot of powerful editing features for the photos, for example, correct the colors so that the image looks more natural, adjust the exposure, saturation, contrast, brightness and vignette, etc.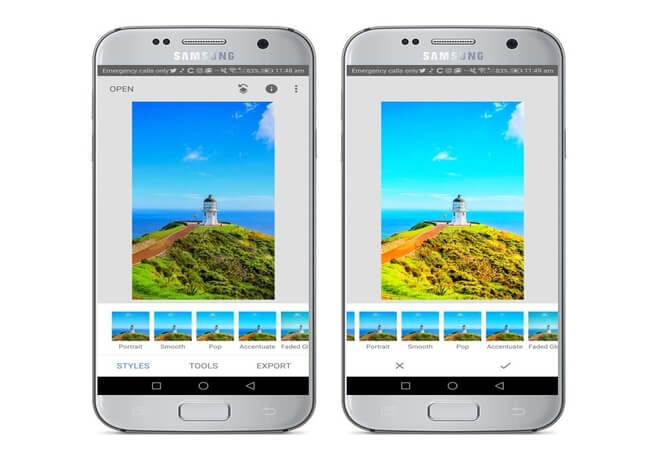 Afterlight
Ratings: 4.3
Compatible System: Android 4.0.3 and up
Size: 35 MB
Afterlight is also an Instagram filter app for Android users to do some makeover for their Instagram photos. It offers 59 filters among which 27 of them are adjustable, 14 of them are popular with Instagram users, and 18 are other filters. Besides, there are also 15 adjustment tools to make your photo perfect.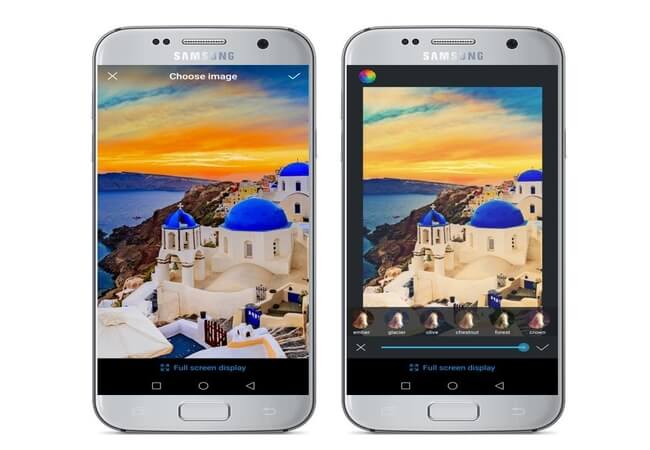 Prisma Photo Editor
Ratings: 4.7
Compatible System: iOS 11.0 and later
Size: 72.2 MB
Another Instagram effects app that you can have on iOS is Prisma Photo Editor, an app which has a filter library including 300+ art styles. After applying the filter, it also has enhancement tools to adjust the exposure, contrast, brightness, and sharpness, etc. The best of it is it releases new filters from time to time.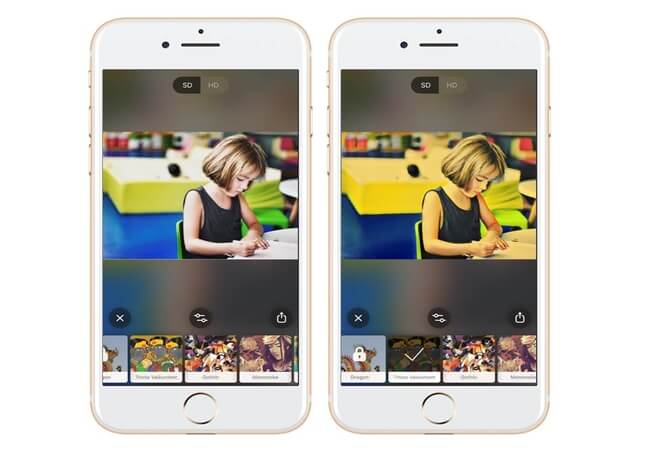 Beecut
Ratings: 3.8
Compatible System: iOS 9.0 and later
Size: 50.8 MB
Beecut is actually an video editing app that can have a large number of filters for your Instagram videos, including fade, scene blur, sunset, reminiscence, etc. With the help of it, you can easily turn your dull photos into a stunning social video. In addition to that, it is fully compatible with the Instgram story, because it supports the 1:1 format. The most important is it's completely free to use without any premium functions or watermark left in your output video. It's really a nice choice to create Instgram video posts.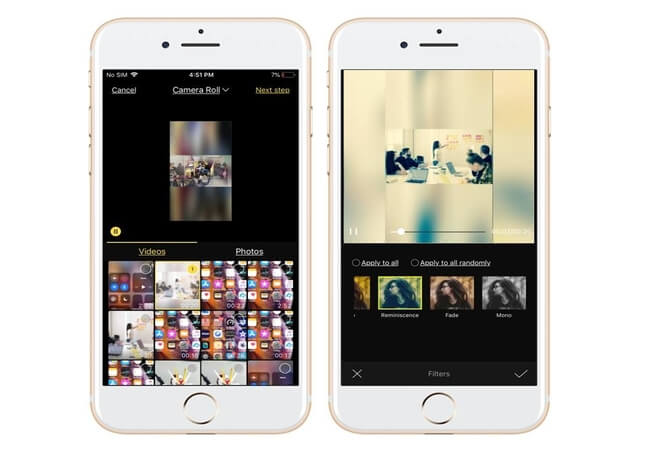 Bottom Line
You can't go wrong on having a wonderful post using these Instagram filters apps on your mobile phone. Just choose the one you like to create your cool Instagram posts.