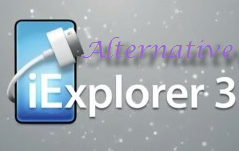 iOS gadgets are well known for its high quality build, monstrous processor, top notch camera, brilliantly crisp display and simple-to-use interface. From iPhones to iPads, these Apple devices are selling like hotcakes in the street. However, if there is one major disadvantage of iPhones compared with its rival Android phones, it would be none other than the iPhone's incapability of exploring mobile files. Luckily, there are certain apps like iExplorer which allow users to lift this limitation making it easier to explore mobile data stored on iOS.
Made by Macroplant, iExplorer is deemed to be ultimate iPhone, iPad and iPod manager. This wonderful tool can transfer music to iTunes within a single click of a button. Also, it can export text messages, voicemails, contacts, reminders, notes and many more. With iExplorer, you can easily access every file saved on your smartphone without the need to jailbreak the device. This tool is indeed very popular to every iPhone user mainly because most iExplorer review points out the different advantages of this software such as the following but not limited to:
Pros
The ability to manage iPhones, iPod and iPads
Easy one-button click when transferring music from device to PC or iTunes.
Instant playlist rebuilt feature and ability to export text messages.
Permit exportation of voicemails, notes, calendars, contacts and more.
Support for both jailbroken and locked iPhones.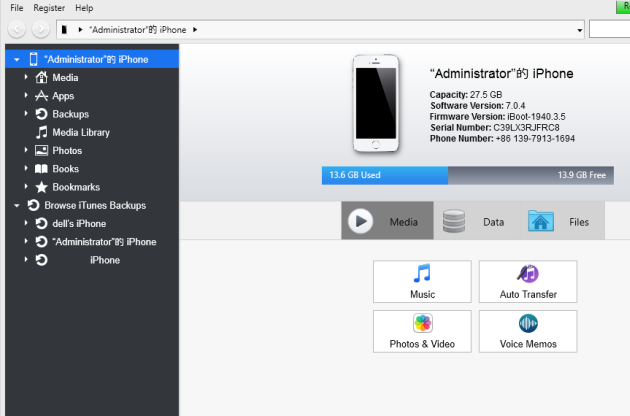 Beyond these advantages, the list of wonderful things about iExplorer goes on and on. Conversely, little do we know this nifty application has its own share of disadvantages:
Cons
iExplorer may not function properly if the latest version of QuickTime isn't installed.
The user interface is somewhat hard to use.
It doesn't come totally free, you need to shell out at least $35.
Upon buying, you will only get one product license.
You must have the latest version of iTunes installed on your computer.
If you don't want to pay a huge amount of sum on using the services of iExplorer or better yet you are not totally convinced with its capabilities because of its disadvantages, no need to worry because there are alternative to iExplorer 3. Just like the former, with this alternative software you'll get to enjoy the same if not better functions to transfer files on your iPhone or iPad ten times easier.
The Best iExplorer Alternative
Many apps like iExplorer are available online but only a few of them can actually give a smooth and easy file transferring experience. Fortunately, the Apowersoft Phone Manager is without a doubt very simple to use. All you need to do is to download and install the program on your computer first.
Just like iExplorer, the Apowersoft Phone Manager is a one-stop phone management application specially made for mobile gadgets. What makes it very much different from the aforementioned app is that it supports both iOS and Android gadgets with compatibility to almost all brands. This best iExplorer alternative can transfer files from phone to PC and vice versa. It can equally manage multimedia contents, perform data backups and do file restoration. The tool is moreover equipped with tons of other functionalities which can't be seen on iExplorer such as the ability to take mobile screenshots from computer and the power to project mobile screen directly on PC in real time.
Connect your iPhone or iPad via USB cable. Note that a window pop-up will appear and you need to click "Trust" to facilitate driver installation.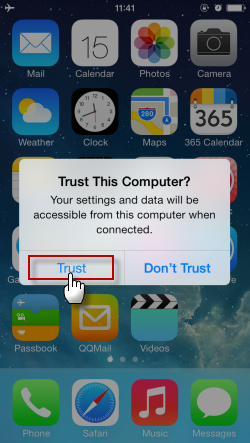 After successful connection, on the main interface you will see shortcut icons and functional tabs such as my phone, music, pictures, videos, notes, contacts, messages, apps, books and many more. On the left panel are other useful features such as backup, restore, screenshot and display in full screen.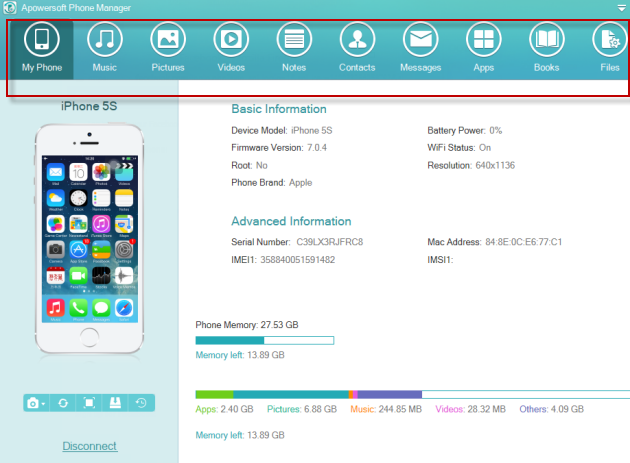 Just select the action you want to perform whether transferring of pictures, notes, videos, or synching of music files to iTunes or PC. Note that with this alternative to iExplorer 3, you could likewise add files, export data, delete files and import stuffs from your computer. Also, you could send SMS directly, organize data, sync contents, transfer contacts and many more.
You may also watch this video demo for easy understanding: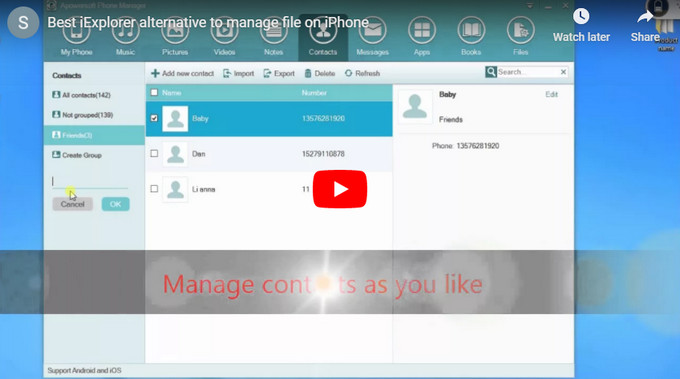 Comparison
Given the fact that this software is 100% free, totally clean, guaranteed to be safe, compatible to locked, carrier-locked and jailbroken iOS gadgets, the Apowersoft Phone Manager is certainly at par with iExplorer. And with its advance file transferring features as well as advantageous add-ons, it is very safe to say that users looking for a great alternative to iExplorer will nonetheless fancy this software. For more visual comparisons, please take a look at this form as below:
| | Ease of use | Support for iTunes | Price | Features | Score |
| --- | --- | --- | --- | --- | --- |
| Apowersoft Phone Manager | Easy | All | FREE | All-in-one | 10 |
| iExplorer3 | Very Hard | The latest | Paid version | Limited | 5 |
If you try to search the internet for iExplorer review, you'll come up with its good and bad points. Should you decide to look for similar alternatives that functions the same if not better than iExplorer, make sure that the application is safe and legit. Additionally, pick a software that is packed with useful features such as the Apowersoft Phone Manager.