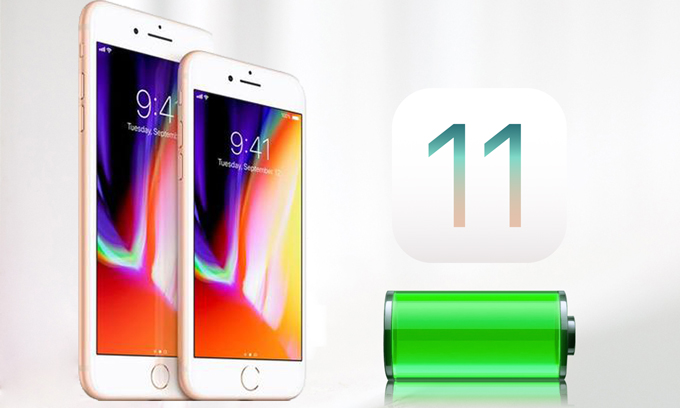 In the upgrade of iOS 11, Apple decided to do a major enhancement by completely changing the look and adding some cool functions. Despite all the new features on iOS 11,there is a flaw that's emerged. Users have experienced a significant increase in battery consumption on this latest software upgrade. Some users have expressed their desire to downgrade back into iOS 10 in order to solve this issue. And if you're one of those, you'd better hold your horses for there are some awesome iOS 11 battery saving tips that you can use to reduce your battery consumption.
How to Save Battery on iOS 11
Check Battery Usage
To solve the problem of increased battery consumption, check on all the running applications that you have to see which applications are draining your battery. Go to "Settings" > "Battery" and tap it. Once you're inside the battery settings, you will see all the applications that have been used for over 24hours or 7 days along with the corresponding percentage opposite the tool's icons. If you want to know how many hours a certain app has been running, you can tap on it, or tap the "Clock" icon located at the upper right portion of the program.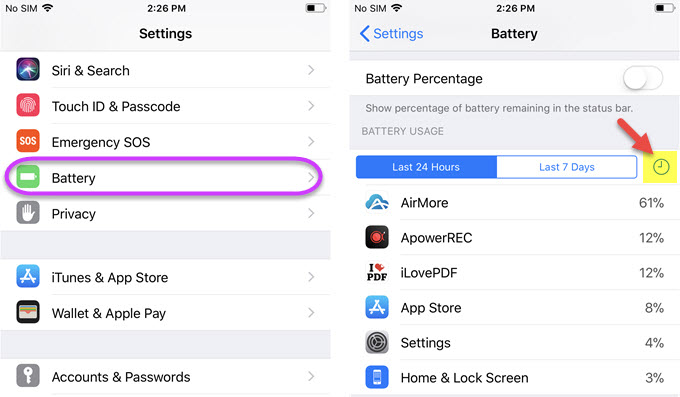 Disable Background App Refresh
Another way to improve iOS 11 battery life is by disabling the "Background App Refresh" on your iPhone. This function allows your applications to work in the background while you're doing other things on your iOS device. No doubt that Background App Refresh is a useful function to have, however if you want your battery to last longer, then it's better to turn it off.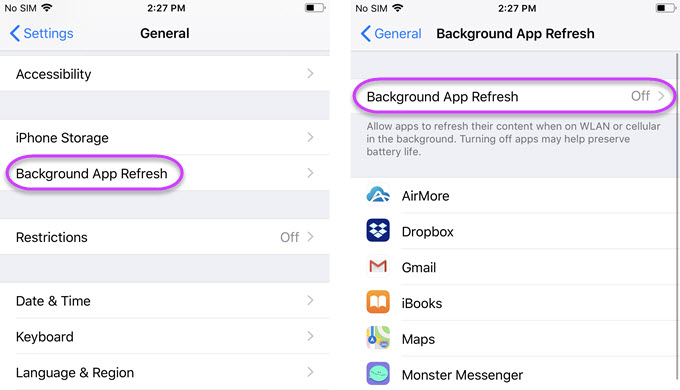 To disable this function from your device, simply go to "Settings" > "General" > "Background App Refresh", select specific applications and disable them, or disable all the apps by toggling the Background App Refresh function and turn it off.
Change Email Fetch Frequency
The frequency of your email data fetching affects your iOS device's battery life. Thus, altering the number of times your device fetches data would save you more juice from your battery's life. For the best results, set the fetch duration manually, so that your device will only fetch when you open your email apps. Go to "Settings" > "Accounts and Password", then tap "Fetch New Data" and then choose "Manually" to change your email fetch frequency.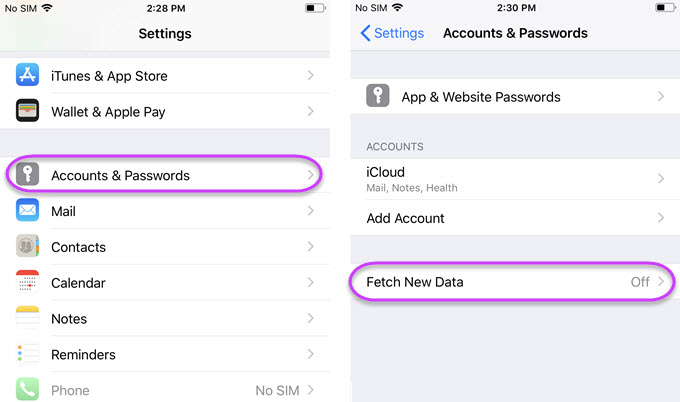 Disable Notifications for Certain Apps
Notifications do not only tend to annoy us, but they consume ample amount of battery life as well. So, to save iOS 11 battery, just disable the notifications on some applications, especially those that you rarely use. Go to "Settings" and then tap "Notifications". You will see a list of applications, just disable the programs that are currently enabled. Regarding "Show Previews", you can choose "When Unlocked".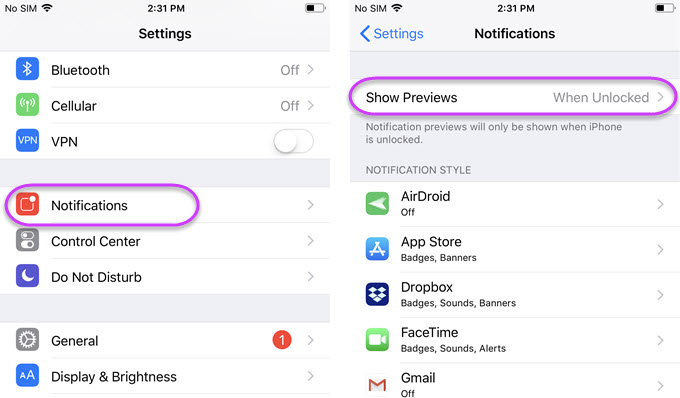 Turn off WiFi, Bluetooth & Airdrop When Not Needed
These features help us connect with internet or other devices to send and receive files or manage files. However, if you're not using them when they are turned on, these functions will constantly search for devices with which they can connect, which will definitely consume a good amount of battery. To save battery on iOS 11, you can turn off these functions and turn them on when you need them.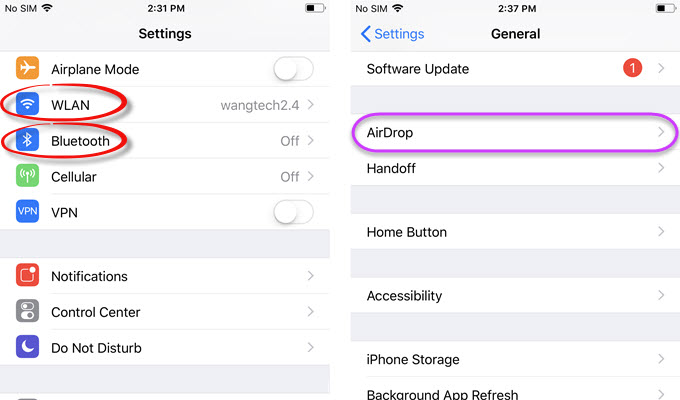 Simply go to the "Settings" and then look for Wi-Fi and Bluetooth individually and turn them off. When it comes to "Airdrop", go to "Settings" > "General", then tap on Airdrop and then switch it off.
Toggle off Location Services if Not Needed
We all know that the location tracker is embedded into all iOS devices. This function works by popping a message asking you about your current location or whereabouts. However, if you don't need this service, you can simply disable it so that it does not contribute to battery consumption, thus saving battery on iOS 11. In order to disable this function, go to "Settings" and then "Privacy". Now under "Location Services", you can disable all the apps or just select that certain app that you need to turn off.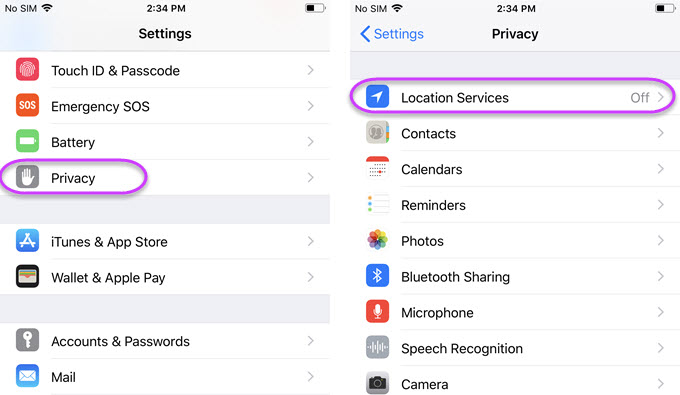 Turn off Auto-Brightness
It's now easier to adjust the brightness of any iPhone's screen by simply swiping into the Control Center and adjust it from there. So you don't need to activate "Auto-Brightness" features. Besides, this function does not work as it is supposed to do, and it takes away some of your precious battery life. To turn off this function, go to "Settings" > "General" > "Accessibility", and then tap "Display Accommodations", from there you can disable "Auto-Brightness".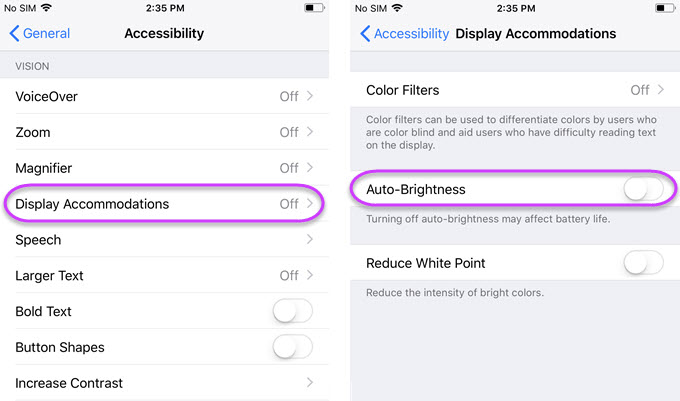 Disable Certain iCloud Preferences
The next way to save iOS 11 battery is by disabling the iCloud preference on certain applications. If you only have one iOS device, then linking all your apps on iCloud might not be a good choice. Instead, link those important apps such as mails and images and leave the other programs unsynced.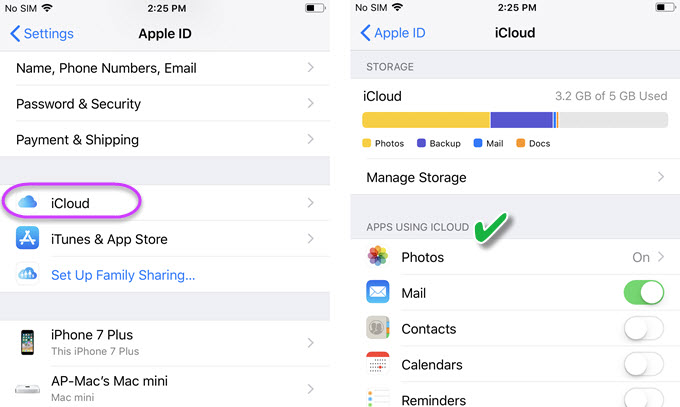 To disable an app from syncing to iCloud, just go to "Settings" and tap your name located at the upper part of the interface. Then, tap "iCloud", and a list of applications installed on the device will be displayed. Choose to disable iCloud from automatically backing up recent changes from certain apps.
Don't Send Diagnose Data to Apple
As the developer of the firmware, Apple wants its users to send diagnostic and other data from your iOS device directly to them. This feature will not benefit most users but instead consumes battery life of iOS devices. To save iOS 11 battery by disabling this feature, you can head to "Settings" > "Privacy", then tap "Analytics" and disable "Share iPhone Analytics".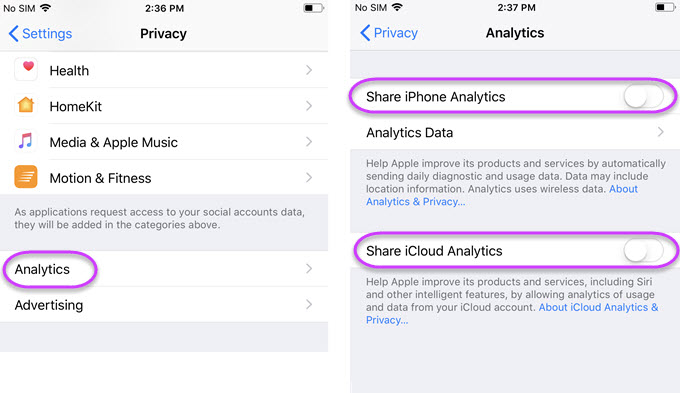 Turn on Reduce Motion
The latest iOS 11 has a built-in motion features that makes the motion on your iPhone look better. However, this animation eats up a portion of your battery life. So to decrease battery consumption, reduce its animation and activate this feature. Go to "Settings" > "General" > "Accessibility", and then enable "Reduce Motion".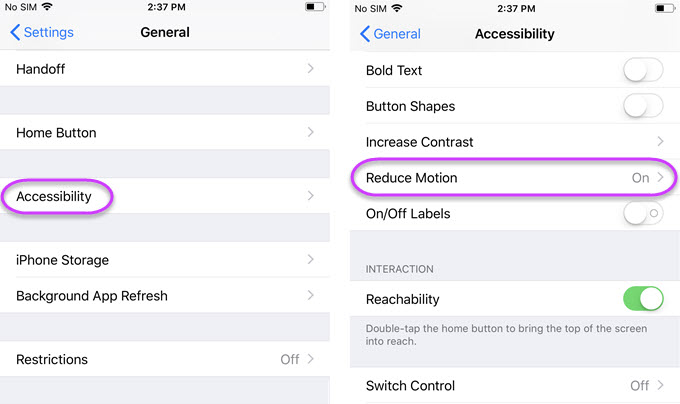 Those are some tips that you can use to solve your query about how to save battery on iOS 11. You can apply them anytime to decrease your battery consumption on your iOS 11 devices. Though all of them work well, proper handling of your devices is also necessary in maintaining a good battery life. Make sure you don't use unauthorized chargers and batteries to avoid any kinds of incidents.