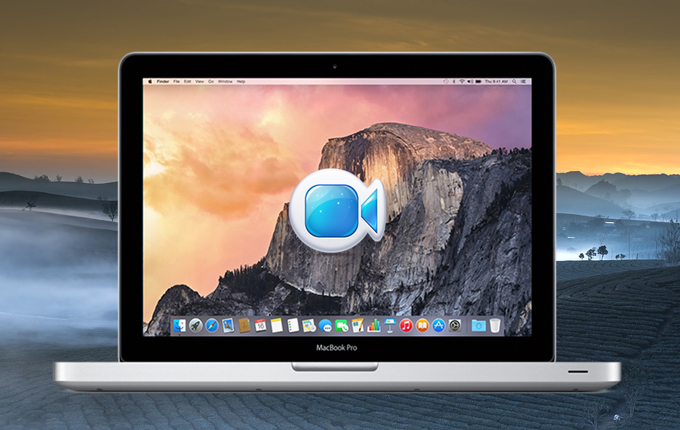 Apowersoft Mac Screen Recorder is a comprehensive screen recording program that works with Mac OS 10.8 and later perfectly. It can record anything displayed on screen with different audio input (System sound, Microphone or Both System sound and microphone). Moreover, its built-in video converter gives you the ability to merge videos files and convert videos to various video and audio formats. The following guide will show you how to use this screen recorder in details.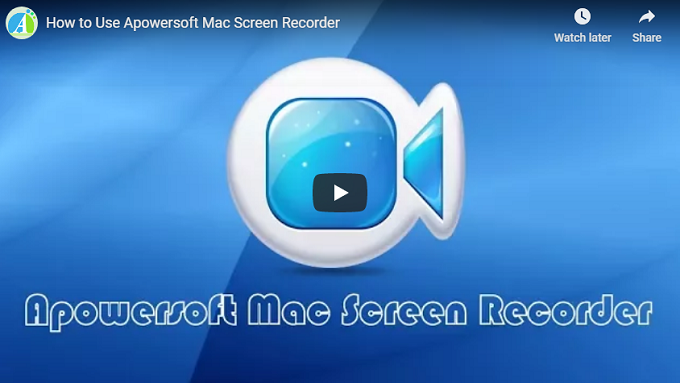 1
Configure Settings (Optional)
After you launch Apowersoft Mac Screen Recorder, you will see its friendly interface that displays the main functions orderly. Before you start recording, it's recommended to configure the default settings. Click "Options" to set the specific settings as you want.
General settings
You can change default settings to meet your own needs. For example, you can choose to show recording boundary or not. Also, you can animate mouse clicks if needed.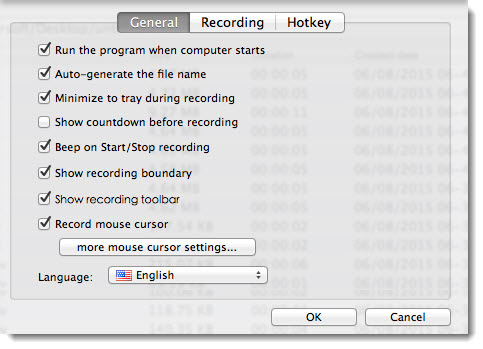 Recording settings
You are allowed to choose your desirable system sound and microphone device. Moreover, it enables you to preset the frame rate and video quality.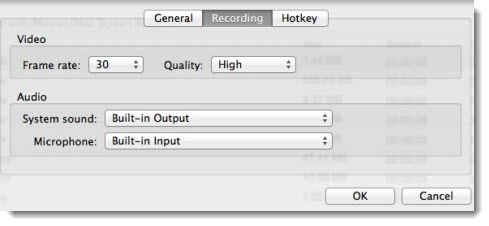 Hotkey settings
Maybe you cannot get used to the default hotkeys, so you can reset the hotkeys for "Start recording", "Stop recording" and "Pause/Resume recording" yourself.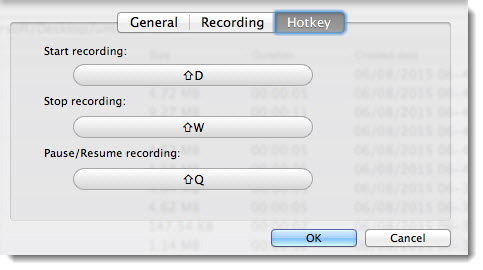 2
Steps on Recording Mac Screen Video
i
Choose one mode from "Audio Input" tab.
Apowersoft Mac Screen Recorder offers you fours modes:
None: this mode can help you record only screen activity rather than the audio.
System sound: this mode allows you to record any sound from your computer system.
Microphone: this audio input enables you to record your own narration when recording video.
Both System sound and microphone: with this audio input, the sound comes from computer system and your narration through microphone will be recorded.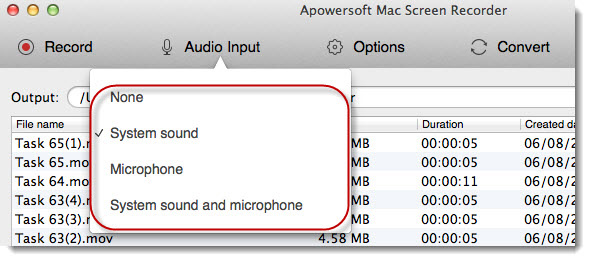 ii
Select your desirable recording mode
Region
Click "Region" to record part of your screen, then left-click and drag your cursor to select an area. In this way, you can also choose from presets of capture frames like 480X360, 640X360, 720P (1280X720), customized region for iPhone 4/4S, iPhone 5, iPad and so on.
Full screen
This mode may be game lovers' favorite for recording game video in full size. Please note that it won't appear the task tool bar if you choose full screen recording mode. So you need to use hotkeys or click the logo of this screen recorder on the status bar to manually pause or stop your recording.
Web Camera
When you choose to record webcam video, you have four choices to record, such as Low 120P, Standard 240P, High 480P and HD 720P.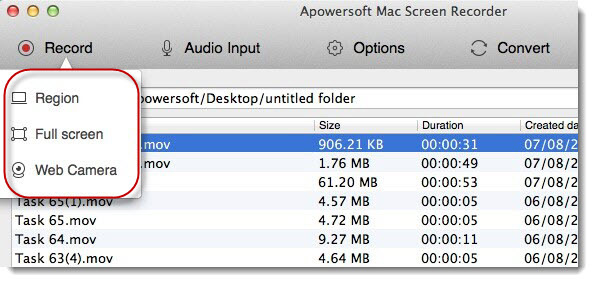 Picture in Picture effect
It is worth mentioning that you can also record picture-in-picture video with "Region" mode. Simply click the camera icon when you record part of your screen, and it will record your desirable portion and webcam video at the same time. What's more, you can change the size or background color of your webcam video.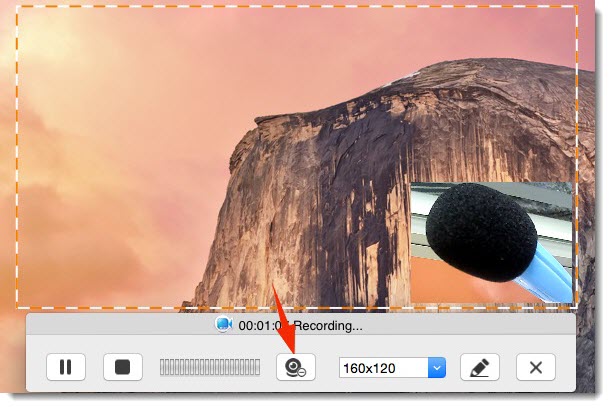 iii
Start Recording
Once you have selected your desirable recording mode, it will then begin the recording. And if you want to finish your recording, click "Stop" button. After recording, your recorded video will be displayed in the file list on the main interface, and you can choose to play, rename, remove it from this list or delete from your disk. You also have the choice to convert.
3
Annotate Screen While Recording
When capturing screen, there are times that you may want to do some instant editing in order to make your video more instructive and vivid, especially for those who are making video tutorials. With this powerful newly added real-time editing function, users are allowed to draw different shapes like ellipse, rectangle and insert arrow, text and highlight to the recording.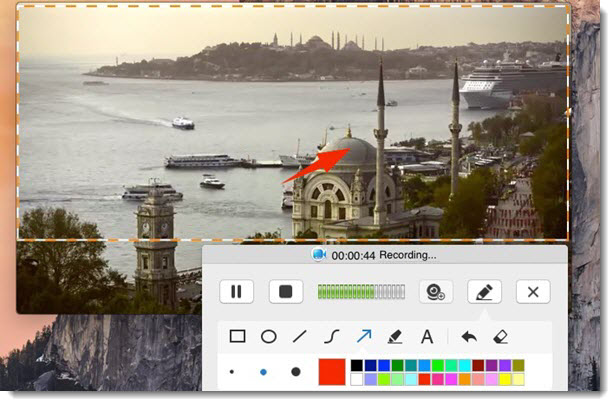 4
Convert Video File
Apowersoft Mac Screen Recorder supports exporting video in MOV format. However, if you desire to save the recorded video in other formats, you can convert them into the formats you need.
You can choose video file, right click on it and then click "Convert" button from the menu, or directly click "Convert" tab in the main functional region and then choose video files from your local computer folder. Now choose the target format you want.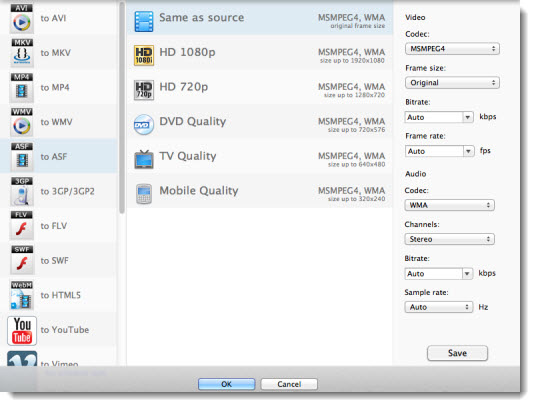 If you just want to convert your videos into other formats in batch, just add all the files that you want to convert and click "Start" directly. But if you want to merge videos into one, you should make the "Merge videos into one" button be "On" before clicking "Start" button.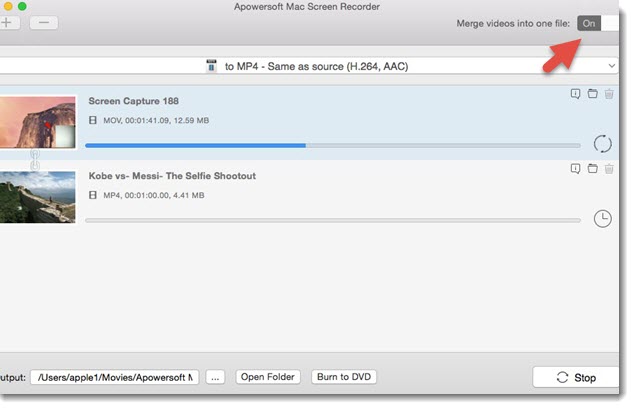 Note: If you want to burn your videos to DVD, just click "Burn Video to DVD" button, which will lead your to Apowersoft DVD Creator. Jeeves!
5
Create Schedule Recording Task
For many Mac users, they may need to complete recording tasks during their absence. All you need to do is to click the "Create schedule tasks" button on the left bottom of the main interface, then preset the start recording time, duration (or stop time), and the recording mode – full screen, or region (you need to select region in advance).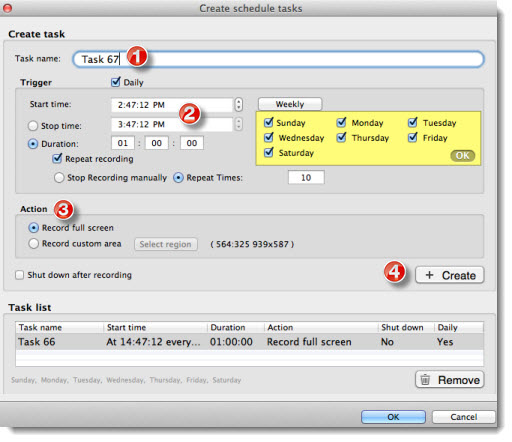 Fill your task name.
Designate your recording time.
Choose recording mode.
Click "Create" button to confirm this task. Then this recorder will perform your task at the time you set automatically.