ApowerPDF is a PDF editor, designed to help people create, edit, convert, and manage PDFs easily. With it, you can improve your work productivity and save a lot of energy processing PDF files on your PC. Follow the steps below to know how to download and install the program.
How to Download and Install ApowerPDF
Download
Click the button below to download the .exe file on your PC.
Wait for a while, until it finishes downloading. However, some users, who download the program via Chrome browser, may receive a notification after the download asking whether to keep the file. In this case, just click "Keep" and you can continue with the installation.

ApowerPDF is safe to use, but if you are worried, you can use VirusTotal to check its safety.
Install
Double click the .exe file to start the setup.
Choose a language and click "OK" to confirm your choice.

Hit "Next".

Choose "I accept the agreement" and then click "Next".

Click "Browse…" to choose where to save the program, for example, a folder in E drive. After that, click the "Next" button.

You can check whether to create an ApowerPDF desktop shortcut, or quick launch shortcut and whether to set ApowerPDF as your default PDF reader. Once you finish the selections, click "Next" and then "Install", to start the installation.

After that, you can click "Finish" to run the program and enjoy working efficiently with ApowerPDF.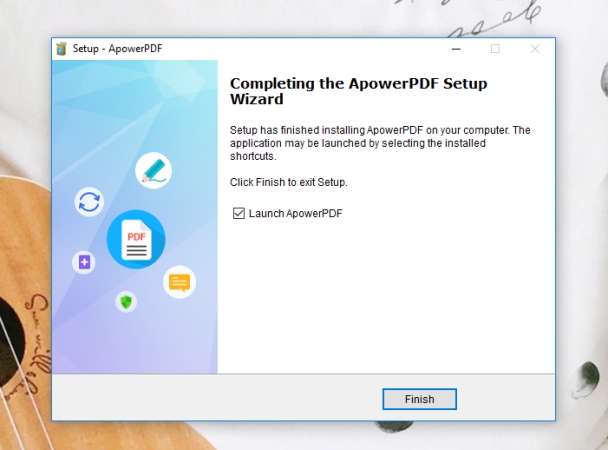 FAQ
Q: I encountered a problem saying that Windows can't install the ApowerPDF Printer driver, what should I do?
A: Don't worry! In this case, you can click "OK" and continue to finish the installation. After that, you can still use the program properly.
Q: I saw an update notification, and I click it, but while updating, a pop-up window tells me that the program is running, and I need to close the program.
A: This problem may occur to version V4.0.1 and older, and if you encounter this issue, you can do as follows.
Click "Cancel" in the pop-up window.

After that, when another window appears, just click "OK".

Close the program.
Then you need to select language and complete the installation process. Once you finish the installation, the update completes.
Or you can go to the official website to download the latest version directly.