Ask
I recorded the scene my pet trying to protect my little baby, using a camera. The scene is so warm that I'd like to upload it to YouTube, for sharing it with all my friends. However, the aspect ratio can't fit the YouTube player exactly. Can I change video aspect ratio, making the dimension seamlessly match the player's window? If any advice is available, I really appreciate your help.
Answer
It's sure that there are many approaches you can utilize to change the video's frame size. Before that, let's have a look the definition of aspect ratio.
What is aspect ratio?
Aspect ratio is the ratio showing width that is divided by height. It presents the proportional relationship of a video's dimensional size, which is always displayed in the forms of two numbers separated by a colon, such as 4:3, 16:9, 3:2 and etc.
Nowadays, many people would like to make videos themselves, which generates extensively different output ratios. When the videos are transferred to other player or video-sharing websites, they are unable to match with the player seamlessly. Furthermore, if the video can't match with player's size, the video may be distorted or stretched that the visual image would be blurred. To solve it, using aspect ratio converter to change the frame size is a best solution to figure it out.
Popular aspect ratio
Among different standards of aspect ratios, you may be confused with which one to choose. Well, I'll tell you the most popular ones and you can select a most suitable one depending on your consideration, so as to convert aspect ratio.
4:3, this proportion has been utilized since mid-50s due to the product of standard TV.
3:2, it is created by Oskar Barnack to rotate the movie right or left 90 degrees.
16:9, most HDTV applies this ratio that the TV screen is designed into rectangle shape, which is well known as widescreen. As well, it is also a standard ratio that YouTube employs.
16:10, most game players would like to choose this aspect ratio as they can enjoy more exquisite display.
21:9, this is an uncommon ratio that is applied to many movies. It is so rare that seldom media player could broadcast it in full screen.
Methods to change video aspect ratio
1
Free Online Video Converter
To change the frame size rapidly, you could use this free online application to make it. The basic function of this application is to convert video to other video or audio formats. Beyond that, this aspect ratio converter offers many other accessible advanced functions as well. You can choose a popular aspect ratio under different resolutions. You can proceed according to the following guides.
Visit the website of Apowersoft Free Online Video Converter.
Import a video by clicking "Select files to start" button.
Click to download the Launcher if it is the first time you use it.
Select an appropriate file format for outputting the video.

Forward to "Settings" > "Resolution" under "Video" tab and choose a target aspect ratio for the device you'd like to use. BTW, if your intention of conversion is to match the video with YouTube player, you can select these options which are confirmed by YouTube officially, 1080P 4:3, 720P 16:9, 480P 4:3, 360P 4:3, and 240P 4:3.

Personalize the video through "Edit", such as trim, crop, rotate video and other available options.
Press "Convert" and wait for a moment to get the video with a desired ratio.
2
Video Converter Studio
Changing aspect ratio is not difficult if you use this upscale program. It offers preview effect when you use the advanced settings. The program has an in-laid player, on which you can play and edit the video at the same time. This function enables you to generate an accurately correct video you want, because you can crop the video just on the player but not to imagine and calculate the size. It's very convenient that you can download and install it first to have a try.
After installation, run the Video Converter Studio.
Click "Add files" to upload a video.
Click "Edit" and the built-in Video Editor will come out.
Under "Adjust" tab in the Video Editor, press "Crop" and you can manually adjust the area for crop.
Click "OK" after you think it is okay then.
Click "Convert" and wait for a while to get the video.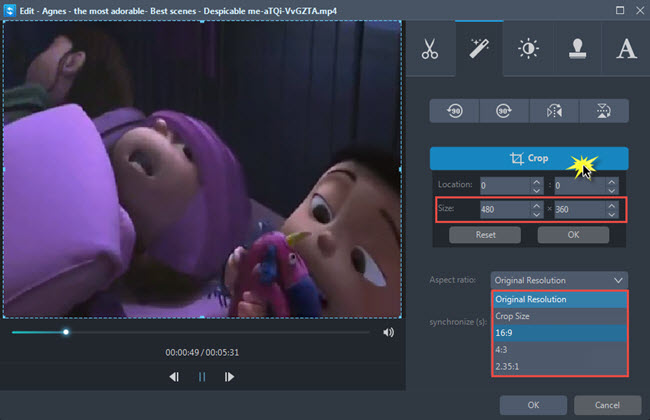 3
Apowersoft Video Converter for Mac
If you are a Mac user, then you could utilize this Mac converter to change video frame size. It is designed for Mac particularly that you would not worry about compatibilities. It has various kinds video frame size for your preference that you could select directly. At the same time, you are able to convert video files to other formats. It is very useful that you could install it from below.
Run this Mac converter.
Click "Add" to choose a video.
Click "Profile" bar and select a format for your preference.
At the right of the "Profile" window, choose "Frame size" and select a favorite one.
Click "Convert" after confirm the size of video.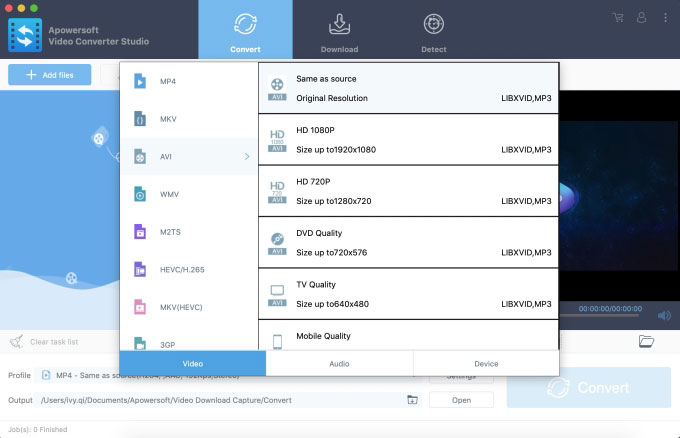 Tips: The final intention to convert the video's aspect ratio to a new one is to enjoy the video completely. With the above recommended tools, you can watch the video on any other players without considerate of quality loss. Also, it solves memory problem if the rest space of your storing device is not enough. You can select a most suitable one based on your needs to transform the video to a smaller one with low resolution and new geometric proportion. Then you can take the video around and enjoy it anytime as your desire.