The Most Loved Short Video Apps
Instagram (iOS & Android)
User's rating: 4.8
System requirements: iOS 11.0 or later
Size: Android varies with device & iOS 138 MB
Undoubtedly, Instagram is the first social media app that allows users to post photos and videos. It enables users to make short videos up to 30 seconds and share them directly on your account, and also allows people to upload videos from their feed that runs up to 60 seconds. It comes with many editing functions, for example, filters, stickers, captions, video combining and splicing, etc. Learn how to use this top short video app with the help of the simple steps below.
Open the app and tap the camera icon on the upper right corner interface, then tap and hold the record button to begin recording.
Once done, you can edit your video by adding stickers, GIF, animation, or text.
To save it on your device, click the download sign icon.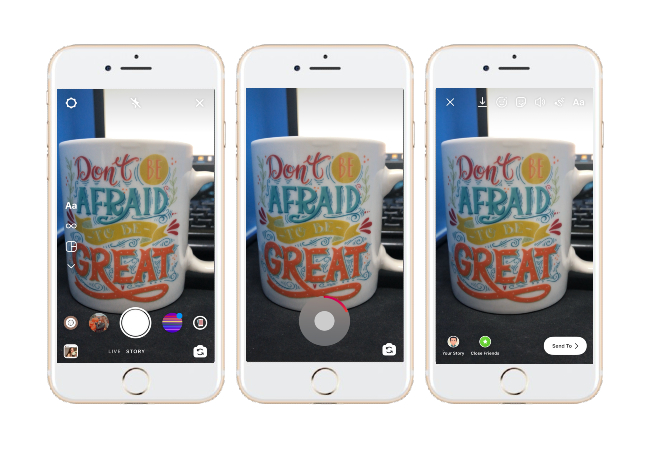 Pros:
Basic editing features are offered.
Easy to shoot video.
Cons:
Limited for video editing functions.
Snapchat (iOS & Android)
User's rating: 4.3
System requirements: Android 4.4 and up
Size: 61 M
Snapchat is a powerful short video app for Android and iOS users. It offers a built-in video recording feature that lets you make videos up to 60 seconds. But you can also make a video up to a minute long using the Multi-Snap feature. Below is a simple instruction to make a short video using this app.
Open the app, and record a video by holding the big clear button on the interface.
Then you can adjust the video by trimming video, adding stickers and text over it.
Finally, you can tap the save/export icon in the menu to save it on your device.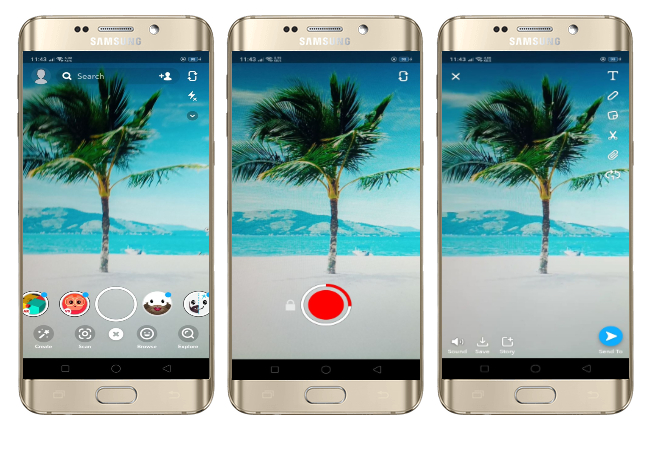 Pros:
User-friendly interface.
It provides editing features (text, highlighter, sticker, etc.)
Cons:
Limited video editing tools.
Messenger (iOS & Android)
User's rating: 4.2
System requirements: Varies with device
Size: varies with device
Another reliable short video social media app is Messenger. This is a messaging app that also enables users to exchange videos. You can create a video with the built-in video maker feature. You can record a video, make adjustment for the video before you send to your friends including trim, text, stickers and add annotations.
Open your Messenger app and tap the plus sign icon.
Then tap the "Camera" icon and hold it to record a video.
You can edit the video by using the functions it gives.
Once done, tap the "Save" icon to save it on your device. Or, tap the "Your Story" button to share it with your friends within 24 hrs.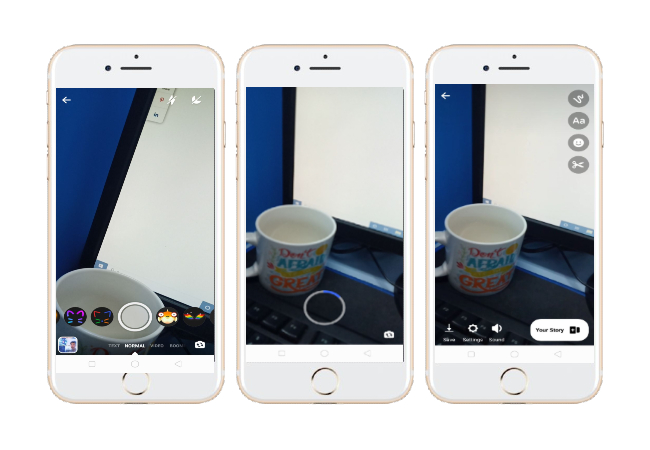 Pros:
It is absolutely free.
It is intuitive to create a short video.
Cons:
Limited video editing features.
Magisto (Android)
User's rating: 4
System requirements: requires Android 6.0 and up
Size: 75 M
Magisto is one of the most reliable short video apps that enables you to create a video clips up to 1:15 (17 seconds). Bear in mind that not all features can be enjoyed free. In order to create a video clip up to 2:30 (150 seconds), you need to purchase first. Yet this app is highly recommended to have a short video clip for you can add music, graphics, texts, fun art, and more.
Tap the plus sign icon from the interface to select a video and start making a short clip.
After that, tap the "Next" option and the "Auto Duration" to select time up to 60 seconds for your video.
Then click "Next" to customize your video. Hit the "Create" option to process your video.
Tap the "Convert" button to save it on your device.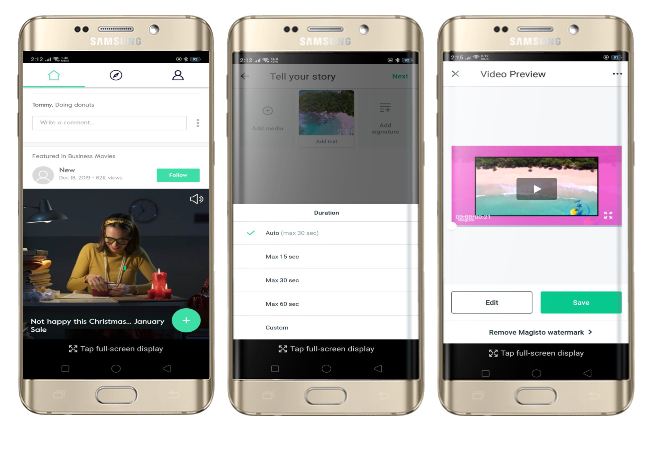 Pros:
It has basic editing functions.
It offers video templates.
Cons:
It requires users to purchase other features.
TikTok (iOS & Android)
User's rating: 4.1
System requirements: requires Android 4.0.3 and up
Size: 2.7 M
TikTok has to be on the list. The smart yet easy to use interface makes it the best short video app in the world. It allows you to create a short video clip and share it directly on your TikTok accounts. Its built-in video editor allows you to trim, edit, clip, and merge videos. You can also add music, sound, filters, and stickers. The length of the video will take up to 15 to 60 seconds. If you want to shoot a video, it allows you to set an auto-record countdown if you want to film hands-free.
Install the app from your App Store or Play Store and then sign up.
Next, tap the plus sign icon, press and hold the red button to start video recording.
When you're done, tap the check icon and the "Next" button to add the filter, text, or stickers.
Then hit the "Post" button to upload it on your TikTok account.
Pros:
Free to use
A variety of video editing features.
Cons:
Leaves a TikTok watermark on the video.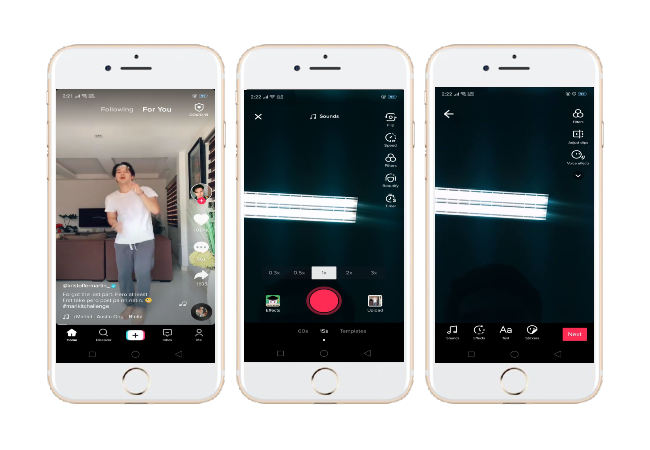 Extra Tips to Remove Watermark from Video
Apowersoft Watermark Remover
We know some short video apps will leave watermarks on the video. When you want to remove them, it is not easy to be done. The best option to remove the watermark from video is Apowersoft Watermark Remover. This is a stunning piece of software that provides two ways to remove watermarks. First, you can use the remove TikTok logo function which can batch process multiple TikTok watermarks from videos at a time. Another way is to use the remove watermark from video function, a method that can remove any unwanted object in the video.
Below are the simple steps to remove watermark using this user-friendly software.
Download and install the software on your computer.
Launch it and choose "Remove watermark from video" from the main interface and you'll be navigated to another window.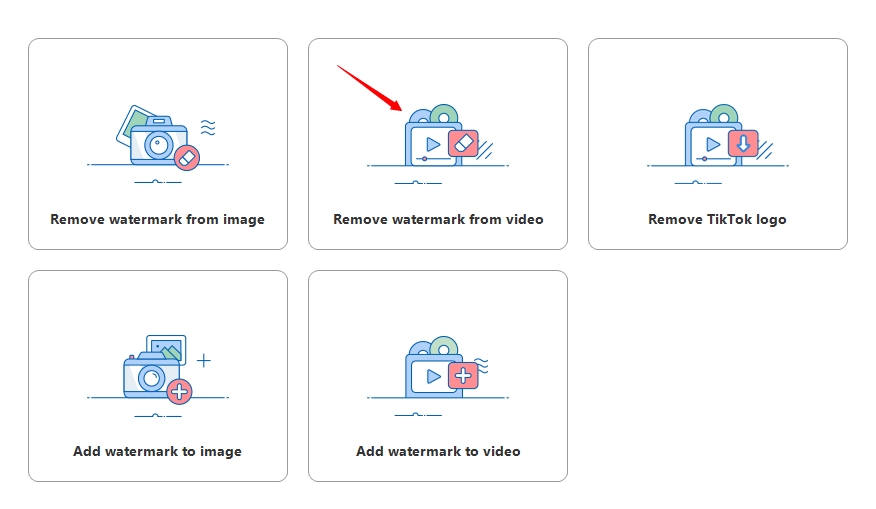 To import, click the plus sign icon and click the "Selection Tool" button to highlight the watermark you wish to vanish.
Finally, click the "Convert" button to process your video and save it on your local disk.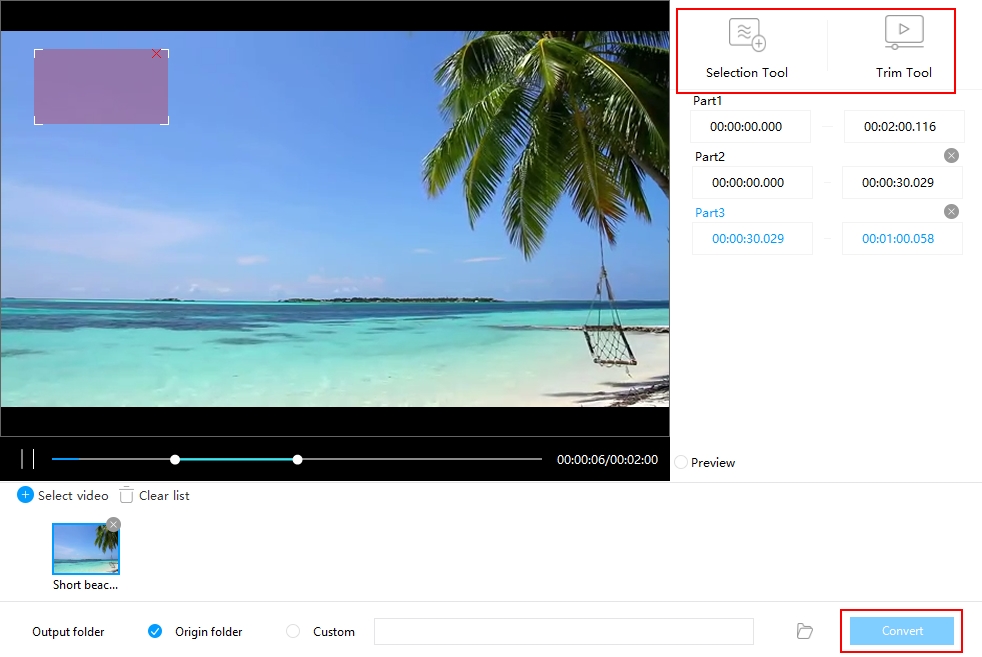 Pros:
Provides a simple way to remove unwanted video logos.
Supports most video formats
Cons:
Paid software.
Blur effect on the removal area that has complicated colors.
BeeCut (Windows & Mac & iOS)
Another way to remove a watermark from the video is BeeCut. This software is compatible with most operating systems. It is simple and very friendly with beginners. You can use the crop tool to cut a video by frame and delete unwanted parts or watermarks from the video. Also, it offers editing tools such as adding filters, transitions, rotating, and more. The mobile version is free to use without any limitations.
Here follow the steps to remove the watermark from the video with the iPhone version.
Go to App Store to install the app.
Open the app and tap the plus sign icon to select the video and then tap "Next Step". Then select the aspect ratio to go to the editing section.
After that, drag the video from the timeline and choose the crop tool.
Then crop out the watermark and tap the check icon.
Finally, click the "Export" option to save it.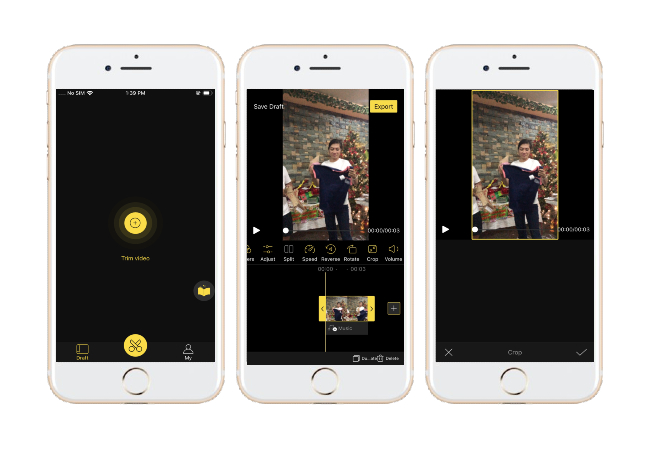 Pros:
Free to use for mobile versions.
It supports videos in different aspect ratios (9:16, 1:1, 16:9. 4:3, and 3:4).
It offers tons of cool filters, special FXs, borders, transitions, stickers, etc.
Export files in high quality.
Cons:
The output file cannot be shared on social media sites.
Conclusion
These are the best short videos app for socializing. If you have other recommendations, please leave your ideas below or tell us if this post is helpful for you.