Today's Android smart phones, especially those newer ones, are equipped with large internal ROM while other models support external cards that make them monstrous in terms of memory size. To this end, users can save tons of things inside their android smartphones. From 1080p movies to HD clips, music, HQ picture, documents, presentations and more, they can all be kept on your mobile phone.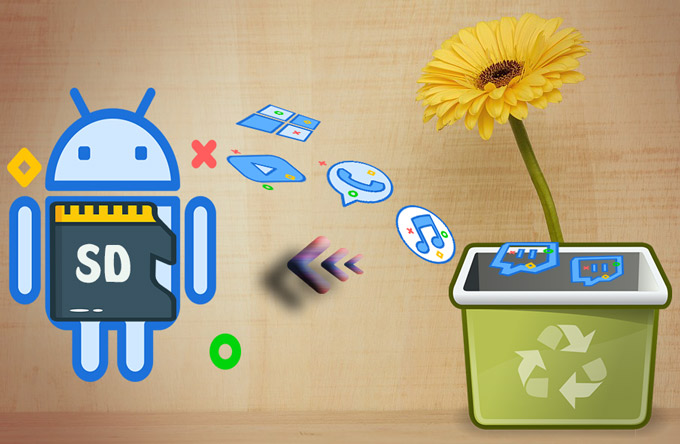 Beyond the fact that android smartphones can easily handle gigabytes of files, users still cannot avoid unwanted deletions of files. This usually happens on damaged SD cards, formatted cards, unintentional deletions, corrupted memory cards, bugs and android viruses. Luckily, there are practical and easy-to-use applications meant to recover lost files on Android SD card. Now you can retrieve deleted photos, files, movies, songs, applications, backups, SMS, contacts and all others by simply using these recovery tools listed below.
Two Methods to Recover Deleted Files from Android SD Card
Data Recovery for Android
If you want an easy and efficient solution to recover all your lost data inside your SD card, using Data Recovery for Android will definitely do wonders. With this application you can retrieve SMS, contacts, videos, music and photos from your smartphone. Whether you lost them through accidental deletion or unwanted memory card formatting, Data Recovery for Android will surely retrieve them. This professional software is safe to use and risk-free, you don't need to worry about your files being lost/damaged/leaked in any other ways.
Aside from the ability to recover data from damaged, formatted Android SD card, you can also use Data Recovery for Android to make backups thus avoiding permanent deletion of files in the future. Moreover, there's no more guessing in using this application because there is a preview tab available to ensure precise as well as the specific file restoration. Data Recovery for Android currently supports major android smartphones as well as tablets from Samsung, Sony, LG, HTC, ZTE and all others. Using Data Recovery for Android is very easy, see the guided instruction below:
Download and install the latest version of Android Data Recovery on your PC.
Open the program and connect your smartphone using the supplied USB cable.
Enable USB debugging on your phone by following the on-screen instruction. This depends on the android OS version you have.

After successful connection, click the "Start" button to analyze data.
Wait for few seconds to minutes and a "Superuser Request" will pop-up on your cellphone screen. Hit "allow" and go back to your computer screen in which you need to click "Start".
After the process, a new window will appear containing the scanned results.
Go to the left pane and select the appropriate category to start Android SD card recovery.
Check the files in designated category and preview the content of them before hitting the "Recover" button.

You can now save a backup for recovered files on your computer or transfer back to your phone.
iCare Data Recovery Software
Another SD card recovery software for Android mobile is the iCare. This is a free desktop application and it helps you retrieve lost photos, audios, videos and documents on your hard drive sd card for mobiles. Almost the same as the above application, iCare offers file scanning and preview for lost files. How to use it is simple, see below:
Make sure that you have a compatible memory card reader.
Connect your android SD card to the memory card reader and connect it on your PC.
Check your computer and a "removable disk drive" should present to confirm the proper connection.
Download and install the program on your PC not to your phone.
Select "deep scan recovery" from the interface then choose the right drive.
Until the process completes.
A new window will appear, containing your lost files.
Preview it and select the right files that you need to recover, click on "Recover".
Clearly, two of the above Android SD card recovery tools are proven to be effective when it comes to retrieving lost files. However, Data Recovery for Android is more advantageous than the other because it can recover lost SMS and contacts that iCare cannot recapture. Likewise, you can use Data Recovery for Android to sync files and create backups. ICare on the other hand requires you to have an external memory card reader while Data Recovery for Android need nothing aside from your usual USB cable.
Though it can recover deleted files from Android SD Card effectively, novice users wound find iCare's interface too complicated to use than Data Recovery for Android Tool. Finally it is not a 100% free application; there are limitations that could only be lifted when you buy the professional version. Android Data Recovery is relatively better and more comprehensive, you can take a free trial from the button below.