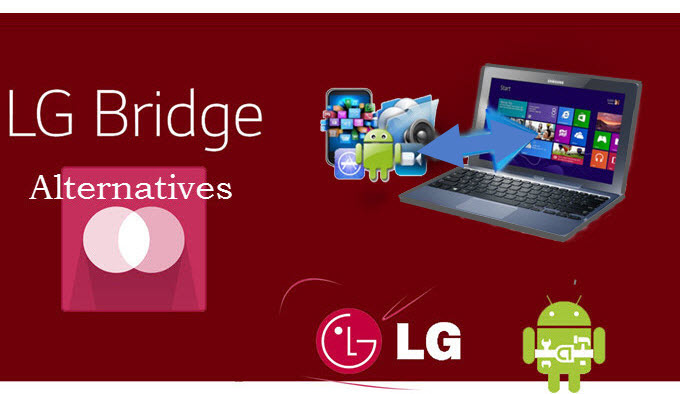 LG Bridge is a pre-installed app on LG mobile phones which lets you manage files and transfer them from phone to PC or vice versa after the editing is finished. You can also use it to update your software or reset your phone. This software is available for Windows PC as well as Mac OS. Furthermore, you can backup your files in two ways. One is using LG Air Drive where you can connect your device via WIFI or Cellular Data. The other one is the LG Backup where you will need to use a USB Cable to connect. However, it is designed for LG users exclusively. Furthermore, managing files using LG Bridge takes time because you need to check each folder as they are not well-organized. So, if you are not an LG user, or you think this is not convenient for you. You then need to find a similar program to LG Bridge. Here are some of the best 3 tools which you can use as an alternative option.
Top 3 Best alternatives to LG Bridge
Apowersoft Phone Manager – Perfect LG Bridge Alternative
Apowersoft Phone Manager is one of most popular desktop application which can help you easily manage files such as music, videos, photos and even contacts. You can transfer, import, export and delete files on your computer at your own wish. Not only that, you can also manage mobile eBooks, SMS, apps, bookmarks, notes and other kinds of stuff on your PC via WIFI connection or USB cable. Furthermore, this application supports almost all types of mobile platform and brand as long as it is in association with a smartphone. If you are considering this app as an alternative to LG Bridge, below is the step by step procedure on how to use this tool.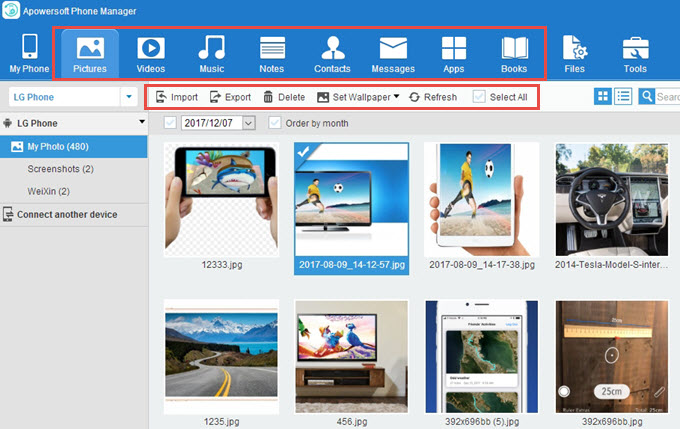 Download and install the application on your PC.
Launch the application on your phone as well as desktop and then connect via WIFI or USB cable. For iOS, you can simply use the USB cable for a successful connection.
You may then start managing your files – import, export and delete the pictures, videos, music, notes, and documents from your phone. You can also install and uninstall apps. All folders are organized on the tabs available on the upper part of the tool.
Afterwards you can simply disconnect the App by clicking on the "Disconnect" button.
Aside from that, this phone manager has additional screen mirroring function and can also take screenshots of your phone's screen. These buttons can be found in the lower part of the phone screen that you see on the interface.
AirMore – Easy LG Bridge alternative
AirMore is a web-based application that you can use to manage mobile files like pictures, music, videos and other sorts of important documents on your computer. Additionally, you can import, export and delete files all at the same time or one by one at the same location via WiFi. Simply connect your phone and PC to the same WiFi server. This supports various kinds of devices from whatever brand it may be. Besides these functions, this app is considered as one of the safest apps because it requires authentication from your mobile phone before proceeding. This is a great option when you find LG Bridge not working.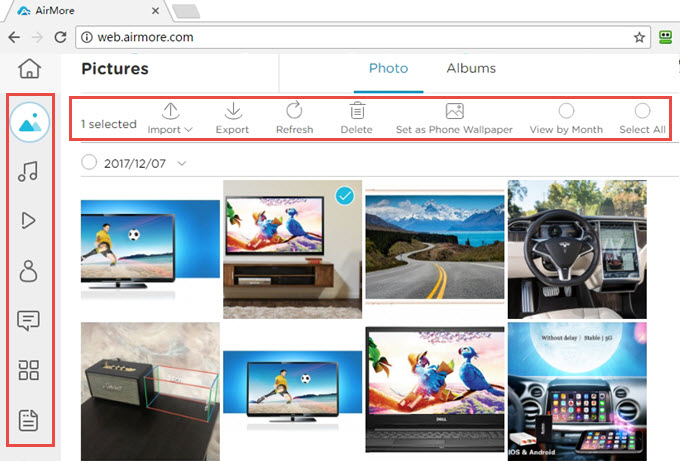 Go to its website, hit the blue button and you will then be redirected to a new page where you have the options to establish connection via QR code or Radar.
Click "Scan to Connect" and scan the QR code using the phone's camera to connect.
Make sure you phone and your PC are under the same WiFi network.
Once connected, start managing your files after connection.
MobileGO – Good Alternative to LG Bridge
This app is a desktop application used to manage files like music, photos, contacts, and text messages. This application can back up and restore your files and even download videos in one interface. In addition, this popular mirroring app is also available for a premium subscription. In case you are interested, just have a look at it and try to get this app by going to their official page. After that, launch the app and register for a free trial. After that, you can start downloading videos, transfer files, import and export photos.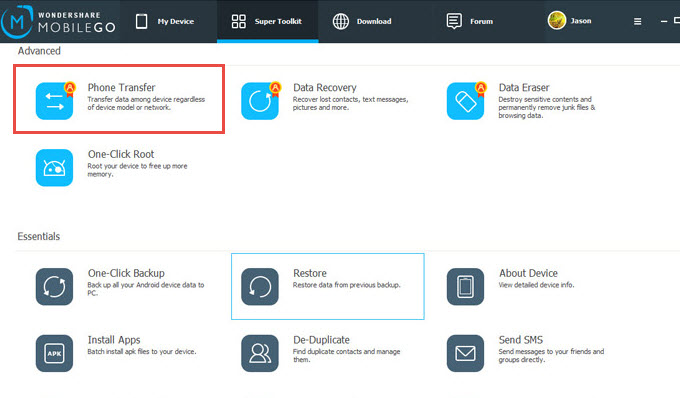 Conclusion and comparison
After all this being said as an overview of the software, all these three applications are best for managing files no matter whether it's for importing and exporting files and are good as LG Bridge alternative. As we review the functions and features of each application among these apps, Apowersoft Phone Manager is the best app for you because of its flexibility and advanced features. Software like LG Bridge, MobileGo and AirMore are all competitive apps but the first one has the most useful features and easiest interface to navigate.