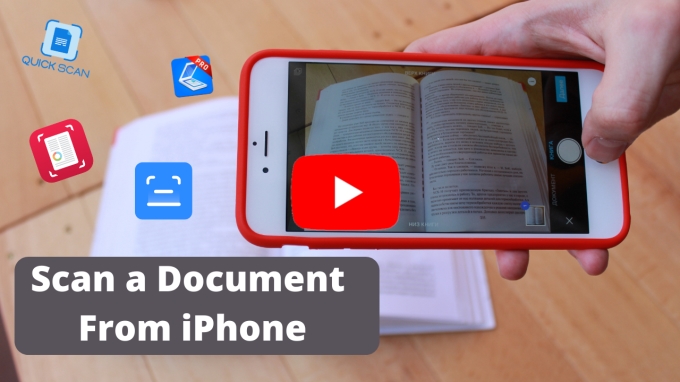 Recommended Solutions for iPhone Scanners
Apowersoft Scanner
On the top of our list is the Apowersoft Scanner. It is considered as the best scanner app for iPhone for its stunning and exceptional features. Also, this on-the-go mobile scanner has a simple interface that makes scanning documents as easy as winking . Moreso, it is operated with OCR that can capture receipts, documents, certificates, and notes to turn them into digital documents in just a snap. With it, you can also add signatures, extract texts from images, or even optimize your scanned documents. Truly, this leading application gives you the best scanning experience you have never had before. So, to give you more insight on how to scan papers on iPhone, see the steps to follow below.
Next, hit the Camera icon to capture the document. Click the ✔ to proceed to scanning process.

You can modify your processed document like resizing, cropping, and adding signature or filters. If you are finished, your document will be automatically saved on the application. Moreover, you can share it via Facebook messenger, email, whatsapp, etc.
iPhone Notes
Scanning document on iPhone can be as easy as ABC with the use of the Notes feature preinstalled on your iOS device. You may not be aware that you can make use of your mobile device's camera to scan documents instantly and you may even send it or print it out. More so, here are the steps on how to turn paper into pdf on your iPhone.
Open the Notes App on your mobile Screen. Then, add new note by tapping this icon.

From the toolbar above the keyboard, tap the camera icon. Next, hit the Scan Documents.

Take a photo of the document. If got a blurred scan, you can retake it and tap Keep Scan to save the processed document
QuickScan
Another comprehensive mobile scanner is the QuickScan. What's interesting about this app is that it was developed with a desire to help students who are having a hard time on their PDF tasks during the pandemic. Further, this free software is equipped with OCR technology that makes the scanning faster. We can't deny that even though it's just a beginner, it is still considered as one of the best iPhone scanner during this time. To get more knowledge on how to scan PDF on iphone , below are the simple steps to follow.
Launch the program and then tap "New scan".

Take a picture of the document that you want to scan.

Tap Done to save file in PDF or JPEG format.
ScanPro
Scanner Pro is perfect for capturing documents that life throws at you like receipts, IDs, books, or cards and turning them into professional quality PDFs in just a few clicks. It may not be as prominent as the other apps but it doesn't mean it will be left behind when it comes to its features. One fascinating aspect of this program is that it can scan multiple pages at the same time. Besides that, you can back up your document with its iCloud integration and even share it through email, Dropbox, and iCloud. For a better view of this app, here are the guides on how to scan paper into PDF on iPhone using ScannerPro.
Open the software. Then tap the "+" icon to add your document and the scanning process will start.

Take a photo to a document that you want to scan.

Modify your document using its features. Once done, simply tap "Save".
SwiftScanPro
If you are in need of a high-valued scanner, then SwiftScanPro is for you. This advanced software is ideal for those people who are looking for an excellent scan quality across a variety of document types, including books, business cards, and even photos. Additionally, it is equipped lots of features on it like custom folders for better organization, smart file naming, iCloud syncing, and automatic uploading to your choice of more than a dozen cloud storage services. However, the expensive subscription of this app makes it hard to afford it. Anyway, to fully understand on how to turn paper works into PDF on iPhone using this app, here are the steps to follow.
On the program's interface and tap the + icon.

Hold the camera steady to take the picture of the document.

After the scanning, you can edit your processed document by means of cropping, adjusting the color, and rotating it. Then, tap Save to file your scanned document.
Conclusion
It is shown above that with these solutions , it is now possible to scan a document with an iPhone. With this, we can agree that each of the applications mentioned has their own unique features and strength when it comes to scanning ability. On the other hand, if you want to have a full-featured software, we highly recommend the Apowersoft Scanner.