Apowersoft Background Eraser
Apowersoft Background Eraser is a free-to-download app that can separate the subject from its background easily. By using its AI technology you can automatically have a precise cutout of your subject. If you are not satisfied with the automatic process, you can have the manual removal tools for a better result. The app also includes changing background, basic editing functions, and more. With Apowersoft Background Eraser you can have an all-in-one photo editor that can beautify your work.
Learn how to crop out background on iPhone using this awesome app called Apowersoft Background Eraser
Run the app, tap the "One-Click Cutout" tab to upload the photo from your phone library.

The app will automatically remove the background showing you a precise result.

Once done, hit the "Save HD" button to save the transparent result.
Background Eraser: Superimpose
Background Eraser is another app that you can rely on your iOS phone. This app will help you delete the unwanted background and maintain transparency with just some simple taps. You may also add a new background, crop, adjust effect, and more.
Simple steps on how to remove background from picture on iPhone
Download and install the Background Eraser from the App Store.
Open the app, tap the gallery icon to get the photo that you need.
Manually remove the background using the removal tool that it provides.
After that, tap "Done" then hit the save icon and choose PNG as your photo format.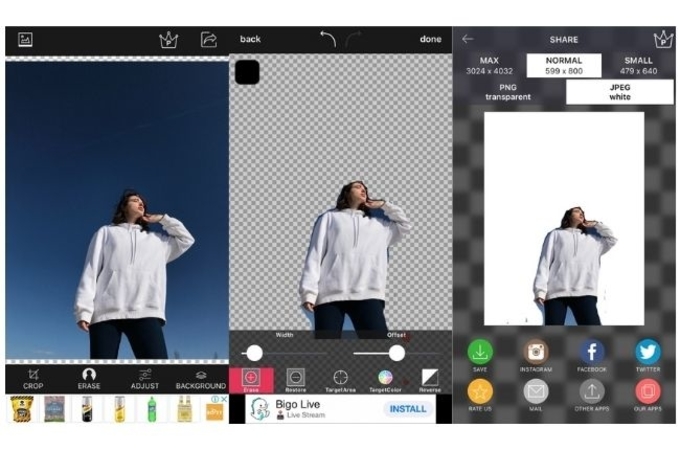 PhotoRoom Studio
Create a studio-quality transparent image with PhotoRoom Studio. This is a well-organized app that can quickly delete any unwanted background from your image. You just need to upload the image and the app will showcase your subject with different backgrounds, and one of these results is the transparent one. Indeed, learning how to remove the background on iPhone with this app is a hassle-free task.
See the steps below
Go to the App Store to download and install PhotoRoom.
From its interface, tap "Start from Photo" to upload the image.
Then, the app will present multiple results with different backgrounds.
Select the subject with transparent background to save it directly on your phone.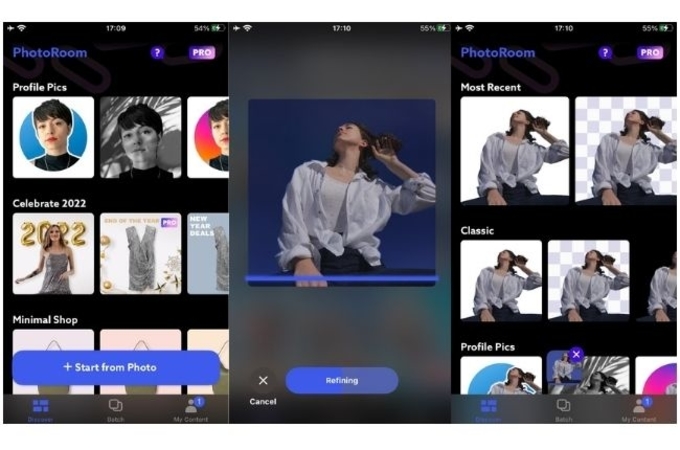 Magic Eraser
Magic Eraser is considered one of the most efficient iOS apps that can give you a clean cut out of your subject in just 5 seconds. Just like any other background removal apps, Magic Eraser also uses advanced AI technology that can handle hair and tricky details from your subject.
Simple guide on how to crop out background on iPhone
Download the app from the App Store and install it on your mobile phone.
Start by tapping the "Smart Erase" option and select the image that you need to edit.
Crop your image and tap "Next". Manually delete the background by using your finger.
Wait for the processed result and save it afterwards.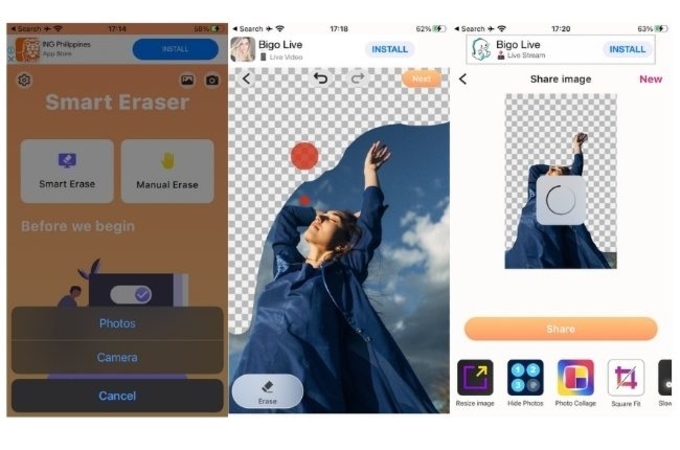 ProKnockOut-Cut Photo Editor
Pro-Knockout-Cut is an awesome app that will allow you to erase the background from your photo automatically. Also, this app comes with manual selection tools which include lasso, instant alpha, eraser, and more to cut out the subject for better results. With this app, you can also intelligently repair/add a new background for your subject.
How to remove background from picture on iPhone with the help of ProKnockOut-Cut
Install the app after you download it from the App Store.
Select the "Cutout" option to import the picture that you will use.
Wait for the app to automatically remove the background.
Tap the "Download" icon to save your work.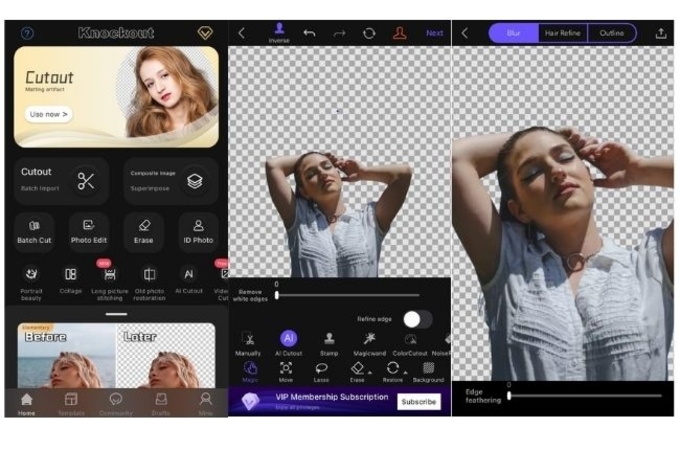 Conclusion
In this list, you can select one of these background eraser apps that can separate the foreground from its background. But among these apps, Apowersoft Background Eraser is the most recommended one. This app has a simple interface and features that everyone can understand. Just rely on how to remove background on iPhone with this amazing list. Share with us your best background removal app in the comment section below.