How to Play A Video Backwards
Use ApowerEdit (Windows)
The first on our list is a desktop program called ApowerEdit. This tool for Windows works as a video maker and editor at the same time. Upon using this video editor you can easily reverse any parts of your video clip. Plus, this app has additional editing functions that could help users cut, crop, zoom, add duration, mosaic, etc. In case you need to do further enhancement, you can do it by placing text, filters, overlays, and transitions.
To playback a video with this program, all you need to do is to import a video clip.
Drag it into the timeline, highlight the video. Click the "Edit" icon on the toolbars, and then tick the box beside the "Reverse" function.


Just click "OK" when you're done and the tool will process the video instantly. After that, click the "Export" button to output the reversed video.
Use ezgif.com (Online)
If you like to play a video backwards online, then here's a web-based application that you can use called ezgif.com. As its name implies, this app is basically a GIF converter that offers other functions including "Reverse Video" function.
To utilize this function, simply go to its page, load the video that you want to reverse. You can do this either from your computer or by pasting the URL from a video sharing site and then click "Upload video!"
After that, you can mute the audio or reverse it too. Now choose the output format that you like, and then click "Reverse video!" Wait for a moment until your video is complete.


Finally, click the "Save" button to download the video on your computer.
However, this tool does not work offline, so you need to check your internet connectivity prior to using this program.
Use Reverse Vid (iOS)
In case you want to edit videos right from your iOS devices, then there's a mobile app that you can use called Reverse Vid. This tool is solely designed to provide the reverse function on any video that you have on your iOS phone.
To play your video backwards, simply open this tool and load the video from your library or record a new clip using your device's camera.
Once the video file is loaded, tap "Choose" and a preview will then be shown. Next is to select the speed that you want for the clip. To keep the changes made, press "Save" and "Save video."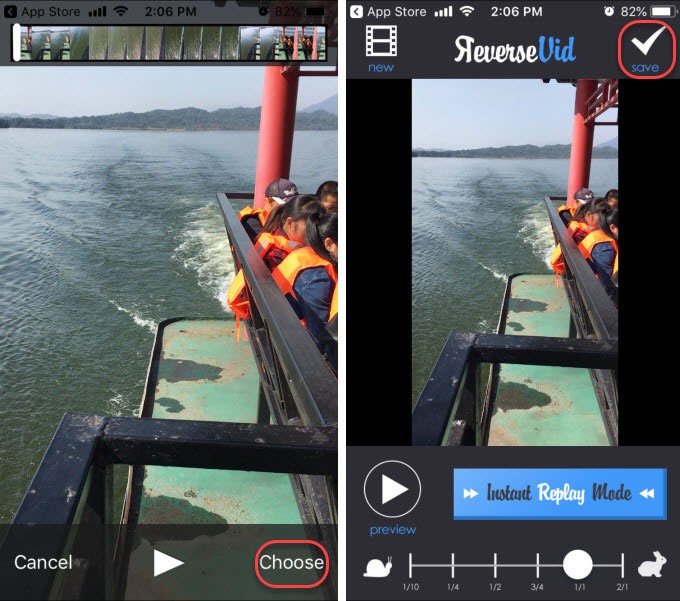 It is indeed an easy way to play a video backwards. But to reverse a certain portion of the video, you need to avail the pro version of the app.
Use Reverse Movie FX (Android)
Another way to make a video play backwards is called Reverse Movie FX for Android. Just like the mobile app above, this tool only has a reverse function.
To use the app, just tap "Start Reverse" and then choose a movie from the recorded movie or your device's library.
After that select the starting and ending frames and then tap "Start." Afterwards, another window will appear.
From here you can select the reverse function that you like, add filter, audio, and then press "Start reversing" to launch the process.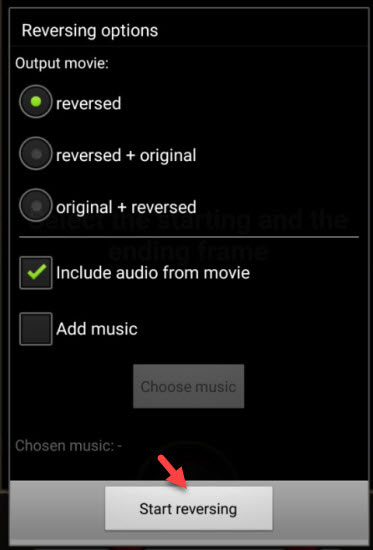 However, the app has an in-app advertisement that pops every now and then. And to get the HD output, you need to avail of its pro version.
Use TikTok app (Android & iOS)
The last on our list to reverse a video is to use a famous mobile app called TikTok. Many users may not know about this, but for avid TikTok users, they're surely aware of this function.
To play a video backwards with this mobile tool, simply choose a video from your library or do a fresh recording.
After that, go to the Effects tab, look for time effects and then choose "Reverse" and then press "Save" to keep the changes made.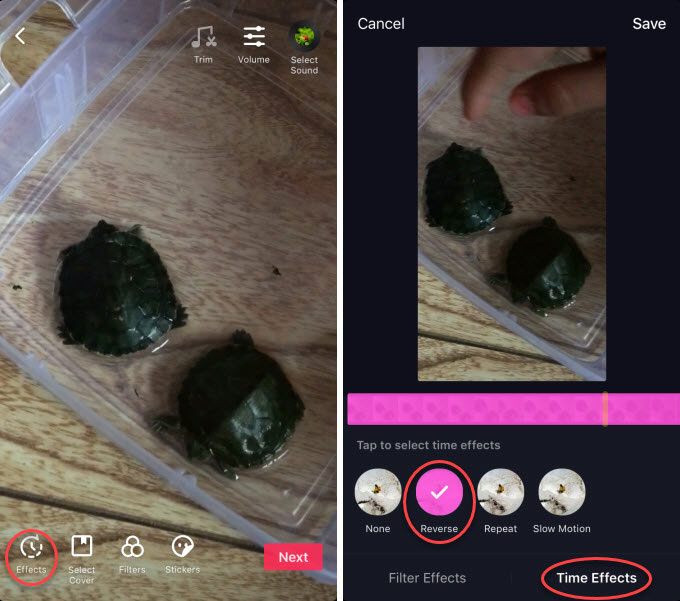 The good thing about this app is that you can put additional effects if you prefer from its effects tab. And most of all, you can upload it directly into TikTok where it can be viewed by your friends.
Conclusion
Those are the five ways on how to play a video backwards. To add more effects into your video aside from the reverse function, programs like ApowerEdit has the advantages along with TikTok for mobile devices. While Reverse Vid and Reverse Movie FX are decent mobile apps to use just be reminded of the drawbacks that these tools have.