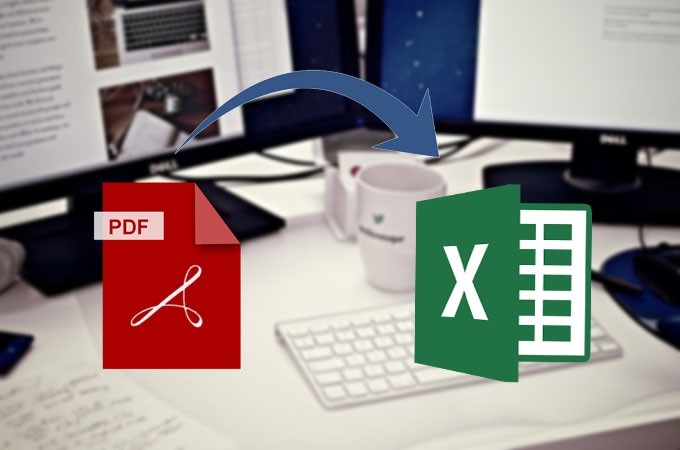 Excel file is commonly used to write up many business financial reports. These reports are commonly used to monitor the finances of the company. Sometimes, these files need to be saved as PDF files when the person in charge of finance will present the report to the board. However, there are some cases that you need to change or edit some data on the sheet and use Excel formula to calculate the statistics. So in that case, convert PDF table to Excel. Luckily, here we have the most recommended tools that you can use to solve your problem.
Excellent Tools to Convert PDF to Excel Spreadsheet
Use Apowersoft Online PDF to Excel
Apowersoft Online PDF to Excel is an online program which can help you to convert PDF to Excel for free. This tool has a simple and straightforward interface whereby users can convert files conveniently. In addition to that, there are no popup ads on the page while you are using the program, as compared with the other converter websites. Aside from that, it doesn't require any software installation. See the steps below for how to convert PDF files to Excel.
Open Chrome or Firefox on your device and visit its official webpage.

Next, click the "Choose file" button and choose the PDF file you wish to convert.

Once the file is uploaded, it will be automatically converted to Excel.

Wait until the conversion is completed. Then, hit the "Download" button to save the converted file.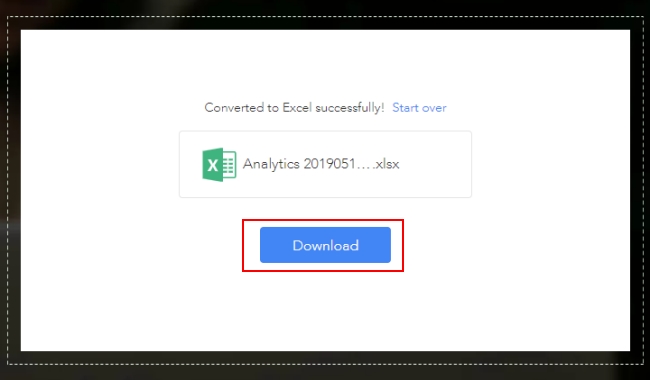 Use Convert PDF to Excel
Convert PDF to Excel is another online program which can be used to convert from PDF to Excel. Users can import PDF files from their computer, Dropbox, Google Drive, and OneDrive. Furthermore, this program is capable of converting PDF documents of all sizes without any limitations. Also, all uploaded files are secured, as they will be used for conversion and deleted automatically from the servers after the process is complete. To have a better understanding on how users can turn PDF into Excel, follow the procedure given below.
Open your browser to visit the main site of the tool.

From the main page of the tool, upload the PDF file you want to convert.

When the file is imported, the conversion process from PDF to Excel will start.
After that, click the "Free Download" button to save the processed file to your device.
Use Online2PDF
Another solution you can try is Online2PDF. Online2PDF is a web-based tool which can easily export PDF files to Excel. It allows users to set some preferences before converting the file such as compression, layout, header and footer, and so on. In addition to that, users can upload up to 20 files. However, all uploaded files must not exceed a size of 150 MB. Below is the step-by-step procedure on how this program works.
your computer, open your favorite browser, and go to its main page.

Then, click the "Select files" button and choose PDF file from your local drive.

Next, choose the output file format by clicking the drop-down button of "convert to". If you don't want to set the preferences just hit the "Excel" button.
Once you've chosen all of the correct settings, hit the "Convert" button.

In just a few moments the file is converted to Excel and saved it on your computer.
Extra Tip
How to Combine Multiple Sheets in an Excel into One Sheet?
Supposed that you have several reports from different branches of your company and want to combine them into just one sheet. You'll be able to have a summary of all your branches and it is more convenient to monitor the reports when they've been combined into just one single report. Now, here are the steps on how to combine them in one.
If you want to add all information from Sheet 1, go to the end of the content in Sheet 1.
Go to Sheet 2 and select all the content in Sheet 2. You can select the headers of the sheet and then tap "Shift" + "Ctrl" + "↓" to select all the data.
Copy the data, go to the Sheet 1 and then paste it below the content of the Sheet 1.
If you have more sheets, repeat steps 1-3 to copy the content of other sheets and paste them to Sheet 1.
Save the combined file.
Tip: This way is a little bit time-consuming, but it is the easiest way to combine all the data from different sheets into one.
Conclusion
Now, you can turn PDF into Excel with these most recommended solutions. By using them, you can easily convert PDF files without having any trouble. On the other hand, since they are online programs, you can use them in your office as well as on the go with your mobile devices.