It's quite annoying that songs may result in quality degradation after recording. As a result, you may lose interest in listening to them. However, Streaming Audio Recorder enables you to record any sound from your computer in 1:1 quality. In this case, you can record the songs again with this audio recorder.
Just install and run this program on your computer, then make the appropriate settings before audio recording. Click the gear icon on the top of interface, and choose the "Setting" option from menu. In the "Settings" window, tap the "Record Settings", set the audio quality as "High". It is also suggest to set output format as "MP3" or "WAV". Once done, click "OK" to apply the settings. Now, click "Record" to start recording and play the audio you want to record, then click the same button when you want to finish recording. Once it's done, you can play the recording to check it.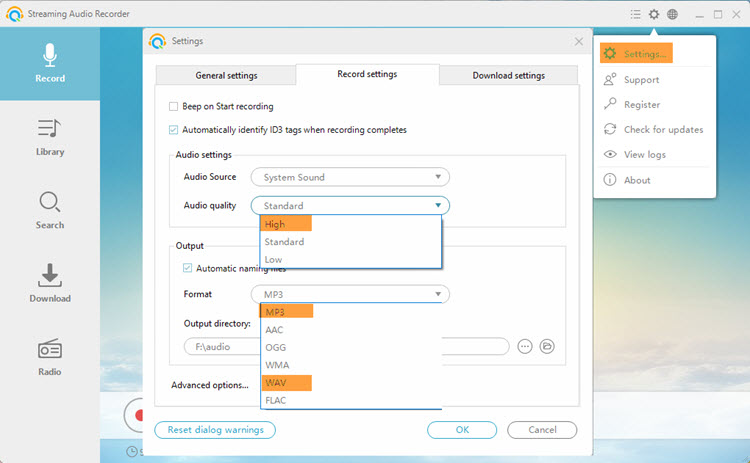 Or you may try the following ways to improve the audio quality of your recorded audio files.
Method one: VLC Media player
VLC Media Player, which is commonly known as media player for video playback, supports a rich variety of compatible formats ranging from MPEG to FLV and RMBV. However, it's not just for video playback. Another bonus is that you can adjust video effects by changing distortion, brightness adjustment, motion blurring, etc. Besides, it also supports to change audio effects in the interface of audio equalizer.
Play the recorded song with VLC media player and hit "Show extended settings" button. Then "Adjustments and Effects" window will pop up.
Choose "Audio Effects" from "Graphic Equalizer" and check the "Enable" box as shown in the below screenshot.

Now you can adjust the audio equalizer.
Method two: WINAMP Media Player
WINAMP Media Player is a multimedia player that supports to play streaming audio or local ones in numerous audio and video formats including AAC, M4A, FLAC, MP4 and WMA, etc. With pro version, you can even burn music to audio CDs or import songs from CDs.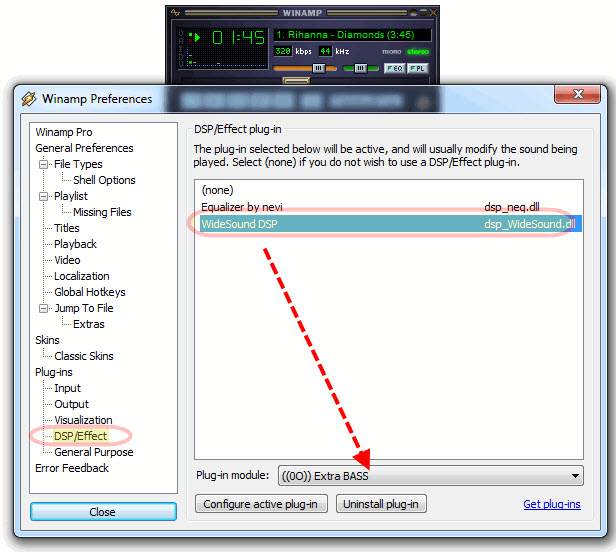 In addition, it allows you to adjust audio effects on the condition that you have installed DSP Effects plugin to this media player. After you have installed this plugin, you will be able to use three simple effects (Echo, Voice Removal, and Pitch/Tempo control) to adjust your recordings.