How to use Forms Feature of ApowerPDF
1. Introduction
It's available for creating, filling in forms in ApowerPDF. Open the software, and then click "Forms". The detailed steps of forms feature are listed below.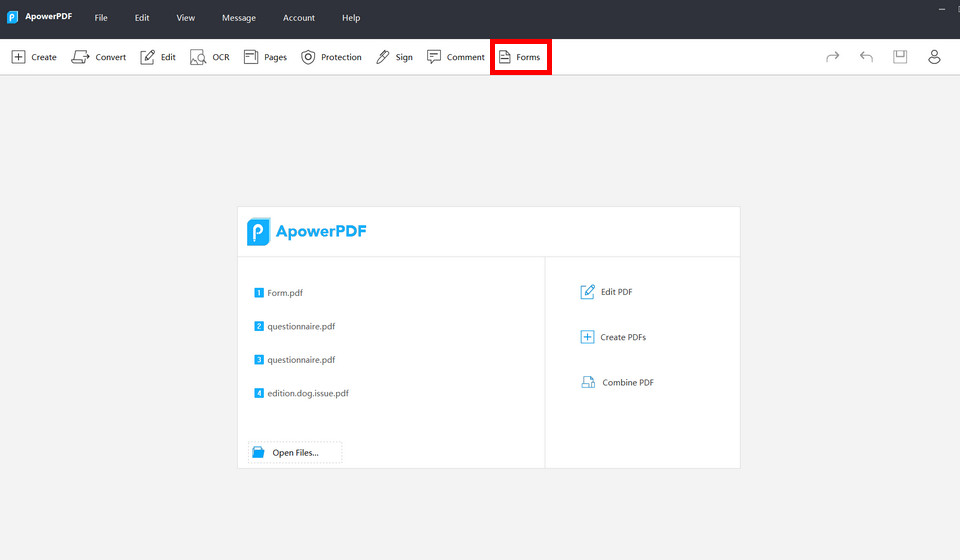 2. Create Forms
1. First click "Create PDFs…" or "Create" > "Blank Document…" to add a new blank PDF.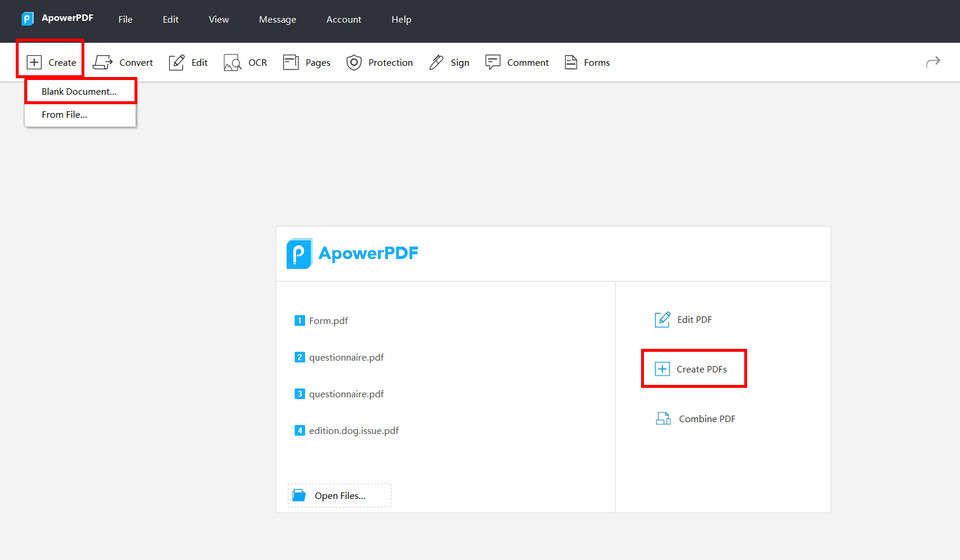 2. Then click "Edit" > "Add Text", and type wherever you want to add text or any other information in your form.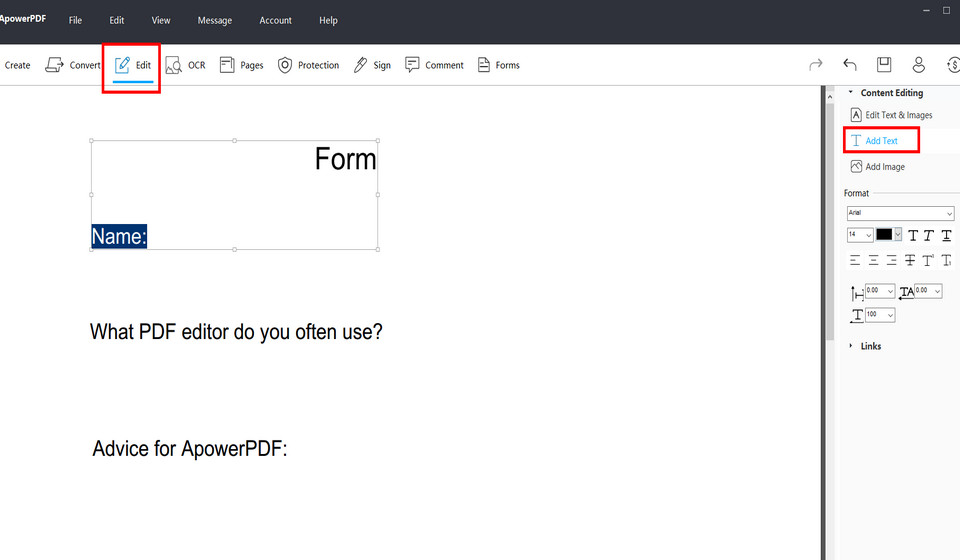 Note:
The text added here cannot be modified when creating forms fields. For example, like a question in a questionnaire.
3. If you want to add a logo or image in the form, click "Edit" > "Add Image", select the image, click "OK", and then place it at the desired location. Adjust the size or location of the image as appropriate.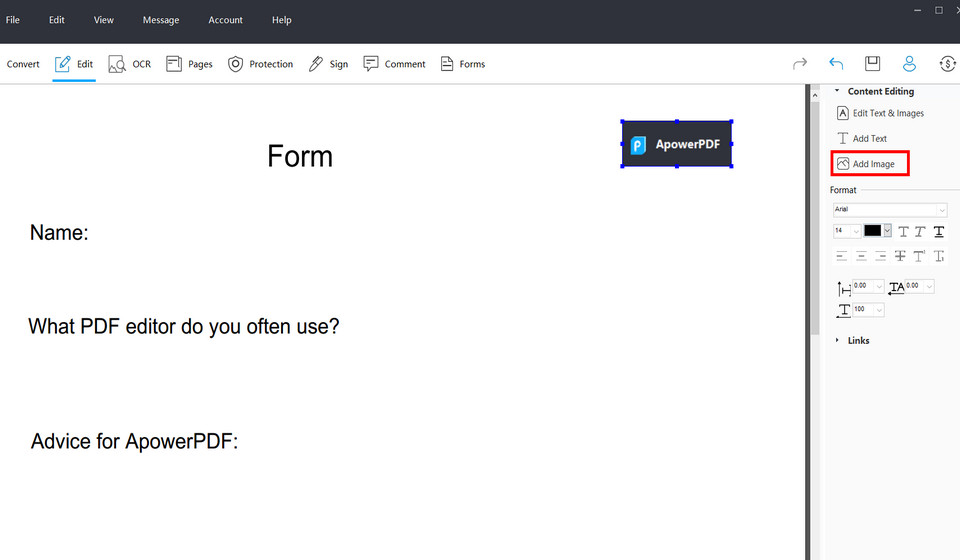 4. Add "Text Field" — fillable fields in the form
a. Click "Forms" > "Text Field".
b. Drag a rectangle of the area you want to place.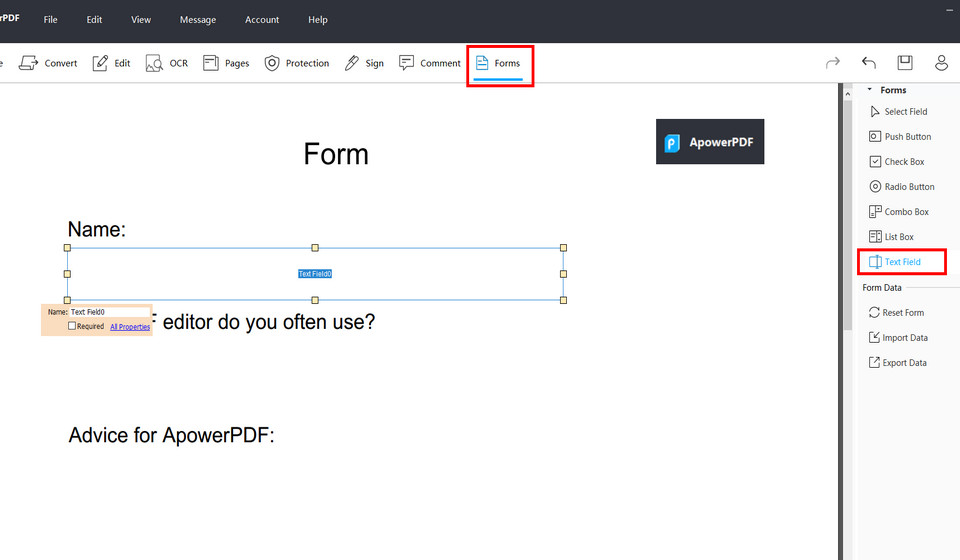 c. Set the field properties under "Forms".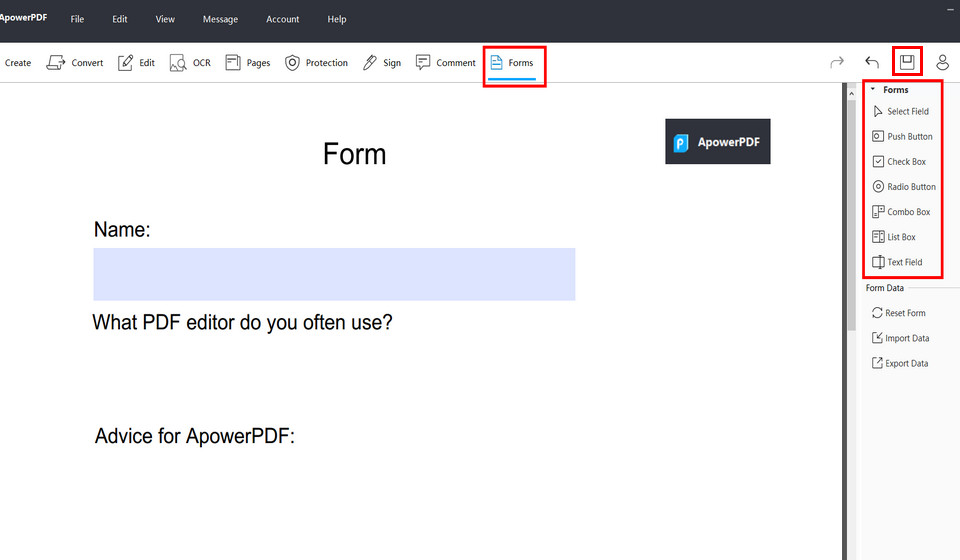 Once you complete adding form fields, save the form.
For more information on form fields and how to set their properties, see the next section.
3. Set Forms Fields
Click "Forms", the forms fields are listed in the toolbar on the right side of interface. ApowerPDF supports to set push button, check box, radio button, combo box, list box and text field in forms. You are able to set the appearance, options and actions of these forms fields properties.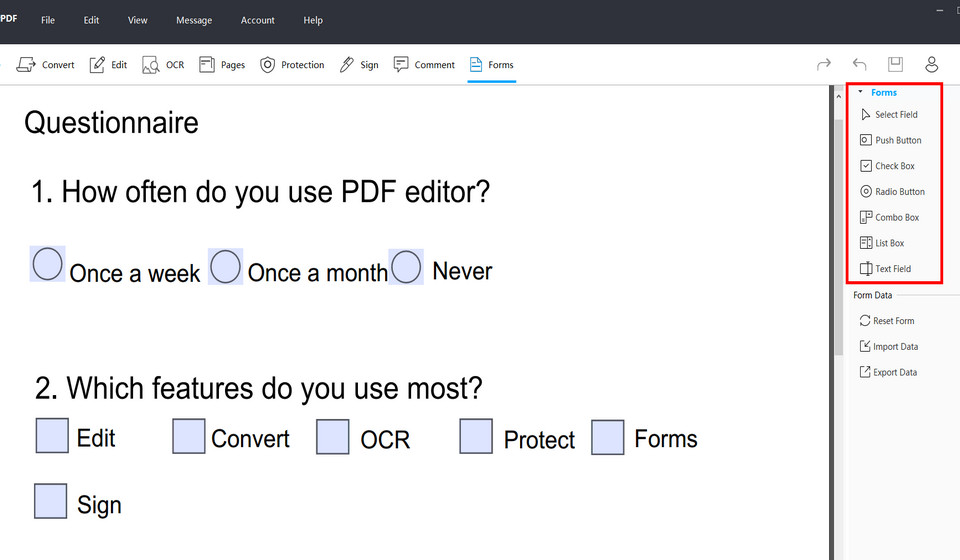 1. Push Button — In the form, you can perform an operation by setting push button, such as clicking the push button — open a web link.
a. Click "Forms" > "Push Button"
b. Drag a rectangle and place where you want.
You can directly set the name of push button field and the label(the text displayed on button).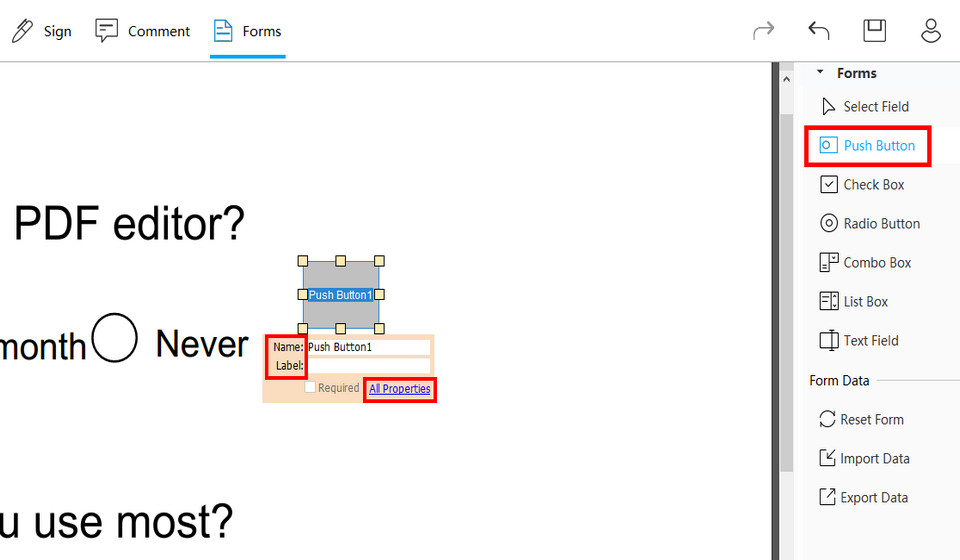 Click "All Properties" to set appearance, options and actions.
In Appearance, it allows you to set borders and colors of push button as well as text color, font size of label.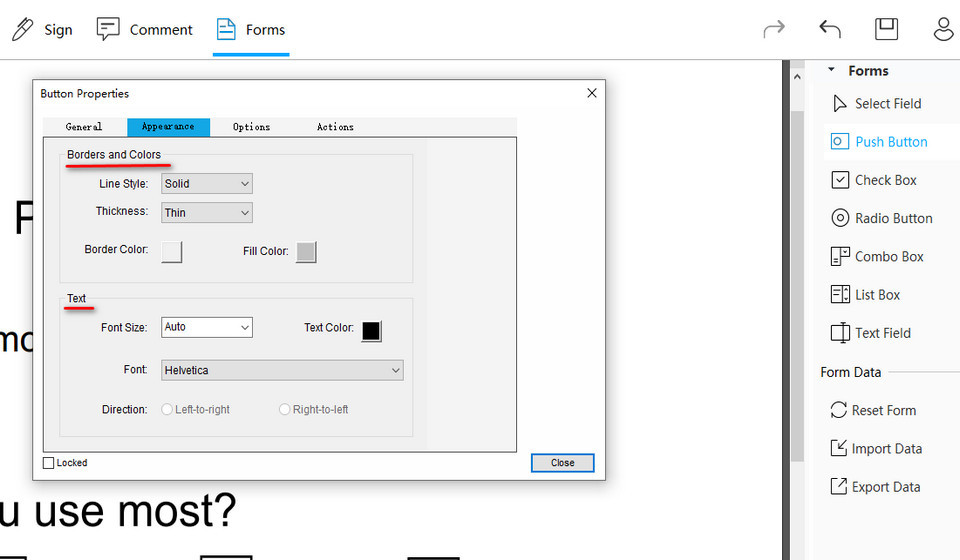 You can add an action to the push button in Actions. That means setting the trigger action and key function of push button. Here are the available supported actions.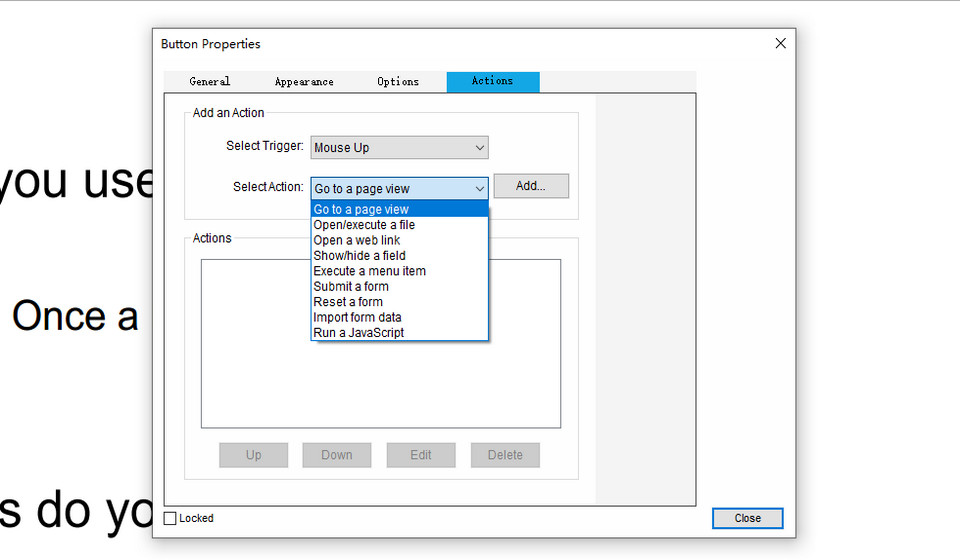 2. Check Box — This button is to check, which is generally used in questionnaire surveys.
It's available for choosing check box style. Click "All Properties" > "Options". The following figure shows the selectable check patterns.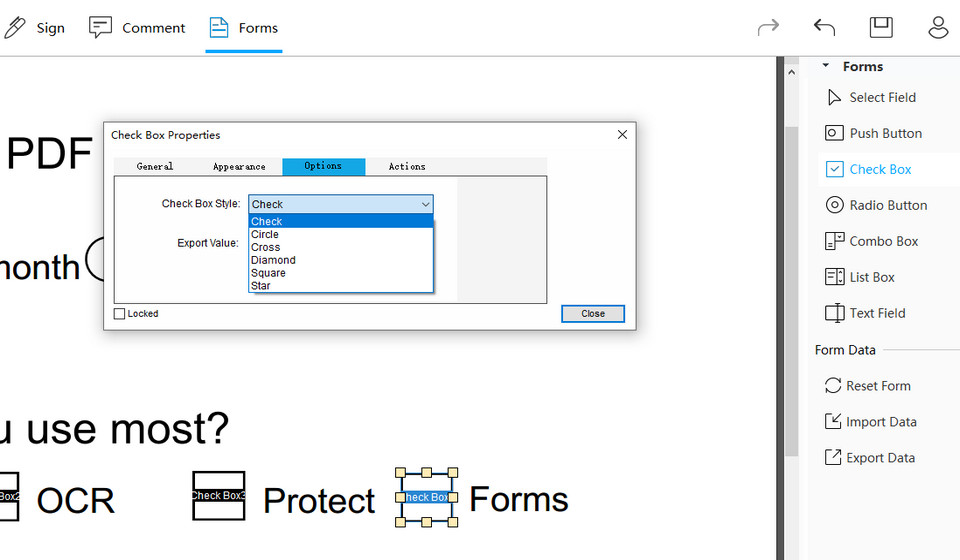 3. Radio Button — A button used for selecting an option.
Radio button supports setting export value and check pattern( same as check box). For example, if you want to exclude certain options, you can put radio buttons before the options. Set the export value to No, and set the check pattern to Cross.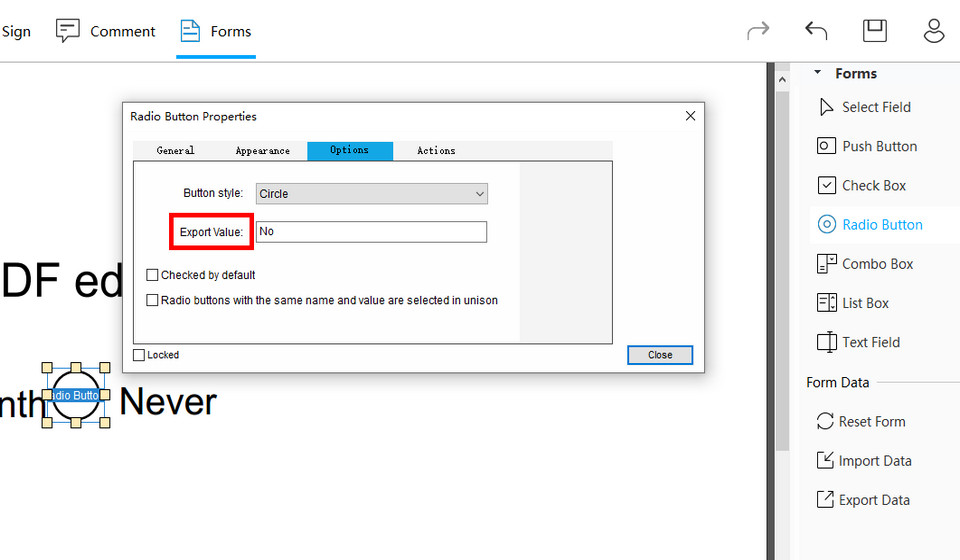 Tips:
If you want to set the effect of single selection, make sure that the names of the radio buttons are the same.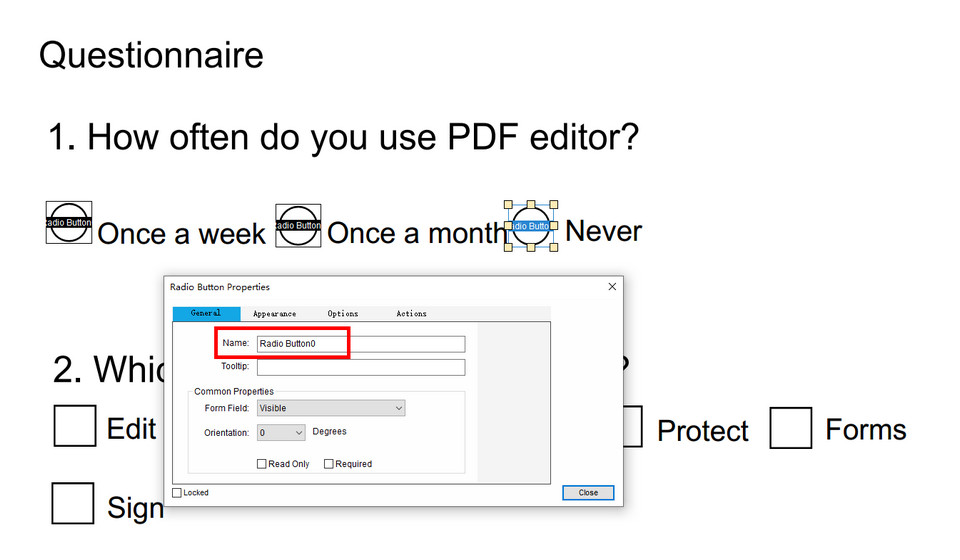 4. Combo Box — In this box, it's available for setting multiple options, and you can drop down to select one.
Click "All Properties" > "Options", and add options one by one on "Items". It allows to set the order of options on "Items List" by clicking "Up" or "Down" and allows to "Delete" options directly.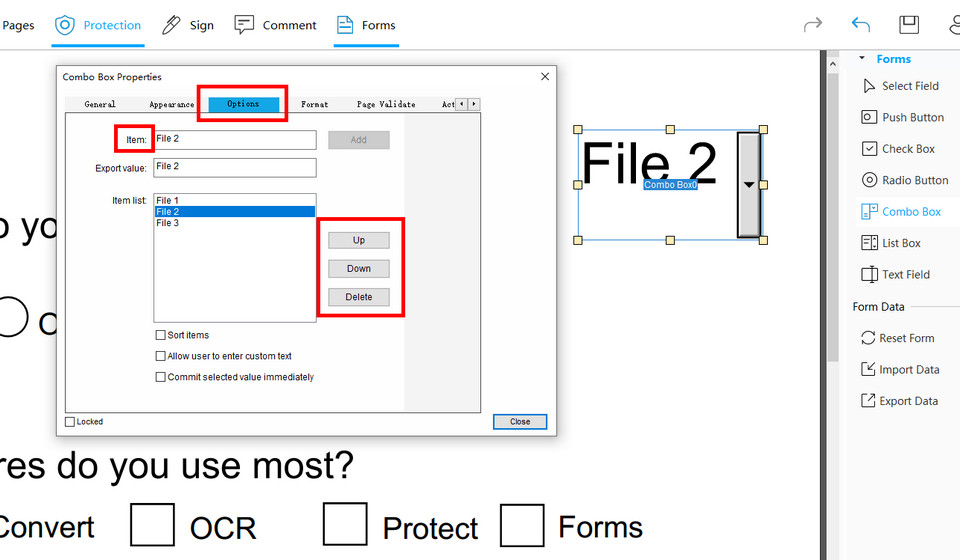 Note
The difference between combo box and list box is that you need to pull down to see all the options and select.
The common point is that both of them supports to sort items, allow users to enter enter custom text, and commit selected value immediately.
5. List Box — It supports to set multiple options being displayed in list.
Click "All Properties" > "Options", and fill in options on "Items".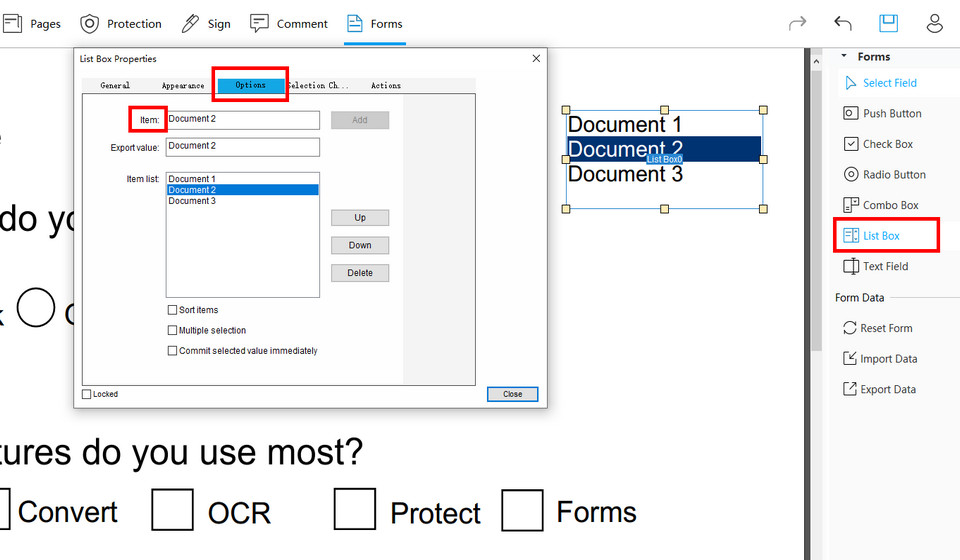 6. Text Field — The field that can be filled in directly in forms.
First click "Forms" > "Text Field", then drag a rectangle and place where you want and save it. In this way, people can directly fill in the form content in this field.
It's available for setting font format in text filed. Click "Forms" > "Select Field", then double-click the text field whose font format you want to adjust. Next, click "Appearance" in the pop-up window and now you can set the font, font size even the text color.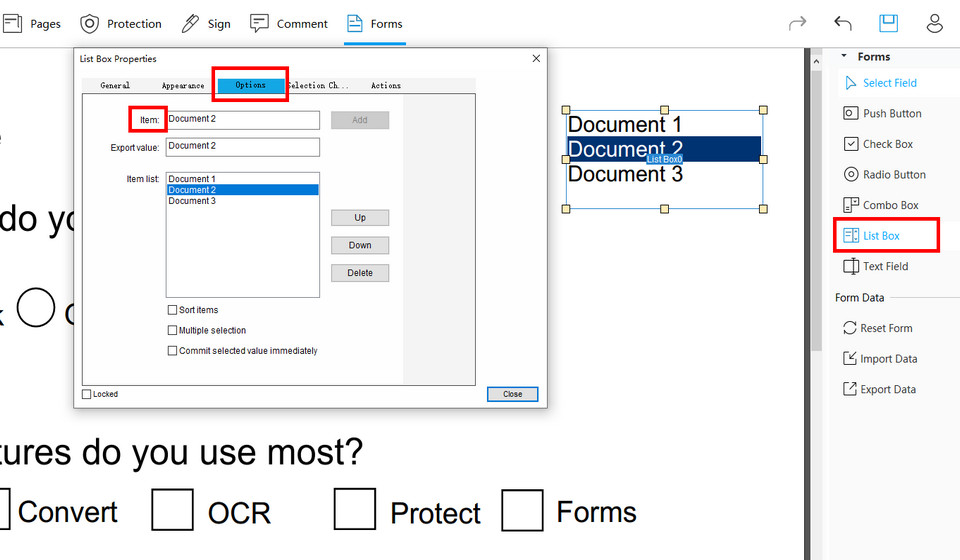 Tips:
In addition to basic settings such as appearance, "Text Field" supports setting text alignment, check spelling, rich text formatting and so on, which shown in the image below.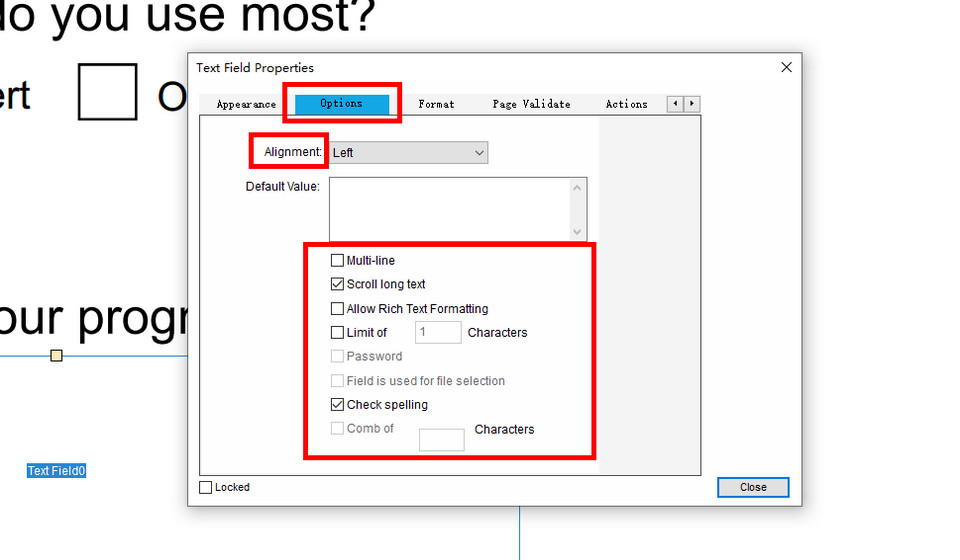 Note — How to copy field?
Select a field, and press the keyboard key "Ctrl" + "C". Then press the keyboard key "Ctrl" + "V". Drag the copied field to where you want to place.
4. Fill in Forms
For an interactive form, all the fields are available to fill in. You just need open the form you want to fill in using this program and fill out the PDF form directly. Here is the detailed steps.
1. Open the form with ApowerPDF. The software will automatically remind you that "This document contains interactive form fields" which you are able to "Highlight Fields".
2. Fill in the form directly in the fillable fields(text field).
3. Click save button to save when you done.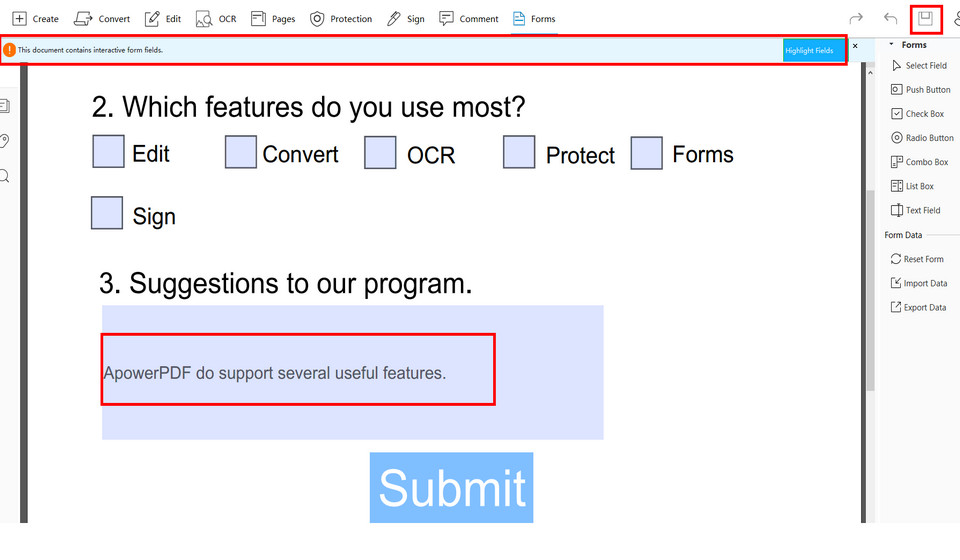 Note
You need to exit the setup form field to fill in the form. That means you cannot fill in the form when the feature column under "Form" is checked.
5. Set Form Data
ApowerPDF is available for resetting form, importing and exporting form data. Click "Form", and you will see these features under "Form Data". Next are the specific steps.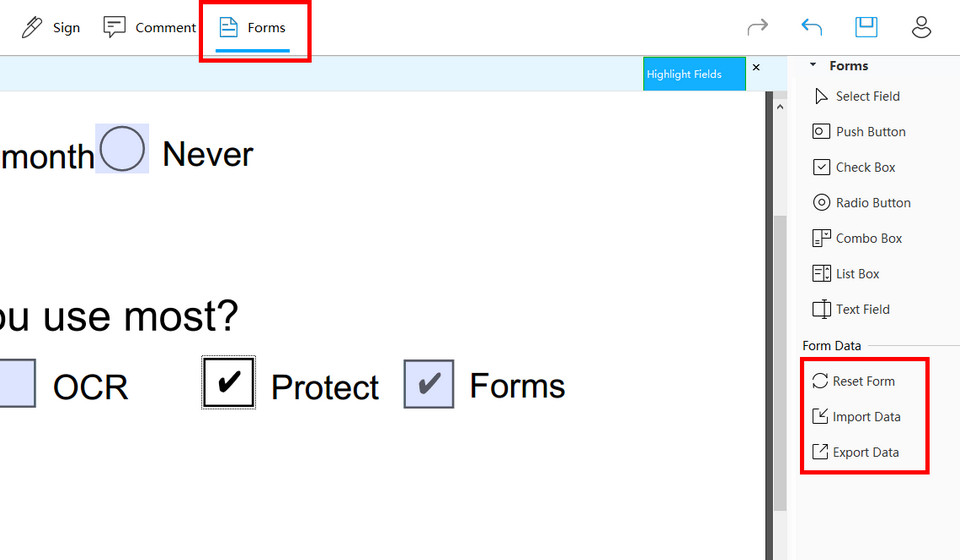 Reset Form — Click it, the data in the form will be cleared. You will get an original form.
If you want to copy the same data to multiple forms, you need to use the following two functions.
Export Data — Click it, then the data will be saved as a fdf file. Don't worry if you can't open it, in fact you don't need to open this file.
Import Data — Open a new original form with ApowerPDF,click "Import Data", and select the fdf file with data you want to import. Then the data will be imported directly onto the form.
Ask Apowersoft Support
Still get confused or have more suggestions? Please email us, and we will reply within 24 hours.