1. Introduction
ApowerRecover is an easy-to-use and secure data recovery tool. It is designed to recover deleted, formatted or inaccessible files from PC, laptop, hard drive, SSD, memory card, USB drive, SD card, digital camera, multimedia player, and other storage devices.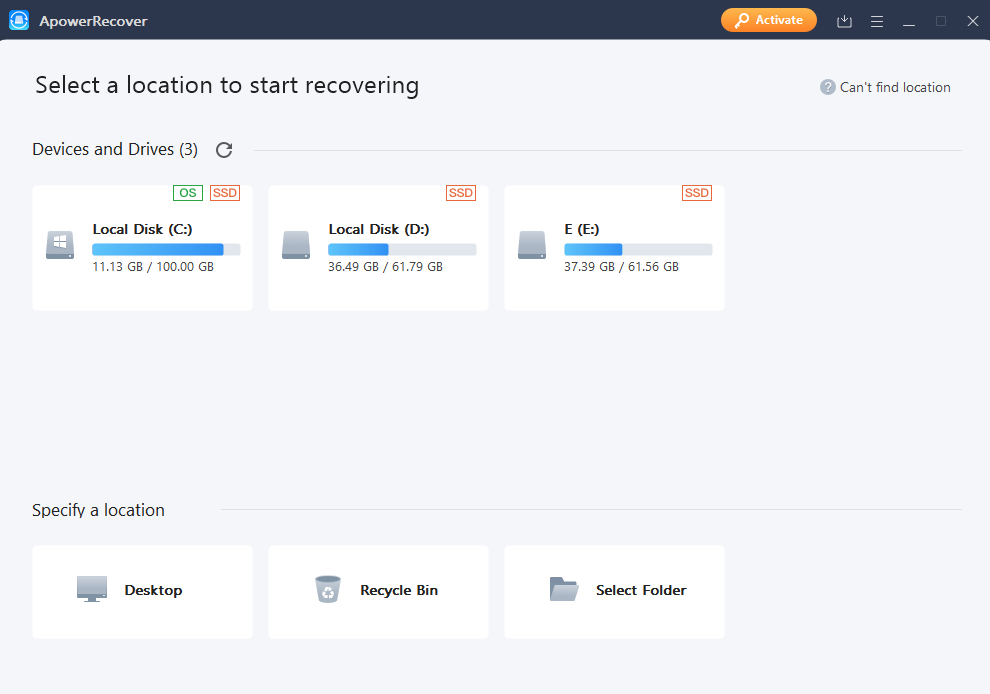 2. Download and Launch
Please click the "Download Now" button to download and install this data recovery tool on your computer. After that, launch it.
Note: Please don't install the software into the same hard drive where you lost the data from.
3. Select a Location
Please select a location where you lost data from and click the "Scan" button to start to scan.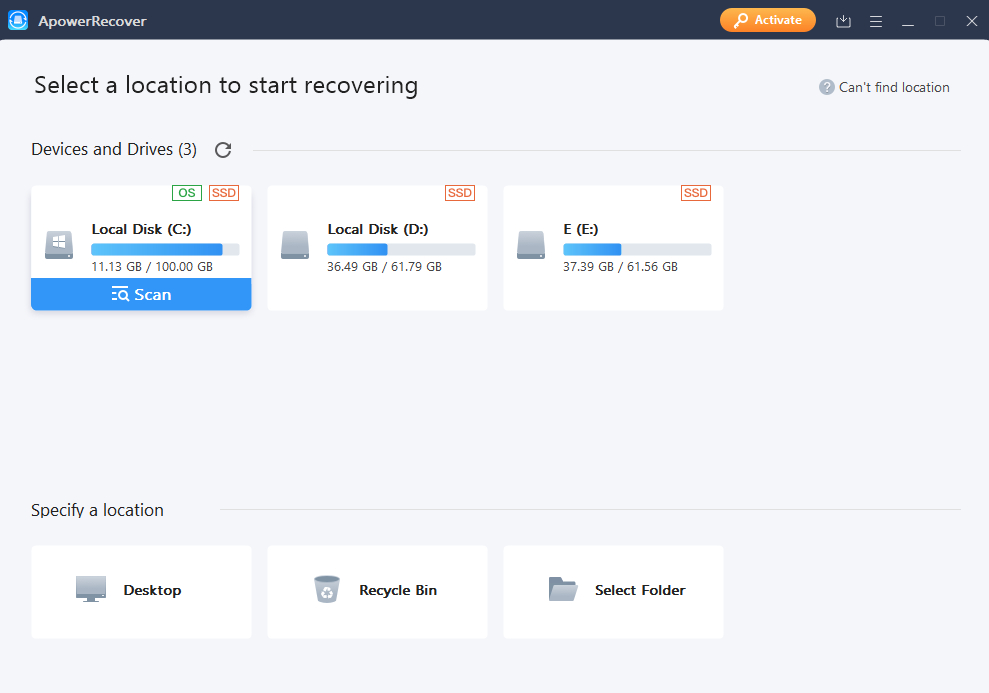 You may specify a file location such as desktop, recycle bin, folder or you may select a hard disk, a local disk, or an external storage device to scan.
4. Scan Your Computer or Device
The software will display the scanned percentage, found files, and remaining time while scanning.
ApowerRecover will start quick scanning and list all files that were deleted simply or emptied from the Recycle Bin. The quick scanning will be very quick.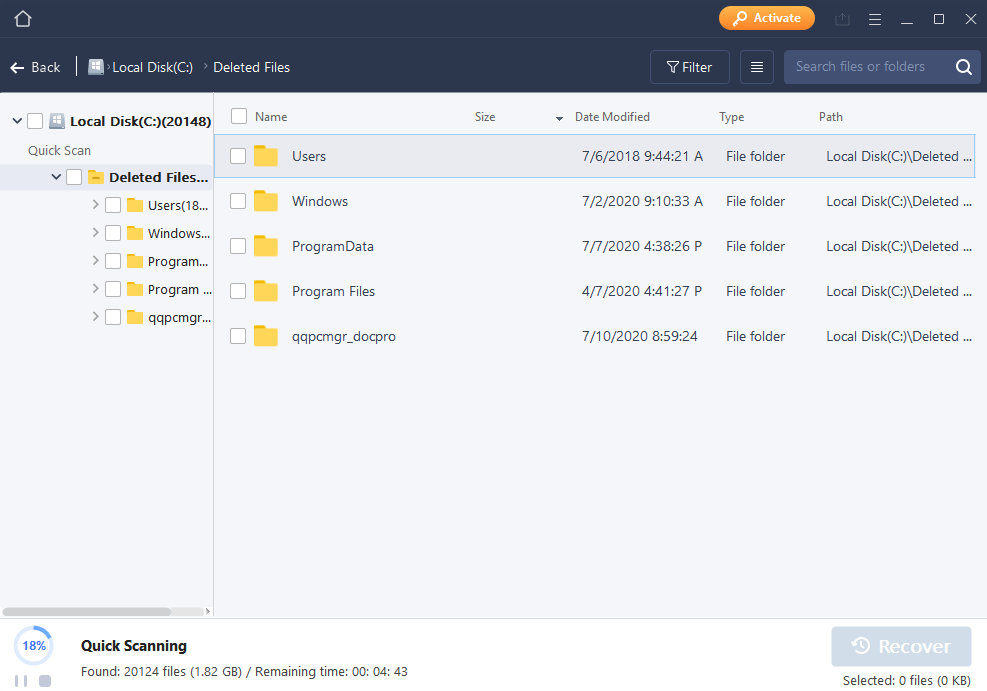 Then it will start advanced scanning automatically. It will find many more lost files by thoroughly searching the entire data area of your storage device instead of just scanning the file directory, however, it will take a longer time to complete.
Quick Scan – Searches for deleted data using a basic algorithm for fast results.
Advanced Scan – Scans the storage device sector by sector for further recovery results.
Note: If you don't want to continue to scan, you can click the "Pause" button. To continue to scan, please click the "Continue scanning for more lost files". Click the "Stop" button and choose the "Stop" in the pop-up dialogue to stop scanning, or choose the "Cancel" to continue to scan.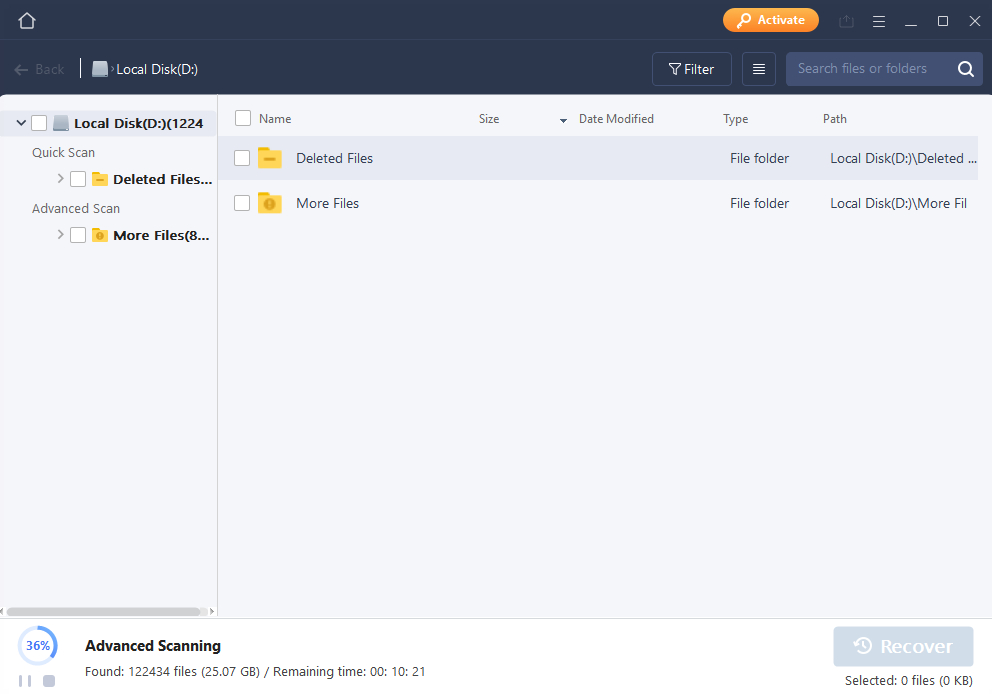 5. Preview Lost Files
The scanned results are divided into two parts. The left window is a list where you can filter files by file directory.
The right window will display the details of the files you chose from the left window by default.
Click the "Name", "Size", "Date modified", "Type" or "Path" on the top of the right window to sort the filtered files.
Choose "Large Icons" to display filtered files as large icons.
Choose "Preview Pane" and click the "Preview" button to preview the file you selected.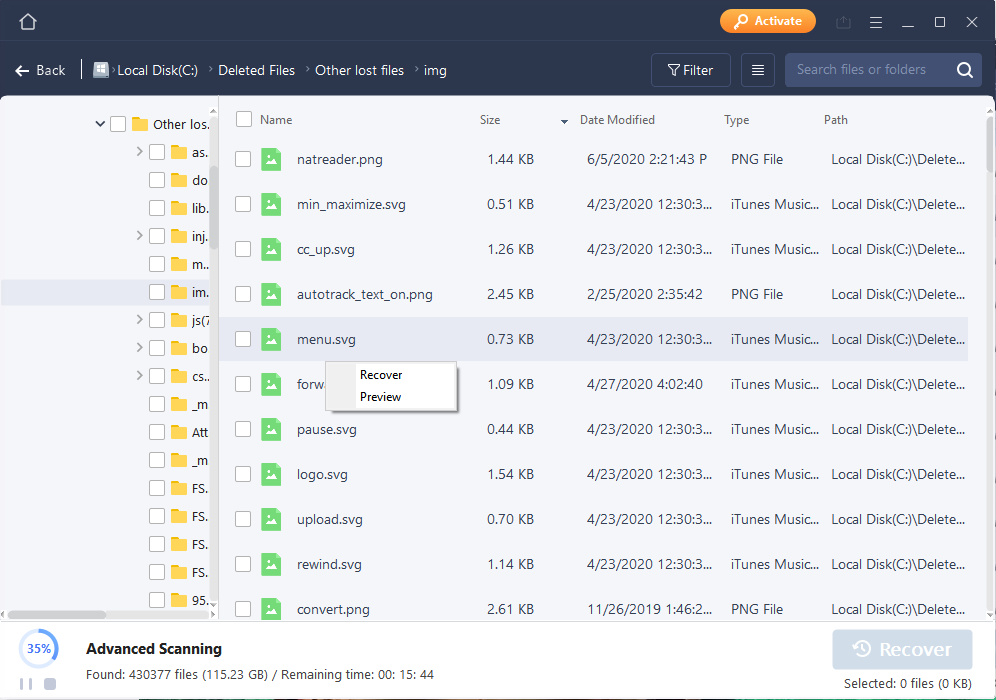 Click the "Advanced Filter" button to filter the files accurately you want to recover by setting File Status, File Type, Period Modified, File Size and Initial Letter of File Name.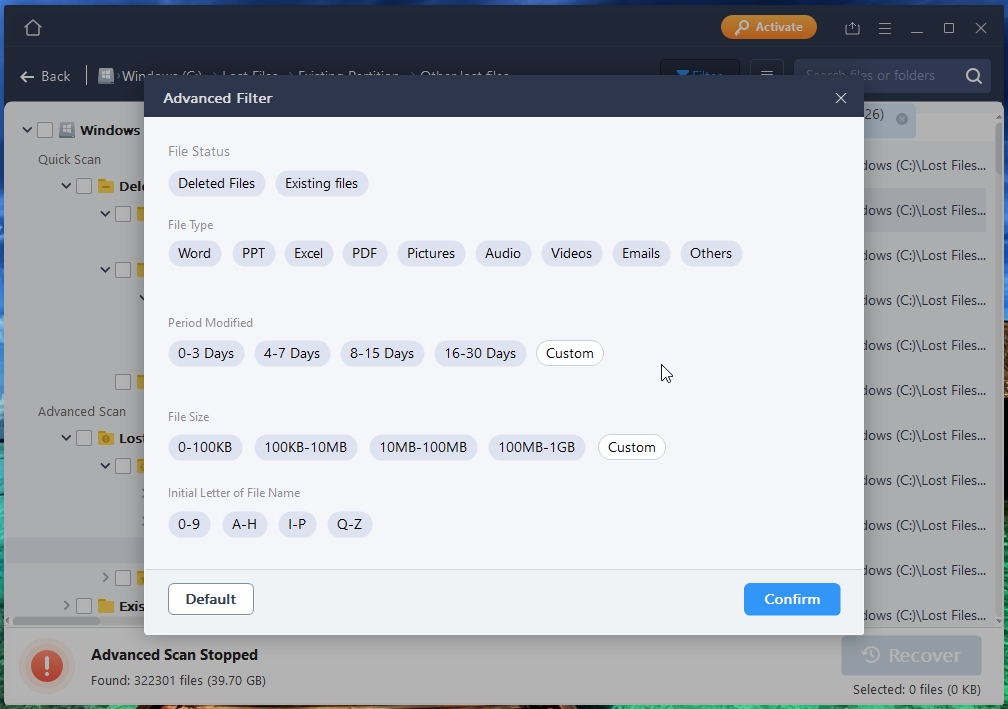 Type the file or folder name into the box and click the "Search" button to search for the files you need to restore.
6. Recover Lost Files
After filtering and previewing files, please select all of the important files that you wish to recover and then click the "Recover" button to immediately get your data back.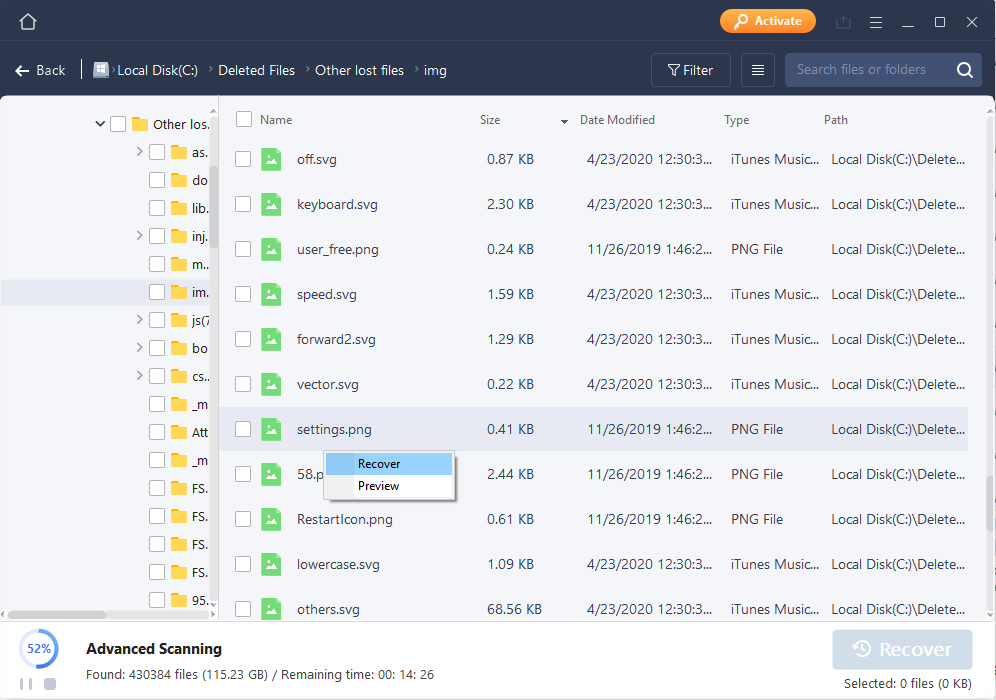 Note: Please don't save the files back into the same hard drive partition or external device where you lost the data from.
7. FAQ
a. Why I cannot recover 2GB data for free?
It is recommended to check the version installed is Free or Trial because they are different versions. The trial has a data preview function but cannot save any files, while the Free version enables to recover 2GB files. The default free space is 500 MB and you may share the product on social media to get another 1.5 GB.
b. Why the recovered files cannot be opened?
A file is saved as 2 parts on the storage device: directory info (which is comprised by file name, timestamp and size info, etc.) and data content. If the files with original file names and folder structures cannot be opened, one possible reason is the corrupted directory info. There is still a chance to recover the data content with the RAW Recovery method in our software.
c. Why it's NOT suggested to recover the files back to the original drive?
The storage structure of the lost files would be altered or damaged by any changes on the drive. If you save the recovered files back to the same drive, the original data structures and data content would be corrupted or overwritten, which cause permanent data loss. So you should prepare another disk to save the files.
d. How can I check whether my data is recoverable or not before purchase?
The Free version helps you save 2GB files to better verify the recovery quality of our product before purchase.
e. How long does it take to scan the drive?
It strongly depends on the capacity of your hard drive and the performance of your computer. As a reference, most drive recoveries can be completed in around 10 to 12 hours for a 1-TB healthy hard drive in general conditions.
8. Solutions to Recover Files Won't Open
This article tells why your recovered files are unable to open, and how to successfully open recovered files with third-party data recovery tools and other solutions.
Q1: Why Recovered Files Won't Open?
There are several factors that disable users to access or open their recovered files, such as .jpeg photos,.docx documents,.wmv videos,.mp3 music or.eml emails. There are some typical causes as follow:
1.File recovery failure (partial data was not correctly restored)
2.File corruption
3.File encryption (due to Virus or malware infection)
4.Data overwriting
Q2: How to Recover Files Won't Open or Unreadable?
There are different solutions to these problems. We suggest that you first figure out the cause and then refer to the related method to get rid of this problem and restore all files.
A. File Recovery Failure – Use Another File Recovery Software
If you used Recuva, Stellar, ZAR, or even ApowerRecover to perform incomplete file recovery on your storage devices, you probably cannot access recovered files. Here's what you can do:
First, make sure you are using the software in the correct way.
Second, pick a renowned third-party file recovery software.
If you took the right steps to recover files with ApowerRecover, but still the recovered files won't open, it's very likely that the files have been corrupted or fragmented.
Under this condition, do not forget to search them in "More Lost Files(Raw)" or "Extra Files," "Filter".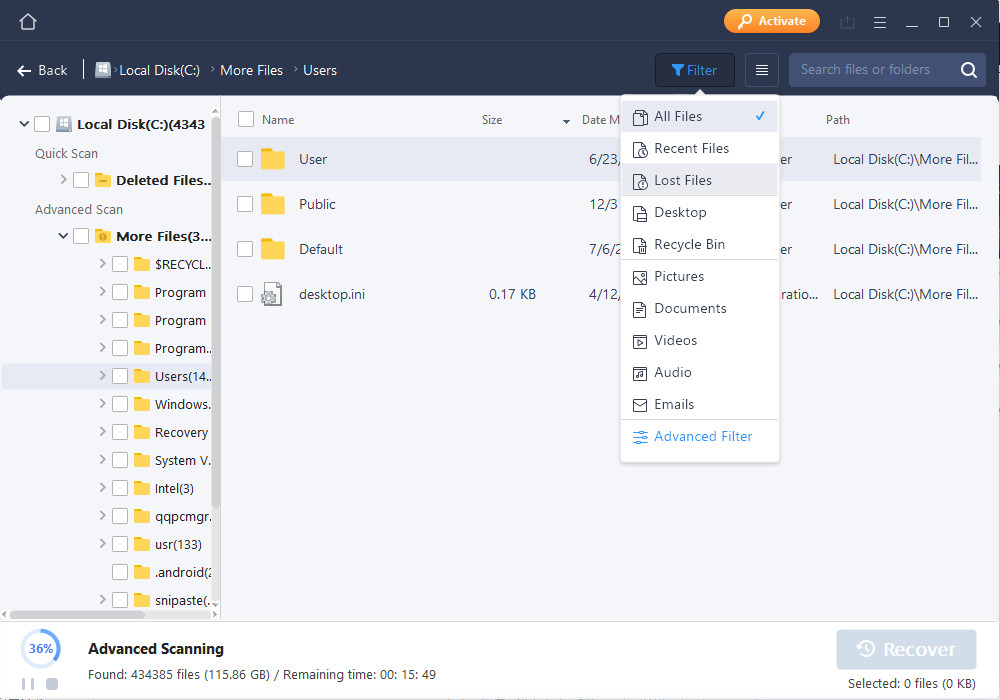 Tips:
1. If ApowerRecover fails to restore all of your missing files, please contact us with all details of your issue by emailing support@apowersoft.com. Apowersoft Support Center will get in touch with you and help solve your problem as quickly as possible.
2. Remember to save recovered data to another protected device too. Don't let the cherished data in the original device get more corrupted or be overwritten by new files.
B. File Corruption – Use File Repair Tool
When the restored files are corrupted you can't open them by just clicking. Under this situation, you will need to get support from reliable file repair resources. You can check out some useful tools here:
Repair Toolbox: Word, Excel, PowerPoint, Outlook, OneNote, PDF, ZIP, RAR, Illustrator, Photoshop
Hetman File Repair: Image (JPEG, TIFF, BMP, PNG)
Digital Video Repair: MP4, MOV, AVI
Stellar File Repair Toolkit: Word, Excel, PowerPoint, ZIP
C. File Encryption – Clean Virus and Decrypt Files
If you lost an encrypted file, you can decrypt it with your password after retrieving the file. So if the virus infected your files, here is what you could do:
Step 1: Clean up virus by running virus cleaner program on desktop and storage devices. (free antivirus, virus removal tools, etc.)
Step 2: Apply file decryption software.
Here are some tools that can help decrypt your files which cannot be opened:
1.McAfee Ransomware Recover
2.File Encrypt Decrypt
3.EncryptOnClick
4.Decryption Tool
D. Data Overwritten – Restore Overwritten Files
Mostly, you can neither open the original file nor restore it by applying file recovery software when your files get overwritten by a new file.
Fortunately, you still have the chance by restoring it from the previous version or restoring the overwritten file by performing System Restore. To do so, you can refer to a detailed guide to retrieving overwritten files.
Summary
To sum up, we addressed the reasons for not opening your recovered files on this page and provided related solutions to resolve each problem. Remember to turn to ApowerRecover for emergency help whenever you have lost files.
9. Solutions to Disable Trim of SSD to Recover Lost Data
SSD TRIM is an Advanced Technology Attachment command that enables an operating system to notify a NAND flash solid-state drive (SSD) which data blocks it can delete because they are no longer in use. Using TRIM can improve data writing performance to SSDs and contribute to longer SSD life. By enabling TRIM feature in SSD, any manual or automated techniques cannot recover deleted data. So we suggest disabling TRIM feature on your SSD.
How to Check TRIM Enabled or Disabled?
TRIM is usually set to be activated automatically on SSD. You don't need to enable TRIM yourself. But, if you want to double-check that Windows has enabled TRIM, you can check this as follows:
1. When TRIM is allowed, each time you delete a file, Windows will send a command to your solid-state drive. Then, the solid-state drive will automatically delete the contents of that file. It is essential to maintain speedy driving efficiency for solid-state drives.
2. Or you could easily check it from ApowerRecover by clicking "Can't find the location." And check TRIM is on or off.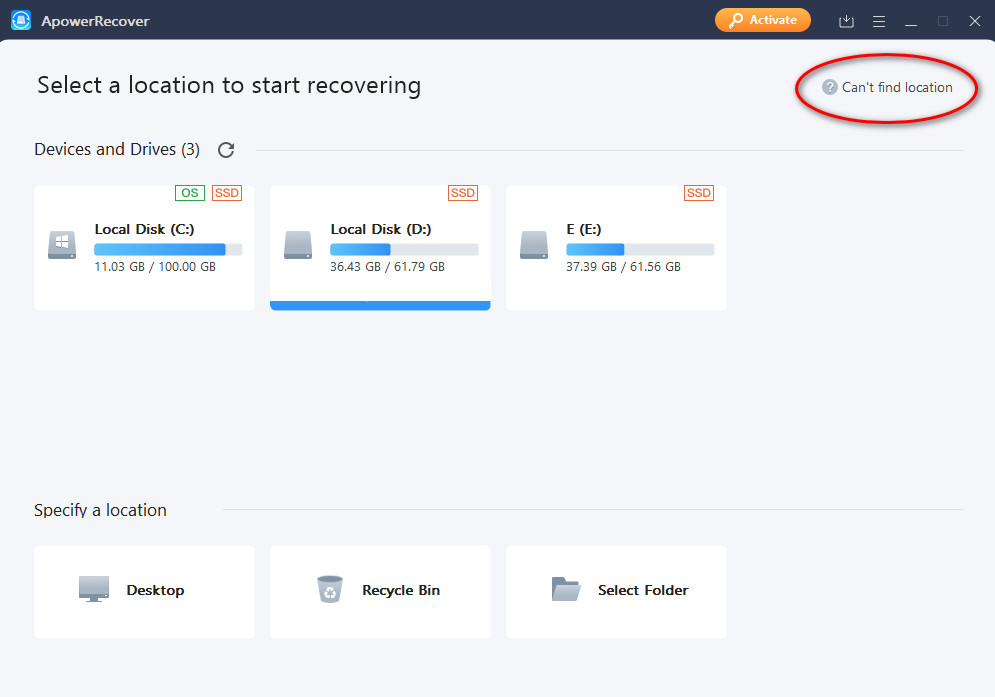 Note: Same as Windows, the option operates for all SSDs, not a single one.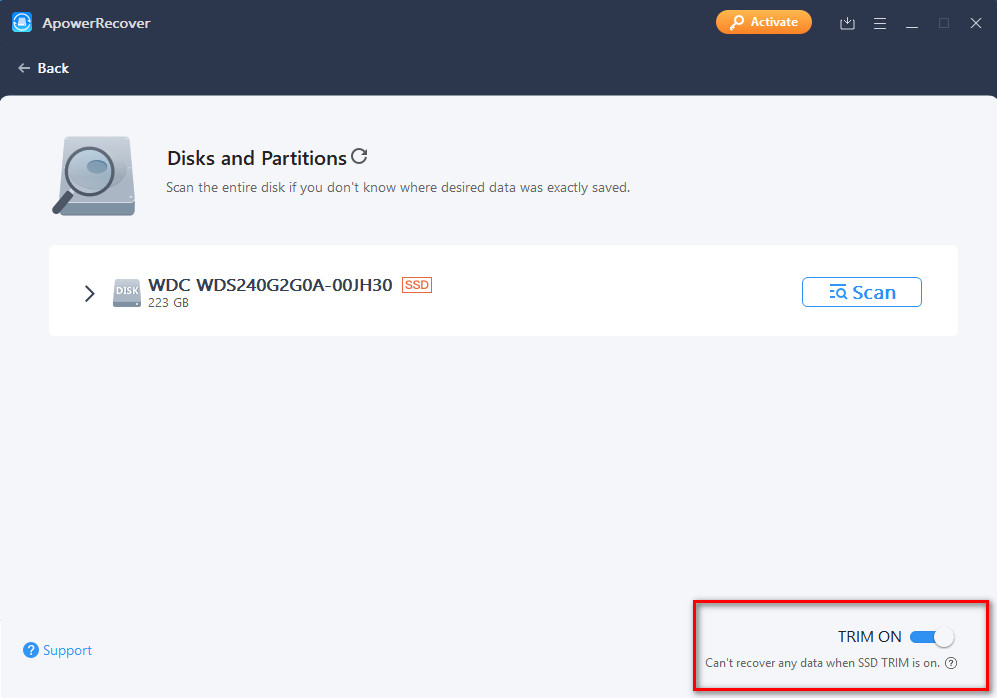 10. Solutions to Recover lost files with Raw Recovery
RAW Recovery will search and re-create the file by scanning all Data Fields directly. It takes more time on a partition to go through all of the sectors.
A new name like FILE001 will be allocated to the recovered file, and all file forms sorted in the folder "Tags" and "RAW."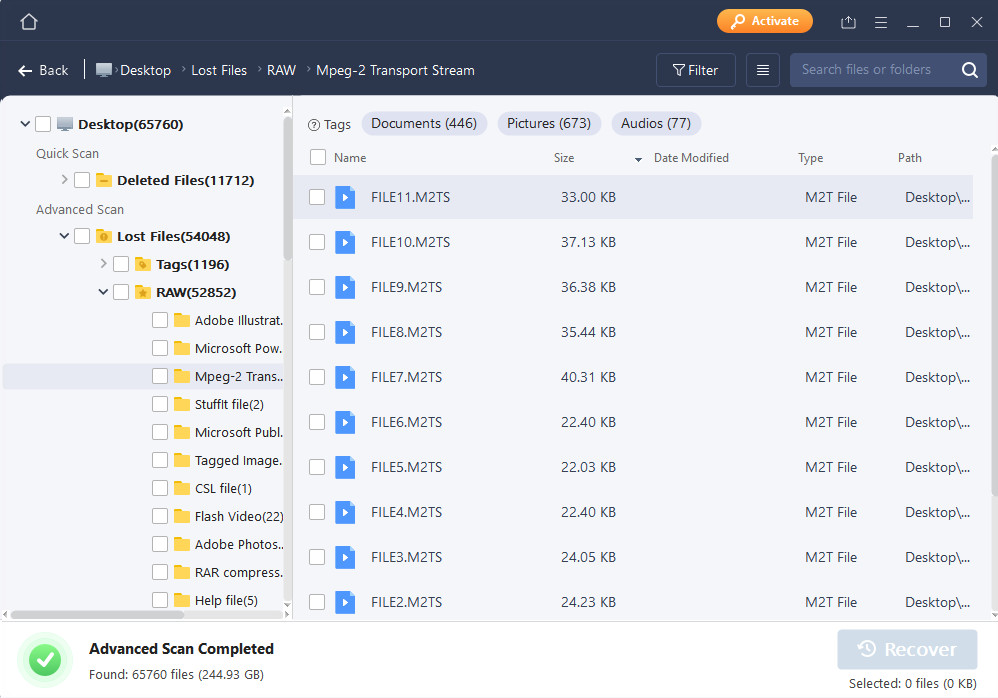 RAW files folder identified by RAW Recovery will only appear after a complete search, and the folder will then be listed at the bottom of the file tree. Since RAW files come with a completely different name, you need to check them one by one to see if any of the required files are included.