Record audio from YouTube
If you take time to take a look at the official statistics page of YouTube, 4 billion hours worth of audios are watched every month on the popular audio-sharing website. They also claimed to have 1 trillion views on 2011. This just means that more and more people are getting into the habit of using the site for checking out audios and even when listening to music.
Sure, you get to listen to all the music you want but what if you can't access the Internet? This is a big problem for people who want to record audio from YouTube and keep it in their portable audio players for later playback.
A Free way to record YouTube audio online
For starters, there is a free way to record YouTube audio online. There are a couple of websites that offer that service for everybody. One example is Mp3Grabber.net which has gained popularity and a couple of merits under its name. The good thing about such online recorders is that it does not require much know-how and you don't really have to install anything to your computer and most of all – it's free! The only problem is that you can't do multiple recordings. This means you have to repeat a process in order to free record different audio from YouTube. Imagine having to repeat the process for 20 or more audio files and you will get what I mean. Another limitation for this solution is that it's not really made for other media sharing platforms like MySpace and Facebook.
If you find free online recorders to be such a problem then you can go with option number two which includes installed applications that will help you record audio off YouTube and other media sharing sites out there.
Two audio recording programs to record audio from YouTube
The first one on the list of top YouTube audio recording applications is the Streaming Audio Recorder. Now this just doesn't work like how your other audio recorders out there. For one, it has a built in audio editor so you can cut and splice sounds for your convenience. You can also convert your recorded audio to different popular formats. But the best thing about the Streaming Audio Recorder is that it is not limited only on YouTube audio. You can record audio from Spotify, Jango, or Grooveshark. The technology it uses is not the same with online recorders as it records straight from the sound card of your computer or microphone.

Another great YouTube audio recorder to use is the Apowersoft YouTube to MP3 from http://www.apowersoft.com/youtube-to-mp3.html. Imagine everything from the Streaming Audio Recorder PLUS batch recordings! You can also convert all audio you recorded to different formats all at the same time. This means you can listen to all your favourite music anywhere with any gadget while keeping the same excellent audio quality. The Apowersoft YouTube to MP3 also has a built in powerful media player so you can listen to your recorded audio right away.
The main interface of Apowersoft YouTube to MP3 as follows: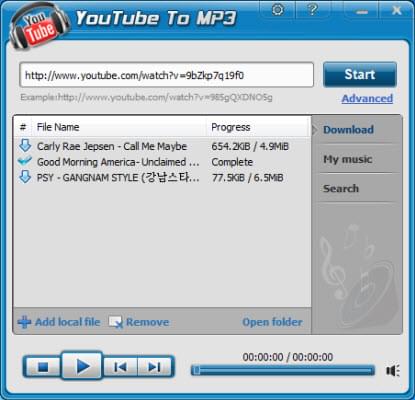 If you want to record one or two tracks on YouTube then you can just use Mp3Grabber.net to suit your needs. But if you want to record multiple audios from YouTube and other sites then you just can use either the Streaming Audio Recorder or the Apowersoft YouTube to MP3 programs to make everything easier. With such programs in your disposal, you never have to worry about not being able to record the tracks you want ever again.
Record audio from YouTube

,
Follow us